49ers at Jets: Special Teams Review
We've been breaking down this week's game against San Francisco. We wrap up today's analysis with a look at the special teams.
Let's review the key contributions...
Kicking game - Mann Overboard!
Sam Ficken being the placekicker was one of the main concerns for Jets fans heading into the season, but he's so far been perfect. Ficken, who only made all of his kicks once in the last nine games of last season, made both field goals and his only extra point attempt and also had one touchback, although it took a lucky bounce otherwise it could have been out of bounds.
Punter Braden Mann, a source of optimism, hasn't made a major impact yet, but he dropped a beauty of a punt inside the five with plenty of time for the coverage unit to down it. Unfortunately, Arthur Maulet ran the wrong way after the punt returner in the middle of the field bluffed that the ball was coming to him and it rolled excruciatingly into the end zone for a touchback.
Mann didn't allow any return yardage this week, as one of his kicks went out of bounds and three others were fair-caught. He also deserves credit for doing a good job of rescuing a bad Thomas Hennessy snap to set up a successful kick in his role as holder.
The 49ers were successful on five out of five kicks without much in the way of pressure, although one was in-off the post.
Kick coverage - Ballage taking charge
The much-maligned addition of Kalen Ballage does bring a player who has shown some promise as a gunner to the special teams mix. When Maulet got injured, Ballage replaced him and twice beat his man downfield to force a fair catch.
The Jets didn't allow any punt returns on Sunday, as noted, with Maulet also forcing a fair catch, but they did allow a couple of kickoff returns out to around the 30. Harvey Langi got credit for tripping the return man on one of those, although Pierre Desir was there to clean up, and Josh Adams was credited with the tackle on the other.
On the opening kickoff, the Jets stopped the 49ers at the 20, albeit that they scored anyway on the next play. Adams got downfield fast to force the return man to change direction and Maulet cleaned up.
Return game - Malone Again (Naturally)
The Jets didn't return any punts either, with three fair catches and one touchback on four 49ers punts. Strangely, the Jets opened with Chris Hogan back there instead of Braxton Berrios, but Berrios took over from there.
Desir, Maulet and Blessuan Austin were all beaten downfield by the gunner at least once to prevent any return attempts.
On kickoffs, Josh Malone and Ashtyn Davis each had a nice return. Davis took the first 49ers kickoff out to the 27 behind good blocks from Ryan Griffin and a combo block from Adams and Daniel Brown. Malone later took one out to the 36 only to be tackled by the kicker. Chris Herndon had an outstanding block to open a lane for Malone and Adams shoved down his man on the play: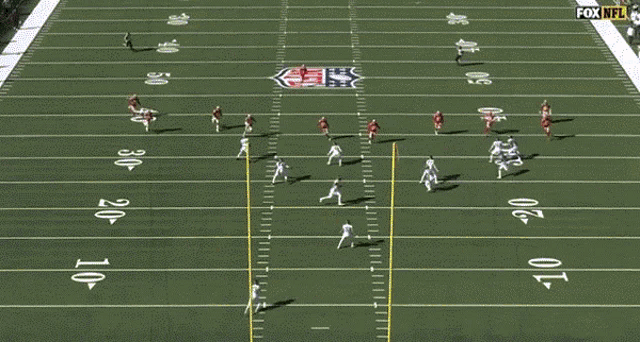 On his other return attempt, Malone was indecisive and changed direction so he was running away from his blockers and was brought down inside the 20.