After Further Review: Jets-Panthers Officiating
By popular demand, we're again going to have a post after each game that breaks down some of the controversial decisions from the officiating crew in the game.
Penalty Count
Panthers 6-38 (leading to two Jets first downs)
Jets 5-30 (leading to zero Panthers first downs)
Plays where the call was obvious, uncontroversial or not visible on broadcast footage
Jets Penalties
False start on Mekhi Becton. George Fant also flinched before the snap on this play.
Delay of game on a punt. This was when Ty Johnson ran a route on third down but the pass was incomplete and then he forgot he was also on the punt protection unit and came back onto the field too late to get the ball snapped. It's possible that's usually going to be La'Mical Perine's role, which might explain why it slipped his mind.
Illegal formation on a punt. It looked like maybe Tyler Kroft was too far off the line.
Illegal formation on Morgan Moses. This one was again because Moses wasn't on the line. This seemed harsh, but perhaps he was considered to be taking liberties with his stance.
Panthers Penalties
Pat Elflein holding on Hamsah Nasirildeen. This was laughably blatant as Elflein was bearhugging the rookie from behind on the outside.
Offensive pass interference by Terrace Marshall. Clear push-off at the top of his route stem on Marcus Maye but the pass was incomplete anyway.
Snap infraction by long snapper JJ Jansen on a punt. Appeared to flinch to draw the Jets into the neutral zone.
12 men in the huddle on a Panthers punt.
Penalties warranting further discussion or explanation
Jets Penalties
Illegal formation on Elijah Moore. Moore initially lined up on the line, but realized his mistake and took a half-step back right before the snap. In theory, that could've meant he was no longer covering the tight end, but the ball was snapped right afterwards so he would have been called for illegal shift or illegal motion because he wasn't set in time.
Holding on Daniel Brown in punt protection. This was the play where he dragged down the rusher and Braden Mann got injured. Initially a roughing the kicker call looked possible but they seemed to get this one right.
Running into the kicker on Bryce Huff. The Jets got close to a block here as Del'Shawn Phillips and Huff came up the middle. It looked like maybe the blocker shoved Huff into the kicker because he did slow up as he got to the kicker but this was declined anyway so it didn't matter.
Panthers Penalties
Illegal hands to the face on Shaq Thompson. This came as Alijah Vera-Tucker engaged him at the second level and looked somewhat harsh as Thompson wasn't being particularly aggressive and it happened basically as the play was over, away from the ball.
Juston Burris pass interference on Tyler Kroft. This was totally blatant and Tiki Barber's comments that it was harsh and if anything should've just been illegal contact suggest he either wasn't watching or doesn't know the rules because it was completely clear that Burris had a hold of Kroft while the ball was in the air.
Notable no-calls
Here were some of the notable missed calls, controversial moments or review situations.
Mekhi Becton got away with a false start on one play
Tim Ward's get-off was so fast on one play it looked like he was in the backfield before the ball was snapped but this did not look to be offside.
Justin Hardee was initially going to be called for fair catch interference but the officials correctly picked up the flag (despite what the announcers said) because the blocker dragged him into the return man. In fact, it could have been holding.
The Jets bench was calling for a hold on Nasirildeen on one play on the edge but this actually looked clean.
The spot seemed to be correct when Christian McCaffrey was stuffed on a short yardage run and Matt Rhule was contemplating a challenge but decided not to.
It easily could've been roughing the passer when Zach Wilson's head got slammed into the turf on a late sack but the Jets still scored on the drive.
Finally...YOU MAKE THE CALL.
On the critical first down that allowed the Panthers to ice the game, some fans were calling for a hold on Phillips (43).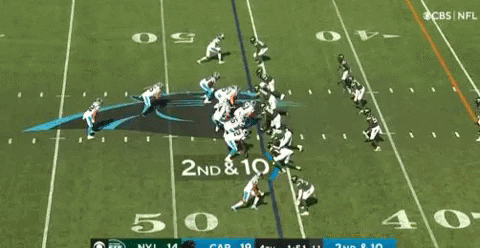 It's possible, but this is an interesting play anyway as three Jets- Phillips, Nasirildeen and Maye failed to get outside leverage. Perhaps the most costly mistake here though was by Brandin Echols, whose lack of awareness meant he missed out on a possible chance to stop McCaffrey before the marker.
Let us know what we missed - or misinterpreted - in the comments...