Bonus Nugget: Zone-headed Mistakes
We usually begin the day-after-gameday analysis with Saucy Nuggets, but this week you got the Mekhi Becton Deep Dive instead. However there was one thing that is worth a closer look.
Although the Jets lost by 10, it could have been much worse than this. The Bills missed two field goals, had two promising drives ended by unnecessary fumbles and gave up two second half touchdowns on a freak long play and in garbage time. However, the Bills also missed a couple of chances for easy touchdowns to further add to the Jets' misery.
Any time you are forced to change up your linebackers at short notice and you're a team that plays zone coverages, this is a concern because any communication breakdowns should be punished by any NFL quarterback. To Josh Allen's credit, while he missed the two easy scores, he generally did a good job of picking apart the Jets' zone.
The Jets had begun the week with Avery Williamson getting work in the starting line-up, but he developed a hamstring problem, causing the Jets to go with Blake Cashman and Neville Hewitt as their inside pairing. Ironically, this is the pairing Allen was able to engineer the comeback against in last year's opener following the CJ Mosley injury.
Hewitt wore the headset and played every snap, but the injury-prone Cashman only lasted three plays before suffering a groin injury. Now the Jets were forced into playing Harvey Langi out of position.
It wasn't a straight one-for-one exchange though. Initially the Jets essentially went into an 5-1-5 defense with the two outside linebackers up at the line along with three down linemen. They also used both Marcus Maye and Brian Poole as effective linebackers while employing Langi at times in his more familiar edge role.
Coverage breakdowns were always going to be inevitable so let's look over some of the main ones in detail.
Let's start with a bad missed opportunity by Allen. While some of it takes place offscreen, this one appears to be Blessuan Austin's fault. He lets Dawson Knox drop in behind him but the safety on that side needs to pick up another route at the back of the end zone. Austin and Brian Poole both end up drawn to Stefon Diggs in the flat.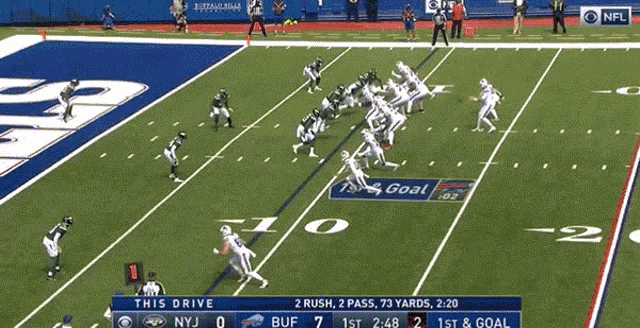 On this occasion, the missed opportunity didn't matter because the Bills still scored a touchdown two plays later.
The zone coverage is initially pretty good here and the eventual receiver, Zack Moss, is well-bracketed by Langi and Tarell Basham. The issue comes with Allen's threat to run. Both Basham and Langi abandon their zone to chase Allen, leaving the deeper defenders no time to fill in. If one goes after Allen and the other picks up Moss, the Bill probably don't score here.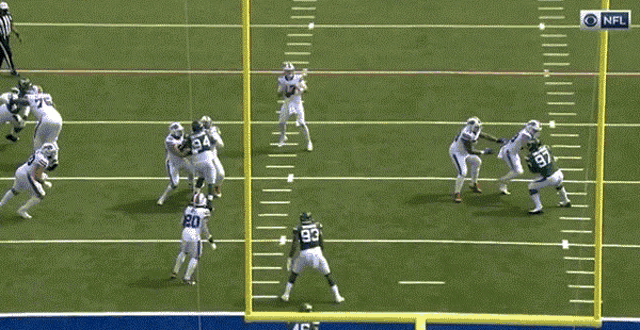 In the fourth quarter, there was another bad missed chance by Allen. This play is well-conceived if you want to capitalize on a defense with communication issues. Bless Austin follows Diggs as he motions across and this leaves nobody covering that side of the field, so the crossing route is completely uncovered.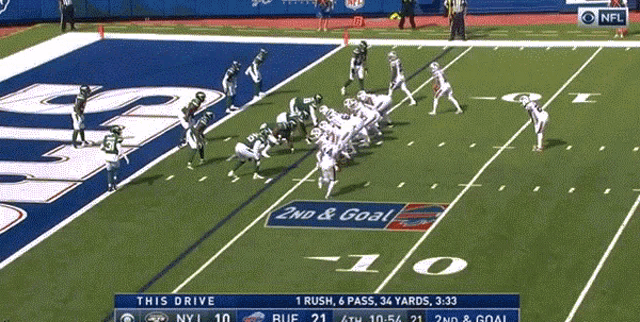 Nate Hairston is playing zone, but Austin is playing man, so someone messed up the communication here. John Brown runs right by Hewitt, Poole and Bradley McDougald and nobody reacts to this, either.
There were a few other blown coverages - including another well conceived play where the Jets were in zone and Austin passed the man in motion off to Poole only for him to reverse his field and be wide open for an easy third down conversion - and exploitable gaps in the zone defense all day.
While many of these errors involved the outside corners, there's still a responsibility on Hewitt to get the defense lined up right and everyone on the same page. Ultimately, we can never be too sure whether these breakdowns would have happened anyway if Cashman played the whole game or even if Williamson was in there.
Williamson wore the headset in 2018, including in four games at the end of the year where Hewitt was alongside him due to Darron Lee's suspension. Therefore, it will be interesting to see who gets that responsibility for that job if Williamson is back next week. It may come down to which of them is more likely to play every snap, although with the Jets light at the position, they may both be needed for a full-time role.