DraftFix: Who is the best tackle in this class?
It's the unanswerable question, but - come draft time - several teams, probably including the Jets, are going to have to come up with an answer. There's a handful of tackles who are candidates to be first round picks in this year's draft, each with things to like about them but also with some concerns. Which is the best, though?
Let's attempt to rate each of the top five prospects in five key categories to try and determine which one has the best pro potential, just like we did two years ago for quarterbacks.
We'll rank the players in each category, assigning points based on their ranking from 1 to 5. Obviously, the player with the lowest overall score is our top prospect. In practice, each team will weigh each category differently as they decide which potential weaknesses they are prepared to overlook...
Size
This is obviously Mekhi Becton's category. The 364-pound behemoth from Louisville is going to have a size advantage against virtually every player he ever faces at the NFL level.
Of the five Andrew Thomas from Georgia has the best length with his 36.5" arms providing him with the sort of attribute that could help land him in the top five in any other year where the tackle class wasn't as strong.
Tristan Wirfs from Iowa and Josh Jones from Houston are almost exactly the same size but Wirfs has slightly better length, albeit less than Becton and Thomas.
Jedrick Wills from Alabama is the smallest of the five at just 6'4" and 312 pounds.
Rankings: Becton 1st, Thomas 2nd, Wirfs 3rd, Jones 4th, Wills 5th.
Athleticism
Wirfs lit up the combine with a spectacular set of numbers, including a 4.85 in the 40-yard dash and 36.5" vertical.
Wills also posted excellent speed and explosiveness numbers, although he was let down by a poor short shuttle.
Becton didn't do a full workout but certainly turned heads by running a 5.1 at over 360 pounds.
Jones' numbers weren't great but he was tied for the best bench press mark from this group, while Thomas had the worst. However, despite finishing at the bottom of this ranking, both still displayed more than adequate athleticism to be considered a first round prospect.
Ranks: Wirfs 1, Wills 2, Becton 3, Jones 4, Thomas 5
Pass Protection
Though some may question whether he benefited from playing an easier schedule than most of the others, you can't argue with the results Jones had last year. He gave up just two pressures in nine starts.
At the bottom of the rankings is Becton, who despite only giving up one sack last year gives cause for concern because Louisville's offense didn't expose him to as many true pass blocking sets at the other tackle prospects.
The other three are closely grouped, but Wills only gave up one sack over the past three seasons, while Wirfs was the only one of the five to give up multiple sacks in 2019.
Ranks: Jones 1, Wills 2, Thomas 3, Wirfs 4, Becton 5
Run Blocking
The top three are all dominating run blockers with Wills earning top spot due to his ability to block at the point of attack and on the move. He has good hands, balance and technique.
Thomas earns second place after Georgia rushed for almost 180 yards per game last season, but it was close between him and Wirfs.
Becton has a lot of spectacular highlights where he mauls a much bigger defender, but his consistency is not there. Of the five he has the lowest run blocking grade according to Pro Football Focus. The other four all had grades over 90 in 2019, whereas his is just under 80.
Jones actually graded out better than everybody else, but again the strength of competition was a factor in this and he does have more career penalties (17) than the other four.
Ranks: Wills 1, Thomas 2, Wirfs 3, Becton 4, Jones 5
Value
Jones earns the top spot here because you can probably land him later on in the first round. He might not be as good as the other four, but if you can trade down, also add an edge rusher or receiver with the extra pick(s) acquired and still end up with a long-term starter, he could end up being better value than any of the others.
Wills is the only one of the five not to have played left tackle which automatically puts him into last place, although most experts believe he could handle a move to that side. At Alabama he was protecting the quarterback's blindside anyway because Tua Tagovailoa is left-handed.
Becton's strong combine seems to have landed him in the top eight in most mocks, which would suggest he'd be good value if he fell to 11. It's a toss-up between the other two for third place, but let's give the edge to Thomas because he's again someone you might be able to trade back a few spots and still land.
Ranks: Jones 1, Becton 2, Thomas 3, Wirfs 4, Wills 5
Results
Right, so now let's add up the scores to get a definitive answer as to which of these five is the best prospect and the guy the Jets should target. Remember the lower your score, the better you are...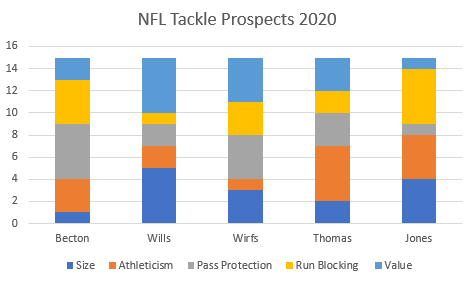 Conclusions
Oh...