Guest Post: On hope and despair (Part One) by Lam Jones
Lam Jones was an Olympic gold medalist and the second overall pick in the 1980 NFL draft. He caught 138 passes, including 13 touchdowns for the Jets between 1980 and 1984. However, this post was written by another Lam Jones – one who has been a long-time JetsFix regular.
The 2020 NFL offseason has been unique; Covid-19 prevention measures have led to the cancellation of the majority of events and programs we have become used to in today's NFL. Team executives have had to forego the majority of "in person" interaction with this year's potential draftees and free agents, not the least of which is it has left precious little opportunity for evaluation of physical or medical issues. The League's annual meetings at the beginning of April were cancelled outright, and as we all saw the new player draft process was heavily modified. Coaches, both new and incumbent, have been unable to run offseason workout programs as in past years and rookie minicamp was already supposed to have been completed.
The Jets and the NFL may have a good deal more obstacles to overcome in preparation for week 1 2020 in September. But, as we know it could always be worse, and – as of today - we still can expect to have something like a season this year.
Despite the bizarre nature of the 2020 league year, long time football fans are still in mostly familiar territory. We all saw the Jets when they last took the field and have advocated ad nauseum for new players, coaches, tactics and frankly anything else anyone can suggest to improve the performance of our beloved Gang Green. As none of you have anything better to do I have decided to inflict my review of two absolutely massive off seasons in Jets history, not just for the sake of nostalgia but to try to inform our collective expectations for what Joe Douglas and Adam Gase have done this season. We have seen our team "win" the off-season far more often than their division in their 60+ year history. The optimism we all naturally feel on the eve of (most) every season is often only a greater height to crash and burn from.
In order to decide which years might be instructive I first ruled out any before free agency began officially in March of 1993. This admittedly does neglect some interesting offseason remodels, but the process before 1993 (even accounting for Plan B free agency 1988-1992) can be assumed to be a little too different to be of use to a current perspective. I also looked for similar situations where the head coach was an incumbent and the GM/Personnel Chief was properly "empowered." As we know new regimes bring new schemes, player and style preferences and are generally beneficiaries of lower expectations for on-field success right away.
Furthermore, the relatively high roster turnover can make it more difficult to know just what to expect. Whether a GM was "empowered" can be argued but the Jets have historically had various management structures; for example, no matter who kept DPP seat warm in 1997, Bill Parcells had contractual full control when it came to player decisions and team construction. The effort is then to try to find similar circumstances to those we have today, in order to judge what can arguably be looked at as year > 1 of a team building cycle, if not fully a situation where we expected to see a team that had taken "the next step."
I chose 1993 (my favorite offseason) and 1996. Despite the two being relatively close chronologically a LOT changed in the mid-1990s. The '93 Jets were run by GM Dick Steinberg and Head Coach Bruce Coslet while the 1996 season was the product of the efforts of Dick Haley (Director of Player Personnel) and Rich Kotite.
Each team had the previous year seen multiple deficiencies exposed, and those who saw them all up close had the opportunity and the resources to address them. Steinberg entered his 4th season as head man with the Jets in 1993, while Haley was hired by Steinberg in 1991 after a two-decade tenure with Pittsburgh, helping to build their legendary championship teams.
Haley took the wheel as de facto GM after the 1994 season when Steinberg stepped back due to stomach cancer. Bruce Coslet, the OC of the innovative and exciting Cincinnati Bengals had been Steinberg's choice as Head Coach, replacing the not so beloved Joe Walton in 1990 (actually 3rd choice, after Michigan State's George Perles agreed then backed out and San Francisco's OC Mike Holmgren declined).
Jets Owner Leon Hess had famously intervened after the excruciating end of the 1994 season and fired first year head coach Pete Carroll in favor of the former Walton OC (and Giants TE) Rich Kotite, a "dese and dose" guy as described by Hess. At the time most of us shared the owner's frustration, who at his 2nd news conference ever as owner (!) announced his decision to hire Kotite;
I am 80 years old and I want results now; I've waited for 25 years. The buck stops with me. I'm just one of those fans who has been disappointed for 25 years. Let's make a change. If it's wrong, it's my fault. But at least I'm doing something for the fans and trying to do something for myself at 80. I'm entitled to some enjoyment from this team, and that means winning.
The Prior Year

1992

The 1992 season was one of the most gut-wrenching fan experiences I can recall. The Jets came off an inconsequential 8-8 record and Wild card playoff appearance in 1991, and in the 3rd year under Coslet the fans were impatiently awaiting some of the offensive fireworks fans had expected. Coslet's poorly disguised distaste for 1991 pro bowl QB Ken O'Brien was addressed by drafting cannon armed Browning Nagle out of Louisville, who had torched Gene Stallings' Alabama squad in the Fiesta bowl on New Year's Day.
What they didn't want to admit at the time was that Atlanta had traded one damn pick ahead of them in the 1991 draft for the guy Dick truly wanted, Brett Farve. Still, after a year carrying a clipboard and throwing 2 passes the Jets were certain that the kid Howard Schellenberger coached up was ready to take over from O'Brien and unlock the talents of 1st round RB Blair Thomas and supplemental 1st rounder WR Rob Moore as well as 1st round TE Johnny Mitchell out of Nebraska (what pieces we had).
Trivia fans will recall that the Jets played the Hall of Fame game in August that year and performed the so far unmatched feat of going 5-0 in the preseason. Sadly, when the games counted it became clear that young Nagle was NOT ready in any way. Despite a season opening 366 yds and 2 TDS in a 3-point loss to Jerry Glanville's Falcons, ineffectiveness and injury led to a paltry 5 TD passes, a sub 50% completion rate and a 55.7 passer rating in 12 other starts.
I personally had been warned; I was a caddy at a Long Island golf course in the summer of 1991 when Boomer Esiason and another pro football player played the course as guests of one of the club members. Young Alvin Barnett (Eagles WR Fred Barnett's cousin) was tapped to carry Boomer's bag that day and when he came back to the yard Alvin reported a conversation he had overheard. "Hey Boom, what about this new kid with the Jets, Nagle? Is he going to be any good?" "Nope," Esiason replied, "he is too f-ing dumb, he'll never make it."
Coslet, who had managed 6-10 and 8-8 records the prior years had no answer for the offensive regression, and the career-ending neck injury to star DT Dennis Byrd added a horrific footnote to a 4-12 season. A cathartic win in Buffalo against the AFC powerhouse Bills the week after the horrifying scene of Byrd being carted off the field motionless was perhaps the only highlight of a lost season.
1995
In 1995 the Jets were still reeling from the chief punk of the Miami team; Dan Marino's dishonest and sneaky fake spike play in 1994. That game in week 13 (should have seen it coming) saw a Jets team enter at 6-5 with a chance to make a statement at home against Shula's team, and left that game broken into a million pieces. The good guys worked their way to a 24-6 lead with only a little more than a quarter to play, but then a furious Phins comeback was capped by the fateful play where #13 fooled everyone (even some of his teammates) into thinking he would clock the ball at the NYJ 8 with 38 seconds left. As is burned into my memory, he instead zipped a TD pass to Mark Ingram while the Jets defenders and crowd looked on in utter shock. The Carroll Jets did not win another game that season.
1995 was notable then for Rich Kotite's tenure starting first with what seemed to be a restart, notably the complete revamp of the receiver corps. Hall of Famer Art Monk had retired and local star Rob Moore was traded on the eve of the draft leaving no returning starters.
The ninth overall pick was spent on Nittany Lion TE Kyle Brady, who along with mercurial 4th year TE Johnny Mitchell represented the strength of the passing game. UDFA find Wayne Chrebet and journeyman Charles Wilson (acquired after training camp) would fill space at WR and a defense that had been at worst middle of the pack the year before falling off badly to 28th in points allowed.
Of note was the allegation against offensive coaches by the starting QB that giving untested Everett McIver his first start at LT against Bruce Smith amounted to attempted murder. Oh, and who can forget the week before that, a Monday night 47-10 throttling by the Raiders where for some unknown reason rookie practice squad quarterback Vance Joseph was plugged into the starting lineup as a corner and was mortifyingly abused by HOFer Tim Brown. It all led to a well-deserved 3-13 record and the first overall pick in the 1996 draft.
Free Agency

1993

This was the first year of true NFL free agency. As a result of ugly work stoppages over the previous decade NFL players had finally won the right to leverage their abilities on a more-or-less open market as a component of the first CBA agreed in 7 years.
On March 1st 1993 almost 500 NFL players who were out of contract could conceivably choose where and for whom they wanted to play. Of these, 298 were unrestricted free agents, meaning as it does now that there was nothing but money between your team and the game changing stud baller you just knew would make all the difference.
It can't be overstated what a gamechanger this was going to be; the ability to sign NFL talent, not depend solely on unproven college players or waiver wire JAGs to fill out the roster. There was this salary cap thing, but that wouldn't be effective until the next season and, really, how hard could it be to manage that?
All the big mistakes of recent drafts (Roger Vick, Blair Thomas and Browning Nagle to name just a few) could be erased, because after all, New York was where the money was. Christmas morning was dawning, and the football gods had done made a mistake leaving the Jets on the Nice list!
For a team that needed a little of everything the pickings were astonishing; in short order the Jets signed Niners star safety Ronnie Lott, pro bowl CB Eric Thomas from Cincinnati and 2 time SB Champ and twice pro bowler DE Leonard Marshall from the hated Giants. Rounding out the free agent class was TE James Thornton from the Bears, nicknamed "Robocop."
At no point however were we as fans more excited than to hear the reports that Eagles DE Reggie White was always number one on Steinberg's shopping list. An All American out of University of Tennessee, White had been an All Pro 6 times, led the NFL in sacks twice (during LT's prime no less), and had double digit sacks every year for a total of 124 over his eight seasons.
Nicknamed "the Minister of Defense" due to his ordination as a non-denominational minister the previous year, White was the kind of difference maker and leader that could transform our mediocrity overnight. White had been designated as a "franchise player" by Philly and under the new system would come at a steep price of two first round picks in addition to salary compensation (which The Eagles admitted they could not afford).
In a disappointing development, White made it known that he wanted to play in the NFC, and after an extensive 5 week recruiting tour signed with the Green Bay Packers, because, as White said at the time, it was what God wanted.
Steinberg re-signed WR and ST ace Chris Burkett and matched Seattle's offer sheet for DE Marvin Washington, so in all this new Free agency stuff was still looking like a great thing for the Jets. The criticism at the time was that Steinberg had decided to overpay for older players but in his opinion, he was simply paying great football players.
1996
The 1996 free agency period also saw the Jets shopping for major pieces, as the Jets looked to get younger and more talented on offense. The league had started to make some adjustments now that the free agency rules had been in place for a while, and there was never again likely to be such a mass of newly eligible players like in 1993.
Our beloved Jets were finding that players could leave as well, losing solid pros like WR Terrence Mathis, DE Jeff Lageman, OLs Jeff Criswell and Dwayne White and CB James Hasty to name a few.
The Kotite/Haley team knew what the Jets needed - an upgrade at QB and OL - and weren't afraid to splash the cash. The Offensive line reinforcements came in the form of Pro Bowler John "Jumbo" Elliott (another victory over the Giants) and starting tackle David Williams from the Houston Oilers. At signal caller the Maryland alum Neil O'Donnell was perfect; the man who had last strapped his helmet on in Super Bowl XXX happily signed a 5-year, $25 million deal after seeing the OL additions.
O'Donnell was going to bring the kind of work ethic and winning football culture that had proved so elusive to the Jets over the years. In a non-player move the Jets hired Steelers OC Ron Erhard, surely something that would smooth O'Donnell's transition.
Former Buckeye star WR Jeff Graham, coming off of a monster 1301-yard season with the Chicago Bears was snared to work across from fan favorite Wayne Chrebet with former Brown and Oiler Webster Slaughter added as veteran depth.
An underrated but savvy move was bringing in backup QB Frank Reich, author of "the comeback" as well as an expert on the fading but still dangerous Buffalo Bills. The Jets QB room was going to know what winning was all about and could show everyone what it took.
The signings of former 1000-yd back Reggie Cobb from Jacksonville, OG Harry Galbreath from GB and swing OL Harry Boatswain of the Eagles rounded out the FA additions providing experienced depth. Among the free agent losses were mercurial TE Johnny Mitchell and OT James Brown.
An estimate of the total contracts given out that offseason was between $60 and $70 million, a huge number at that time. Notable free agents the Jets saw move elsewhere were Leon Searcy, Steve Everitt, Kevin Greene, Bryan Cox, Russell Maryland, Irving Fryar, Fred Barnett, TE Keith Jackson, and QBs Randall Cunningham*, Jim Harbaugh and Steve Beuerlein. In a trend that continues to this day the best UFAs were "franchised" and or re-signed (Aenes Williams, Will Shields and Darren Woodson to name a few).
*There is absolutely no evidence that Randall Cunningham's one-year retirement in 1996 was chosen as the better alternative to being QB1 for the Jets under Rich Kotite, the man who benched Randall in Philadelphia.
Trades
1993
While not the primary way to add veteran players to a team all of a sudden, Steinberg and Coslet had some earth-shaking trades in store for us in 1993. The most exciting vicarious sports moment of my life to that point was the certainty that we finally got "our QB."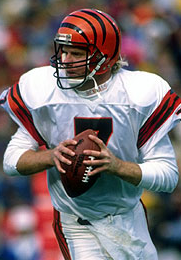 Coslet's old team the Bengals had not had that much success since he had left. Head Coach Sam Wyche had been fired after a 3-13 campaign in 1991; with a well-deserved reputation as an Offensive guru he had immediately moved on to Tampa Bay as Head Coach.
In an epically stupid hire that reeked of cronyism, Cincinnati promoted Wide Receivers coach David Shula to Head Coach for the 1992 season. Shula was objectively even dumber than the decision to hire him was, and benched starting QB Norman "Boomer" Esiason in favor of over drafted "run and shoot" gimmick QB David Klingler out of Houston for the final quarter of the season.
To the younger version of the fan writing this post Boomer Esiason was godlike; a literally larger than life figure with white blond hair, cutoff sleeves and a facemask that sure looked like it was for a player who wasn't afraid to stick his nose into the play. His helmet was usually only half buckled and he had a weapon hanging from his left shoulder and knew how to use it. He was the on field architect of the Sugar Huddle, the "short and sweet" quick tempo offense which only rarely slowed down enough to huddle and took the AFC by storm in the late '80s. He goshdarnit had DESERVED to be the QB who ended the NFC's Super Bowl dominance in 1988 and then went directly to Disneyland. And the coup de grace? He was from Long Island and freaking proud of it.
This 3-time pro bowler and 1988 NFL MVP took his benching as the snub it was, and while under contract had privately hinted he wanted to be traded, perhaps to Los Angeles where once prolific Rams starter Jim "don't call me Chrissy" Everett had struggled through a 6-10 season or the Raiders where Al Davis and Art Shell were undoubtedly looking for a high profile QB to replace Jay Schroeder and draft bust Todd Marinovich.
On March 17th, however, Boomer got a one way ticket "back home" in exchange for a 3rd round draft pick (Bengals selected Ohio State LB Steve Tovar). Undoubtedly with the enthusiastic endorsement of Coslet who had directed the 1988 Bengals offense to one of the best seasons ever seen, Steinberg had successfully moved on from the Browning Nagle era (error). At the back end of his prime at 32 but still a viable starter reuniting him with Coslet was an exciting prospect.
Not done, Steinberg made a masterful trade right at the beginning of the draft, moving back one spot in exchange for Cardinals RB Johnny Johnson. Johnson was a 7th round pick in 1990 and had started 35 games in his three seasons, now making for another large weapon in Coslet's offense at 6'3" 220, with an underutilized talent for catching the ball out of the backfield. Combining with versatile FB Brad Baxter the Jets could expect to be able to set up Esiason's strength in play action passes with a brutally effective downhill running game.
In a less than ceremonious exit 10-year veteran QB Ken O'Brien was traded to Green Bay for a 5th round pick, naturally well after his #7 was publicly awarded to Boomer.
1996
Trades were not a key component of Kotite and Haley's plan in 1996. The only trade that affected the '96 offseason at all took place at the end of training camp in 1995 when the Jets acquired WR Charles Wilson and DT Marc Spindler ahead of final cutdowns in exchange for the Jets 1996 4th rounder (pick 96). As there is little documentation of "almost" or rumored trades there is nothing really to analyze here.
In part two, Lam looks at what the 1993 and 1996 Jets did in each draft, what the final roster looked like, how the season played out and what we can learn from all of this. Come back to JetsFix in a few days for this final installment.