Guest Post: The Passrusharticle ... by Brendan
JetsFix regular Brendan, the author of the infamous Lamarticle in 2018, is back to break down which edge rushers the Jets should be targeting in this week's draft.
There are positions that defy evolution in the NFL. QB will always be the focal point of the roster. By the same token, you will never not need players to seek out and destroy those QBs. Regardless of era, there has always been at least one nightmare-fuel generating pass rushing edge in the discussion for best player in the league. The combination of ferociousness, athleticism and brutality make it a spot where bad players get exposed quickly and shortcuts leave one on an island with no way back.
In defiance of all logic and reason, the Jets have gone twenty years since drafting a quality edge rusher in the first round. Their last true edge selection was in 2008 with Vernon Gholston, who is my personal pick for the biggest Fck You from Belichick since he developed the only filthier use of a napkin than cleaning up after a sexual escapade in a Lower East Side bathroom. Their last edge conversion was Quinten Coples, best known for two freak highlight plays and "having that giant thing on his arm" according to white dads across the tri-state area.. So since 2006 the Jets have ebbed and flowed between legitimate contender and laughable basement dweller and all while never, not once, having a legitimate edge rusher that forces coaching staffs around the league to plan ahead.
Despite all the hype and fanfare focusing on The Magnificent Seven and their two associated positions (OT/WR), there are edge rushers in this draft that the Jets should be very interested in. From players that can compete immediately to players that should sit and marinate. From players who you put on the edge in a wide-9 & tell to attack to the players who have the option of dropping, chasing, pass rushing or anything else dreamt up for them.
With the historic pandemic situation baking some extra uncertainty into the predraft process, we have seen the variance for pick projections fluctuating wildly. The deltas for certain players go into the triple digits, and many, even the more renowned prospects, still have ranges that are dozens of picks (and multiple rounds) apart. That is why we are going to play a game of BUY or SELL. I have assigned a value to each player (either a round, or a range) and we will take the combined average of six seven-round mock drafts and will use that to determine whether players are Buys or Sells. The mock drafts used to compile the averages came from:
Matt Miller (MM)
Dane Brugler (DB)
Kyle Crabbs (KC)
Logan Lamorandier (LL)
Chad Reuters (CR)
RJ White (RW)
(not the greatest collection of NFL draft know-how and expertise, but you try to find more than 5 quality seven round mocks when you're constantly hungover and losing your mind because you're reliving your high school years in your 30s)
Tier 1: The Blue Chip Stocks
The following players are the best of the non-Chase Young best, players with skillsets that will translate to the modern NFL and translate quickly. The safest investments, they'll continue adding value to your portfolios for the short and long term.
K'Lavon Chaisson, LSU, 6'3" 254 lbs., turns 21 in July, no RAS Score; Chaisson is closer to Isaiah Simmons than Chase Young, and the more I've watched him the more convinced I am that he's an ultra-athletic Edge/OBLB hybrid. Seems more athletic than Anthony Barr, with similar measurements. Predict his best usage will be in a role like Barr, with more of an edge presence.
MM: 17, DB: 16, KC: 23, LL: 20, CR: 16, RW: 17; Avg: 18
B. Draft Value: First Round talent. Would not take Chaisson with the 11th pick, but he will almost certainly be gone by 48. In a trade-back scenario into the 20s/30s is where I would look to take him. If he's there at 48 you sprint to the podium.
R1P11:

SELL

Trade-Back:

BUY

R2P48:

Take out a second mortgage
Josh Uche, Michigan, 6'1", 245 pounds, turns 22 in December, no RAS Score; Not Edge sized, but plays with the power of a player much larger. Great hands. Plays off the ball and can run in coverage, but does not excel in that area (does have the skillset to one day become such a player). Better pass rushing instincts than almost anyone else on this list, plays with excellent bend/angle around the edge. Hybrid type of role would be ideal, but could definitely put in work as a LEO. Rushes inside and outside and can move around the front as a stand-up rusher. Versatility with a capital V.
MM: 68, DB: 27, KC: 47, LL: 56, CR: 56, RW: 54; Avg: 51
B. Value: Late first/early 2nd round talent. Appears less likely to be available than Okwara, with many adding value to the new breed of pass rushers with downfield coverage skills. Uche seems to be an ideal fit for this new type of hybrid role. Would prefer the Jets look at both Okwara and Uche hard if they are available regardless of how R1 goes.
R2P48:

BUY
Julian Okwara, Notre Dame, 6'4" 252 lbs, Turns 23 on 12/27, no RAS Score; great length, uses long arms to keep OL away from his body (27 reps with long arms is very impressive), naturally swipes at the football when closing in on QBs. Athleticism shows up on film (tipped INT to self in NC game, ability to run in space, stop/turn/run).
MM: 54, DB: 79, KC: 72, LL: 58, CR: 31, RW: 90; Avg: 64
B. Draft Value: Late first/early 2nd round talent. Solid chance he is available at 48, and depending on R1 or trade-back hauls, would be an ideal pass rush prospect that wouldn't cost a first rounder, while still giving you that level of natural talent.
R2P48:

BUY
Anfernee Jennings, Alabama, 6'2" 256 lbs., turns 23 in May, no RAS score; Is an undersized pass rusher with great hands and great bend. Turns the corner extremely well, uses natural leverage to get under blockers and has a strong swipe-and-turn move to get off blocks and make his run on the QB. Can play as a wide DE in a 4-man front, is very polished and has good counters. A sneaky pick for most production as a rookie in this class. R2 level talent, will go much later than that, in all likelihood.
MM: 88, DB: 172, KC: 177, LL: 129, CR: 124, RW 176; Avg: 144
B. Value: Feels primed for one of these "NFL teams like him more than Draft Twitter/Analysts" jumps that isn't really a jump. Would be perfectly happy taking him at R3P79. Would enter the Jets as arguably their best edge rusher on Day 1. But using the projections, he's still a good value in R4.
R4P120:

BUY
Tier 2: Hostile & Volatile
Each player in this tier has an abundance of potential, but for some reason (or reasons) they have to answer significant questions at the professional level to realize it. The risk is higher, but so can be the potential reward.
Darrell Taylor, Tennessee, 6'4" 267 lbs., Turned 23 in March, no RAS score; Taylor plays like a man hell-bent on getting to the QB. He runs through, around or by people, but seems to relish being able to physically dominate a blocker. Very strong hands and plays with a constant lean that pushes him through poor leverage and arm blocks. If you do not get in front of him you're not stopping him. Needs to develop his counter moves so he doesn't become reliant on a bull rush. Develop some better hand play/wrist control and he'll be a problem.
MM: 119, DB: 86, KC: 75, LL: 86, CR: 80, RW: 72; Avg. 86
B. Value: Taylor is still raw, but with good coaching he will continue to develop and wreak havoc in pass pockets at the next level.
R3P79:

BUY
Alton Robinson, Syracuse, 6'3" 264 lbs, turns 22 in June, RAS Score - 8.94; Explosiveness leaps off the tape, plays with a relentless pass rushing motor. Good hand usage to slap away punch and dip under. Sets up an interior bullrush well with a great speed move around the edge. Can bend and get under blocks, using good lean and momentum to turn the corner. Can still improve with pursuit angling and can look unsure if he's not in full attack mode. Wide-9 DE starter is his best-case, imo. Valued at mid/late R3 (79).
MM: 90, DB: 129, KC: 123, LL: 133, CR: 123, RW: 159; Avg: 126
B. Value: Robinson's tape shows pure NFL pass rush talent, but he does have prior legal issues that could be a character flag and have JD looking elsewhere. Issues are from his time prior to joining Syracuse, however, so there's a case to be made Robinson has matured.
R3P79:

BUY
Yetur Gross-Matos, Penn State, 6'5" 266 lbs., 22 for 2020 season, no RAS Score (but Great explosion #'s); has long arms on a tall frame and uses that length to his advantage. Doesn't always fire off the ball, but some of that seemed to be scheme-related. But even on clear pass rush reps there wasn't a consistent get-off. Has solid hand play, sets up moves and knows how to counter when an OL recovers or is thrown off balance. Smooth athlete. Okay in late R2, Good value in R3.
MM: 23, DB: 29, KC: 35, LL: 29, CR: 25, RW: 27; Avg.: 28
B. Value: YGM is an intriguing prospect that I would not in a million years be willing to spend a first round pick on with this roster. And even R2 doesn't give me warm and fuzzies, but I could live with that upside risk. Ideally, R3P68 is where you'd take a player like this. For this exercise, we'll use the same trade-back scenario as Chaisson since that's where his range seems to be.
R1 Trade-Back:

SELL
Bradley Anae, Utah, 6'3" 257 lbs, turns 22 in October, RAS Score - 5.0; developed pass rusher who uses hands extremely well, sets up counters and has multiple moves. Projects best as a 4-3 edge player. Not especially explosive, but good at timing the snap. Isn't bendy, but doesn't play stiff as he's able to pull off spins, etc. Short arms are definitely a concern.
MM: 72, DB: 90, KC: 117, LL: 99, CR: 78, RW: 91; Avg. 91
B. Value: Anae isn't particularly athletic so he's had to rely on technique, motor and football IQ to get his wins and those are all translatable to the NFL. He times his jump well, has an array of moves and understands that different opponents require different gameplans. He's not the flashiest prospect, but he's effective.
R3P79:

BUY
Tier 3: Penny Stocks
Like their namesake, these are players who can be had at a discount. Quantity is often key.
Alex Highsmith, Charlotte, 6'3" 248 lbs., turns 23 in August, RAS score of 8.04; Excellent hand play and fires out to win the LOS consistently. Has strength to press out OL and rip through, or to redirect and gather footing to change his angle. Takes good angles to the QB and can bend the edge despite agility scores. High motor, gets stronger as game goes on and his pace can wear down blockers.
MM: 116, DB: 112, KC: 90, LL: 114, CR: 92, RW: 121; Avg.: 108
B. Value: Highsmith has very fun, active tape. Seems to snowball good play into more impact plays, and his strength/explosion combination makes itself evident on film. Likes to get down as a 4-3 style end and crash the edge, would be a good fit for current scheme.
R3P79:

BUY
Trevis Gipson, Tulsa, 6'3" 261 lbs., turns 23 in June, RAS score 8.79; Strong & explosive, but shows very little agility/bend on tape. Wins with very strong hands that grip and rip or pull through to get by OL. Rarely sidesteps, but can get a good jump and hook to get under OTs due to how strong he is. Played in a 3-man front so saw lots of work against both Gs and Ts. Projects more to the strong side in the NFL. Late R3/Early R4 level talent. 120 all day.
MM: 117, DB: 97, KC: 174, LL: 145, CR: 86, RW: 139; Avg.: 126
B. Value: Gipson was a team leader and played hard, pursuing plays from the backside often. Needs to develop counters, but has a good base to be effective as a rotational player early on. Has the frame and strength rotate inside for certain packages, as well.
R4P120:

BUY
Terrell Lewis, Alabama, 6'5" 262 lbs., turns 22 in August, no RAS Score (but elite explosiveness); extremely raw and with durability concerns. Has the pedigree and athleticism to build a career and role in the NFL, but does not have any edge repoitre to speak of right now. Better for a team that has veteran edges/LBs that can allow Lewis time to sit & learn. Day 3, ideally.
MM: 36, DB: 51, KC: 68, LL: 33, CR: 20, RW: 68; Avg.: 46
B. Value: Lewis is the proverbial ball of clay. A great athlete who was frequently hurt and doesn't have a clear position in the NFL, I cannot in good conscience sign off on a player like this before R3, ideally the latter of the two R3 Jets picks. The high-end of his range seems wholly unreasonable for what he's shown on tape, so this is not a player I hope the Jets are in on anywhere near his projected value.
R2P48:

SELL
Jabari Zuniga, Florida, 6'3" 264 lbs, RS Senior (age not verified), RAS Score - 9.75; Comes off the line like he's shot out of a cannon, has short arms but very strong hands and wins the wrist battle often. Can slide over the tackle and attack the inside gap. Looks natural as a down lineman, can rush from either side of the formation.
MM: 89, DB: 98, KC: 99, LL: 119, CR: 149, RW: 98; Avg.: 109
B. Value: There was a lot to like on Zuniga's tape, but also plenty not to love. Hard to project, but if he can harness his energy and ability, he could be a terror on the edge. Would not be upset with a R3P79 use on him, but would prefer it to be later in the round or in early R4. But the potential is absolutely there.
R3P79:

SELL


R4P120:

BUY
Delontae Scott, SMU, 6'4" 246 lbs., Senior (age not verified), no RAS Score - extremely long (35" arms, 83" wingspan); Tape is mixed, but shows a good burst and ability to pursue. Not a great motor, but looks much better attacking than reading/reacting. Very interesting late round flier player.
MM: UDFA, DB: UDFA, KC: UDFA, LL: UDFA, CR: 203, RW: UDFA; Avg.: 247
B. Value: An intriguing late-round prospect, the athleticism leaps off the page. Is definitely a project, as the reps where he looks comfortable are fleeting and he's often hesitating. But the raw talent is there and he has the physical package that seems ideal for the modern NFL.
R6P211 (or later):

BUY
Tier 4: The Lemons
These are players who I cannot sign off on as an edge rusher for a variety of reasons. While some of the previous names add value in areas outside of edge rushing, I'm still valuing that part of their skillset most of all. These are the players that have an uphill climb to prove they're worth it.
Curtis Weaver, Boise State, 6'2" 265 lbs., turns 22 in August, RAS Score - 7.72; Not a LEO, stout player who projects as a strong side edge/LB type. I see Adalius Thomas with middling athleticism. Also seems most slippery/effective as an interior pass rusher. Can be used in more than one role if develops ability to play away from LOS. Does not have the bend or burst to win consistently in the NFL.
MM: 75, DB: 50, KC: 70, LL: 51, CR: 64, RW: 36; Avg.: 58
B. Value: I just do not see an edge rusher with Weaver. I see the flashes that might give someone that impression, but this just screams a guy whose best football will be playing some hybrid OBLB role where he gets to blitz from weird angles and now someone who lines up and beats OTs from a wide position. I peg him as having an R4P120 value, so this is an easy one for me.
R3P68:

SELL
AJ Epenesa, Iowa, 6'5" 275 lbs., turns 22 in September, RAS Score – 4.09; is not an Edge, everything about him screams his best football would be in a Cameron Heyward 5-tech type of role. (but having that RAS Score makes me hesitant to even make that comparison).As an edge he's a hard sell, but objectively I wouldn't draft him until R3P79, anyway.
MM: 25, DB: 36, KC: 27, LL: 35, CR: 46, RW 38; Avg.: 35
B. Value: Not much more to be said here, it's just not a fit.
R2P48:

SELL
Jonathan Greenard, Florida, 6'3" 263 lbs., turns 23 in May, RAS Score 5.52; Looks pretty much like a strong side DE/SAM, doesn't have the bend or lateral quickness to win consistently at the next level, but plays with a high motor and great strength at the point of attack. Has long arms, but likes to get his body into blockers to rip & shed, doesn't really use length that well. R4/R5.
MM: 104, DB: 56, KC: 86, LL: 79, CR: 68, RW: 53; Avg.: 74
B. Value: Greenard is a player with a pretty wide range, and I am definitely on the low end of that range. Would be a good depth player on Day 3, but projections having him as a Day 2 player is a firm no for me, there will be better value elsewhere in those rounds, including better edge players.
R3P79:

SELL
Khalid Kareem, Notre Dame, 6'4" 268 lbs., turns 22 in May, No RAS score; This guy is Jordan Jenkins.
MM: 115, DB: 132, KC: 104, LL: 87, CR: 134, RW: 87; Avg.: 110
B. Value: Coming off an injury and never looking particularly explosive on tapes, I had visions of JJ over and over. A good, sound prospect but the Jets have an abundance of these types of edge players, so the focus should be looking for explosive, quick-twitch athlete, multi-use or tactician edges.
R4P120:

SELL
James Smith-Williams, NC State, 6'3" 265 lbs, RS Senior (age not verified), RAS Score - 9.02; The body transformation JSW underwent in college is almost impossible to believe. Explosion is evident when he attacks as a pass rusher, which isn't that often. Plays with very good strength at the point of attack, fights through blocks and pursues down the line when plays run away from him. Locks out arms and sheds blocks well in traffic. Put on 70+ pounds of muscle in college and is built like an anvil now. Only really uses a bull rush move, looks very stiff. Day 3 run defending edge with potential to be a quality pass rusher.
MM: 224, DB: 202, KC: UDFA, LL: 213, CR: 127, RW: 211; Avg.: 206
B. Value: Smith-Williams is an intriguing prospect because while he isn't a particularly agile/bendy player, his explosion/strength is off the charts. If he can learn a go-to move and a good counter, he can be effective at the next level simply due to how freakishly strong he is.
R6P191:

BUY
Tier 5: Burn this Wood
Burn the tape like they're shtty leads at a brokerage.
Jonathan Garvin, Miami, 6'4" 263 lbs., Junior (age not verified), RAS Score - 8.98; athleticism doesn't show on tape. Plays too controlled, allows the LOS to be controlled. Occasionally shows decent burst off the line, but he sometimes looks surprised to be hitting the QB. R6/R7, maybe, and as a strongside edge.
MM: 113, DB: 126, KC: 135, LL: 161, CR: 187, RW: 154; Avg.: 146
B. Value: Didn't see much on tape that made me want to waste draft capital. UDFA option, if he makes it there. Is either swimming mentally or just doesn't have a high motor, and either one is a death sentence for NFL pass rushers.
R4P120:

SELL
Kenny Willekes, Michigan State, 6'3" 263 lbs., turns 23 in July, RAS score - 7.27; Short arms and no agility. Has an awkward stance that's not built to attack as a pass rusher. Game looks like his best hope is SAM. His best attribute is strength, but with short arms OL will get to him first and at the next level he won't overpower players.
MM: 127, DB: 152, KC: 116, LL: 135, CR: 157, RW: 169; Avg.: 143
B. Value: I could not believe people had this guy as a high R4 player. I feel like every few years there's some white MSU defender who does well in the Big 10 and people convince themselves they can do their super-try-hard sht in the NFL and they get their doors blown off. That's who Willekes is for this draft.
R5P143:

SELL
Trevon Hill, Miami, 6'3" 248 lbs., RS Senior (age not verified), RAS score - 2.62; Really bad athlete who got dismissed from VT. Not draft able, at-best a 4-3 strong side DE.
MM: 203, DB: 232, KC: 181, LL: UDFA, CR: 200, RW: 234; Avg.: 218
B. Value: I'm actually mad at 68 for putting this dude on a list and making me watch him.
Any pick, any round:

SELL
Finally, here's the table with all the data: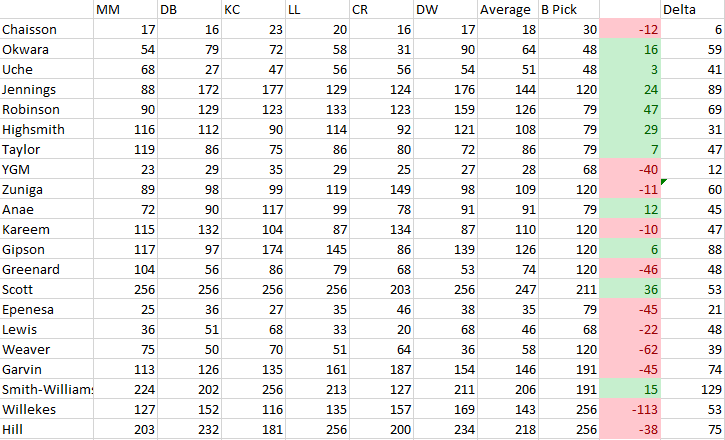 Thanks again to Brendan. Do YOU want to write a guest post for JetsFix? If you do, email bentdouble@gmail.com with your pitch. We'll consider almost anything...