How the hell am I supposed to know who this is? - Jason Brownlee
In an occasional feature, we briefly highlight any of the lesser-known players that make an unexpected impact during camp, preseason or the regular season.
Today, we focus on wide receiver Jason Brownlee:
What he did:
Brownlee created a major buzz at camp yesterday when he had one of the plays of the day with this outstanding grab over Brandin Echols: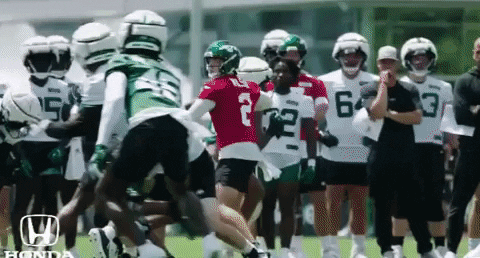 This isn't the first time he's made a splash at camp:
Rodgers hit Jason Brownlee with a sideline pass and the rookie kept his feet inbounds. Rodgers gave him a slap on the back and a head tap when he got back to the huddle.

We've seen Rodgers chat with Brownlee a lot this offseason. #Jets

— Dennis Waszak Jr. (@DWAZ73) July 21, 2023
He also impressed at OTA's where Rodgers singled him out for praise and he again turned heads with a spectacular catch:
we see you with the one-hander @Slideweezy 👀 pic.twitter.com/dRMNNMjSFE

— New York Jets (@nyjets) June 9, 2023
Outlook:
Brownlee is only an undrafted free agent but already seems to be making a case for himself. He specializes in contested catches and jump balls and is already impressing by making such plays against NFL talent.
Now that Denzel Mims has been traded, the path is potentially clear for Brownlee to step up and take a roster spot as the sixth wide receiver if he continues to impress.
The team may prefer to have a return specialist take that spot, but the ability of Randall Cobb and Mecole Hardman to contribute in the return game gives them the freedom to stick with Brownlee if he proves himself to be too promising to expose to waivers.
More on Brownlee:
Here's our in-depth scouting report on Brownlee.