Injury Report: Corey Davis to miss Sunday's game
The final injury report of Patriots week is out: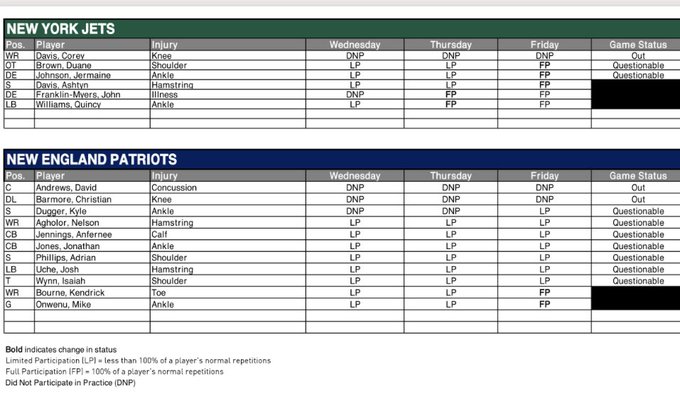 The Jets will have to make do without their leader in receiving yards. Garrett Wilson is just 37 yards behind him, so could take over that mantle.
Although Brown and Johnson are listed as questionable, they are apparently both expected to play and practiced full today.
The status of two players not on the injury report was also worth watching. Elijah Moore will be active, Robert Saleh confirmed. However, James Robinson, who is banged up and new to the team, sounds like he'll be a game-time decision.
For New England, they will be without their starting center in Andrews and a key member of their defensive line rotation in Barmore. James Ferentz should be a downgrade from Andrews. He's started six games in his career with the Patriots going 3-3 in those games. Lawrence Guy returned from injury last week so the Patriots should be able to manage without Barmore, though.
They also have seven players listed as questionable but it's difficult to trust New England's injury reports at the best of times.