Injury Report: Herbig returns to practice
The final injury report of New England week is out: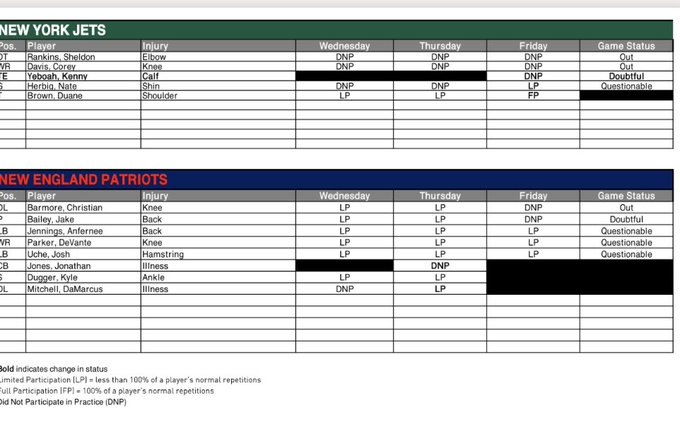 The Jets will be without Rankins, which we knew already, and Davis, which was looking inevitable. However, it's good news that Herbig was back in practice, to hopefully minimize the disruption on the line. The bad news is that it sounds like Herbig probably won't be 100 percent again this season, so they'll need to monitor him constantly.
Yeboah obviously had an issue crop up over the last 24 hours so the Jets will presumably just have Jeremy Ruckert active over him this week.
In other injury/roster news, Max Mitchell is still on injured reserve but is eligible to be activated for Sunday's game. Robert Saleh already confirmed that Cedric Ogbuehi will start at right tackle though, so they may just wait on that, rather than have to make a cut. Also, the Jets confirmed the addition of Laurent Duvernay-Tardif to the practice squad, releasing rookie tackle Myron Cunningham to make room for him.
As for New England, having previously looked to have a clean bill of health they actually have a few issues heading into the game after all.