Injury Report: Tippmann ruled out but Gardner and Reed set to return
The final injury report of Giants week is out: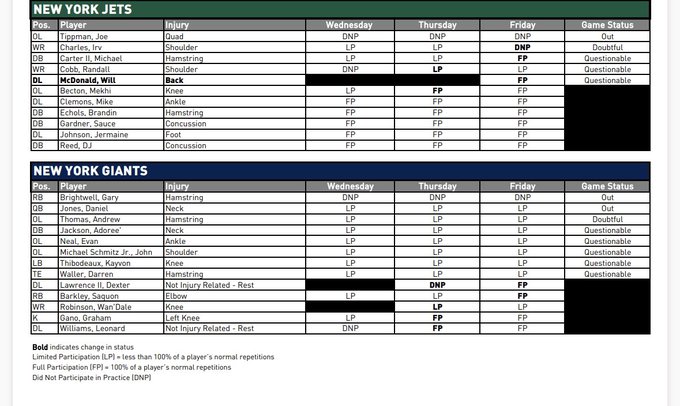 It's great news that Reed and Gardner will be back and not really a blow that Tippmann won't because we expected as much. However, the loss of Charles is a blow that leaves the Jets without their best two punt gunners. The Giants have been bad on punts but will be making a change this week with Eric Gray now on IR. Brandin Echols, Bryce Hall, Jarrick Bernard-Converse, Tae Hayes, Craig James and Malik Taylor could be candidates to be this week's gunners.
McDonald being added to the injury report despite practicing full and then listed as questionable could suggest he'll be the odd man out this week as the Jets once again have to juggle a few pieces to make sure they have cover at every position.
The Giants will have Tyrod Taylor starting at quarterback but the big question all week has been Thomas. Despite returning to practice, he sounded unsure of his status and the doubtful designation makes it obvious he's not likely to play. If any of the other players listed as questionable are out that will be a further blow to their chances.