Injury Report: Williamson and Mims out of Sunday's game
The Jets have released the final injury report ahead of their season opener against the Bills: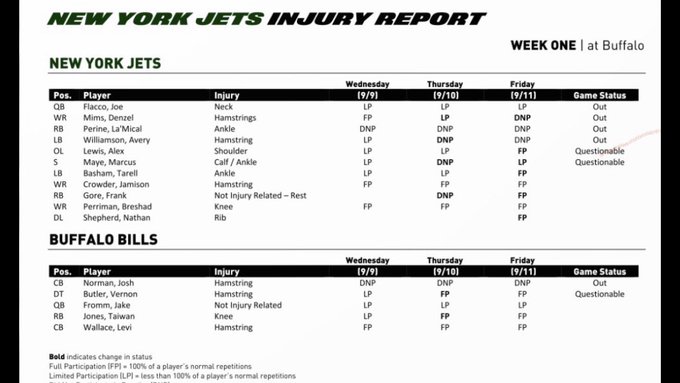 The biggest news here is Williamson's absence. The one saving grace is that Neville Hewitt and Blake Cashman worked extensively with the starters in camp, but it's not exactly what the Jets envisioned for the season opener. With the same pair in the game together for the fourth quarter of last season's opener, the Bills rallied from a 16-point deficit for the win.
Losing Mims again is another setback for a rookie whose preparation time for the season was already eaten into by injuries. Gase hasn't ruled out putting him on three-week injured reserve.
The Jets do have options now, thanks to the special rules for 2020 that give teams added roster flexibility.
They can elevate up to two players from their practice squad, which could be a good idea for the linebacker, running back or wide receiver positions. They were also expected to elevate a quarterback - presumably David Fales - to serve as Sam Darnold's number two, though.
If they need to add a third player, they do have an open spot on their 53-man roster. That player would have to pass through waivers to go back onto the practice squad if released after the game though - unless they are a vested veteran. Also, they could obviously create a fourth spot by placing Mims on injured reserve.
The good news from today was that Marcus Maye practiced, albeit on a limited basis. Gregg Williams said after practice that Maye "had a good day" and Maye himself said he "felt better than yesterday".
Alex Lewis and Tarell Basham both practiced full for the first time all week and look set to play although Lewis is listed as questionable along with Maye.
The Bills remain almost completely healthy but Levi Wallace will presumably start for Josh Norman, who missed practice for the third day in a row and has been ruled out. Starting defensive tackle Vernon Butler is listed as questionable but practiced full over the past two days.