Injury update: Davis misses practice again
The second injury report of Patriots week is out: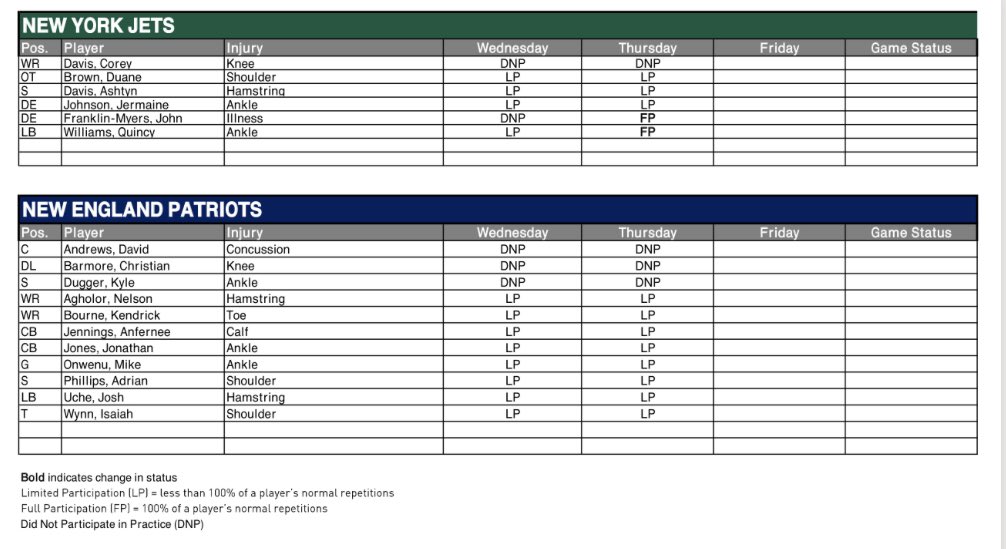 Davis, who is listed as day-to-day, seems to be the main doubt ahead of Sunday. The Jets can't really afford to be without Duane Brown, so presumably they are just letting him take it easy during the week.
In more encouraging news, Franklin-Myers was back from an injury and Quincy Williams practiced full after being limited yesterday. However, three players are still limited including Johnson and Ashtyn Davis, each of whom missed Sunday's game.
It's looking increasingly possible that New England could be without Andrews, Dugger and/or Barmore on Sunday and all three are contributors albeit with experienced players available to replace them. Andrews is the starting center and would be replaced by James Ferentz.
Dugger has started every game. He had a fumble return for a touchdown against the Lions and an interception against the Browns. Adrian Phillips or Jabrill Peppers would get more playing time if he was out.
Barmore had started the previous three games before missing the Bears game. He had been filling in for the original starter, Lawrence Guy, though - and Guy is now back.