Injury Update: Franklin-Myers returns to practice
The second injury report of Detroit week is out: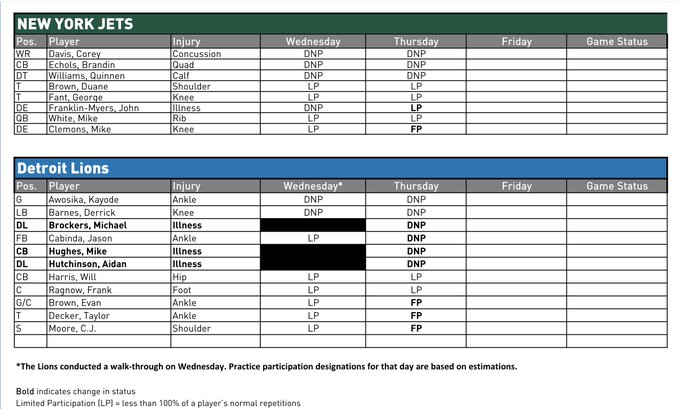 It's not looking great for Davis, Echols and Williams ahead of Sunday's game. Denzel Mims and Tony Adams will probably take on a larger role to fill in for Davis and Echols but Williams is the bigger concern.
Jeff Ulbrich said today that Williams is irreplaceable, only to then say in the next breath that the Jets have good depth and players that can replace him. It's worth noting that in 2021, Williams (and Foley Fatukasi) missed the Jaguars game and the Jets still won with Sheldon Rankins and Nathan Shepherd getting the majority of the reps as they likely would (along with Solomon Thomas) on Sunday if Williams is out.
White has already stated that he is definitely starting on Sunday with - as we found out yesterday - Zach Wilson to back him up.
The Lions will be hoping that the three players who missed practice due to illness won't be affected on Sunday because that could hurt their defense but otherwise look in pretty good shape.