Injury update: Johnson expected to miss Sunday's game
The first injury report of Broncos week is out: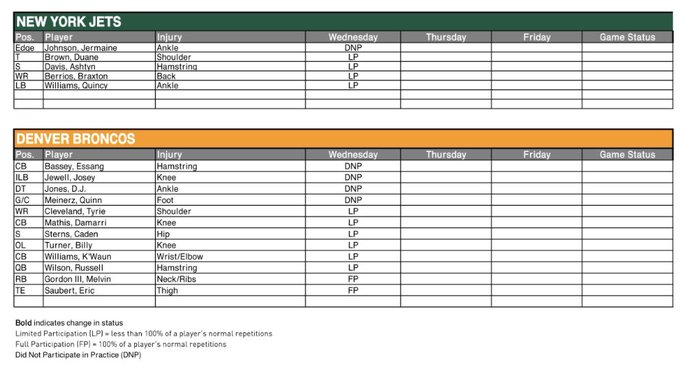 Robert Saleh confirmed that he doesn't expect Johnson to play this weekend and the Jets can afford to be cautious with him because they have plenty of depth on the edge. Vinny Curry and Bryce Huff will presumably remain active at least until Johnson returns and a decision is necessary. Hopefully the four players who were limited will improve over the course of the week.
The status of Russell Wilson also bears watching. He is regarded as a player who will play through pain and can be effective when he does so, but if it will impact his effectiveness, perhaps the Broncos might opt to give him the week off to recover fully. Wilson did say he was feeling better today and that's he's a fast healer.
Meinerz, Jones and Jewell are all starters for the Broncos. Jewell was the only one of the three who didn't play on Monday night. The Broncos only did a walkthrough so their report is an estimation.