Injury update: Mims is out for Sunday
The Jets have released Thursday's injury report: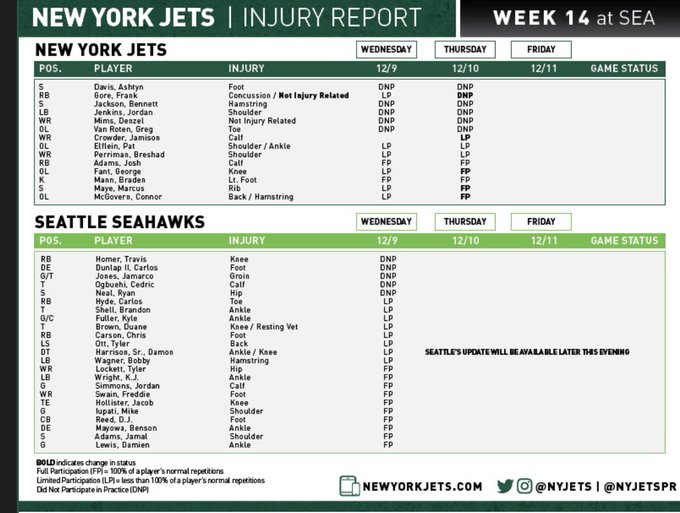 Adam Gase has confirmed that Denzel Mims will not be able to play against Seattle. Mims is not injured but had to leave the team for a personal emergency and was unable to return in time to be able to complete the necessary Covid-19 protocols to be available for Sunday. Braxton Berrios and the Smiths will pick up the slack with Mims unavailable.
Jenkins is still bothered by a shoulder injury he suffered during Sunday's game and played through down the stretch so Gase says he might not be able to play. Van Roten, Jackson and Davis are all expected to be out for some time and Gore had a scheduled rest day anyway as he is still working his way through concussion protocols.
Crowder was a new addition to the list because it wasn't announced he'd be limited beforehand. That often suggests the player in question was pulled due to a new injury, so this will be worth watching.
Fant, Maye and McGovern are all practicing full now after being limited on Wednesday. Recently, Perriman is usually limited during the week but still plays on Sunday, so we can probably expect him to be available too, especially with Mims out and Crowder's status now uncertain.
Seattle's first injury report of the week, which came out late yesterday, featured 23 players of whom five didn't practice and eight were limited. However, of the five who didn't practice, Carlos Dunlap was the only one who is currently listed as a starter.