Jets-Packers and a Galaxy Far, Far Away...
Today I'm going to look back on a seminal moment in Jets history. The last time the Jets had a playoff team, they would fall just short of a Super Bowl match-up with the eventual champion Green Bay Packers.

The world was robbed of a rematch from a match-up earlier in the year which just happened to be one of the worst Jets games in recent memory. Rex Ryan's 2010 Jets lost 9-0 to the Packers in the JumboSlinky in a game that foreshadowed the ultimate collapse of the Ryan regime.

But why was it so important? And how does it connect to "a galaxy far, far away"?

(Alright, so maybe this is a thinly-veiled premise because I felt like I wanted to write about Star Wars on the 40th anniversary of the release of the first movie. It's been a tough week ... indulge me.)

This loss to the Packers summed up the fatal flaw - the thermal exhaust port, if you will - of the Ryan regime. One of the most remarkable stats of the Rex Ryan era was that the Jets - a team clearly designed to win low-scoring games - went almost exactly three years without winning a low-scoring game.

Yes, in December 2009, they beat the Bills 19-13 and in December 2012, just one day short of exactly three years later, they beat the Cardinals 7-6. In between? They went 0-18 in games where they scored 21 or fewer points.

This team was somehow good despite being terrible at the one thing it was designed to be good at! Aiming to keep games close just meant the team constantly had low margins of error, placing additional pressure on themselves not to make a mistake. Ultimately this was destined to catch up to them. And no game underlined that point more than the 9-0 loss to the Packers.

For a game we'd like to consider as forgettable, there was a surprising amount of memorable aspects to that game.

The 5-1 Jets had a real chance to mark themselves down as being among the league's elite with a win over Aaron Rodgers and the eventual champion Packers. And for much of the game, the Jets outplayed their opponents, outgaining them by 360 yards to 237. However, true to form, they'd move the ball effectively only to then blow it at the key moment.

Who can forget these two ridiculous interceptions where the officiating staff momentarily forgot the existence of the "simultaneous possession" rule?



This was also a game where fierce vitriol was spewed by the fanbase towards offensive coordinator Brian Schottenheimer, but with the team moving the ball effectively and only failing to score because of drops, turnovers and other self-inflicted wounds like penalties, was it even his fault?

Ultimately, this was one of those games where the Jets probably would have won if they'd just been ultra-conservative and settled for a field goal whenever they got into scoring range. 2011 in Denver and 2012 in Tennessee were two other games that also fit that profile. It wasn't just isolated to the Ryan regime though. The two losses against the Bills in 2015 could arguably also come under this category.

A Herman Edwards-Paul Hackett coached team probably would have won all of the above mentioned games, only to then undo that by losing several other winnable games because they were too conservative.

That brings us to the crux of the matter. The Jets once again figure to have a better defense than offense in 2017, so the challenge for the offensive staff in winning games is going to be scoring enough points without risking giving the game away. New offensive coordinator John Morton has been vocal about wanting to "look after the football" this week, so hopefully he understands the concept of balance.

Balance, as we know, is of increasing importance both to the Jets and in Star Wars right now.

But why does this game in particular link back to the Star Wars saga?

It's because of the score. Packer 9 Jets 0. Nine-none. Which just reminds me of this guy: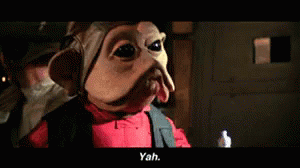 This, though, raises another one of the biggest unanswered questions* there is in connection with Star Wars.



*I think biggest unanswered question about Star Wars is why when I typed Star Wars into google did a box pop up listing the main characters of the Star Wars film series as Sio Bibble, Varmik and Mas Amedda?

How the heck do you say this guy's name?

He's called Nien Nunb and when I was at school, everyone said it like NEEN NUM. However, I read some Star Wars book or comic that said it was pronounce like NINE-NONE (just like in the Jets-Packers game!). That's backed up by this cheesy retro Hasbro commericial:

For years I was prepared to obnoxiously correct everybody, but - let's be honest - it didn't come up very often in conversation. And that's just some kid reading from a script. What would he know? Who would know the truth?

Searching for answers, I found an interview here (beginning at just before the 1h35m mark) between Mike Quinn, the actor/puppeteer who portrayed Nien Nunb in Return of the Jedi and The Force Awakens, Anthony Carboni, one of the presenters of "The Star Wars Show" and the self-purported "biggest Nien Nunb fan in the galaxy" Dana Jennings from StarWars.com:

However, this just raises more questions than answers. Jennings calls the character NEEN NUM throughout, just like I used to as a kid. However, Quinn's pronounciation is closer to NINE-NONE. Carboni just complicates matters further by constantly saying NEEN NUB and nobody corrects anyone else.

A little more googling suggests that Lucasfilm told the makers of the new Battlefront series of video games that it's actually said like "Ny-en Nun". That sounds legit and Star Wars-y, but somehow doesn't feel right.

I guess the truth is that sometimes people pronounce things differently and it gets tiresome correcting everyone so sometimes you just roll with it.

There's a river near where I live called the River Nene. People from one side of the River Nene pronounce it like NEEN, whereas people from the other side say "NENN". Any of you that are basketball fans might see "Nene" and thing "NENNAY" like the Brazilian forward who currently plays for the Rockets (not to be confused with Darrelle Revis doing the "nae nae"):
So, we either have no answer, or we must accept "there are different ways of pronouncing words and none of them are wrong" as our answer (unless we one day get canonical evidence one way or another).
To bring this back around to the Jets, we know that terminology and balance will be crucial to Morton as he goes in search of his own answers. The Jets aim to be competitive this year, but if they don't figure out their offensive gameplan then we're going to suffer through many more games like that Packers one which will leave all of us feeling nunb.