QuickFix: Ahmad-y Nuggets from the Jets' loss to the Bengals
We're going to kick off today's analysis with some things you might not have noticed from yesterday's game:
I know this much is true
Let's open today with some unbelievable stats. Like, literally, we're going to tell you some stats and you won't believe them. But they are true...
Corey Davis is currently on pace to record 1,060 receiving yards this season.
Through three games, the Jets have outgained their opponents by over 100 yards.
Excluding quarterback runs, the Jets have allowed just 96 yards on 40 carries (2.4 yards per carry) in the first three quarters of the first three games. Unfortunately, they've given up 160 yards at 4.8 yards per carry in fourth quarters.
Some more context for the above: First, Davis was on pace for 1,370 before this week's game. Next, the Jets had been outgained in each of the last six games of 2021, including one where they were outgained by 371 yards. As for the fourth quarter run-stopping futility, that seems to be a direct result of them trying to strip the ball rather than wrapping up late in the game. That would perhaps be comforting if not for the fact that Jeff Ulbrich literally said that was happening after the Browns game and wouldn't happen again.
Taking on two at a time
Each of the Jets' rookies has shown positive flashes, which are tantalizing when you start to think about the possibilities of these things happening on a regular basis but without as many negatives.
Two cool examples of that this week involved rookies taking on two opponents to make a play. First Max Mitchell drives the defensive lineman back on the combo block, then peels off to take out the linebacker who tries to fill the running lane: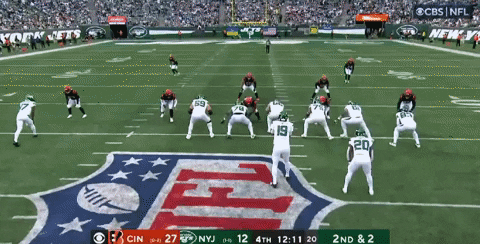 It was another solid performance by Mitchell, who continues to do a good job of not allowing any clean pressure.
Jermaine Johnson, who had four solo tackles, all on plays that went for four yards or less, also made a great play where he took on two opponents in the trenches: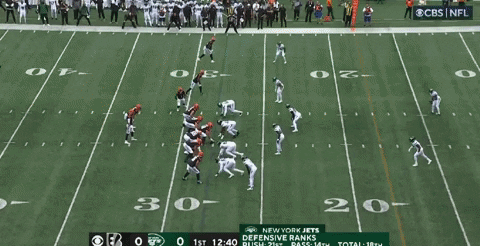 Johnson, who also made a great play to stretch out Ja'Marr Chase's unsuccessful fourth down run, is starting to look more comfortable out there and certainly has the potential to become a full-time starter rather than a rotational or situational rusher.
Snap Claptrap
Here are some interesting nuggets from the snap counts:
It was interesting that when Quincy Williams went down, Marcell Harris (15 snaps) moved into the base rotation rather than Jamien Sherwood (0 snaps). As you'd expect, Kwon Alexander moved into a full-time Will role with Williams out. Sherwood is probably the next man up at the Mike and Will positions, but Harris is apparently ahead of him as an option at Sam linebacker in base, despite the fact Sherwood was used in that role in the 2021 regular season. They were in base more than usual at that point of the game because the Bengals were bleeding the clock.
Carl Lawson is slowly being ramped up. He played 45 snaps this week, which equates to 66 percent. He has 29 snaps in the opener and 39 last week.
In contrast, Ty Johnson is perhaps being phased out. With Breece Hall targeted nine times in the first half alone, there's no need to Johnson to be the third down back. He played one snap after having played 13 last week.
It's interesting that they still found eight snaps to give to Jeff Smith even though he's essentially lost his job as one of the primary punt gunners. He did that just once yesterday, with Justin Hardee and Brandin Echols now handling those duties. For the season, Hardee has had this role on all 14 Braden Mann punts. Echols has done it on nine and Smith on five.
After focusing on the multi-tight end packages in week one, they seem to have overcompensated. Tyler Conklin and CJ Uzomah were only on the field together for 11 snaps this week.
Quinnen Blows Up
Quinnen Williams had another productive and disruptive game, but most of the postgame chatter surrounded his sideline confrontation with defensive line coach Aaron Whitecotton. Williams was apparently frustrated with the fact that the coaches wouldn't let them rush four as often as he wanted.
Based on the play he was complaining about, together with what had gone on later in the game, it seems like some people may be misinterpreting his rationale for these comments.
Williams was clearly frustrated, but you would hope that this was with the fact that the scheme had been unsuccessful in stopping the offense from scoring on the previous drive, rather than at his own opportunities being stifled.
Most people seem to think that Williams thinks the Jets should rush four because he is confident that they can generate pressure with those four so blitzing is unnecessary. This invites criticism because any time the front four is successfully prevented from generating pressure, suddenly that's viewed as a negative, even if it was a quick pass or an extra blocker (or blockers) stayed in - not to mention the fact that no pass rush gets there 100 percent of the time.
It may have seemed like the Jets didn't generate any pressure, but they had nine quarterback hits (which include sacks) on 38 Joe Burrow dropbacks. The Bengals - who it seemed were constantly in the backfield - also had nine, on 56 Joe Flacco dropbacks. And, as frustrated as Williams was, the defense didn't give up much after the Bengals' first drive of the second quarter. The only other touchdown they gave up came on a 24-yard drive after a fumble gave the Bengals a short field and Burrow was just 11-of-18 for 67 yards from the middle of the second quarter onwards.
Critics might suggest that the Jets only generated those pressure numbers because they blitzed rather than sending four, but this arguably isn't true and perhaps gets to the crux of Williams' argument.
The trouble with blitzing is that it leaves fewer guys in coverage and makes it easier for the quarterback to get rid of the ball more quickly. So, if the Jets instead drop seven into coverage, suddenly it's more risky to throw a quick pass and the defensive line has more of a chance to get home.
Therefore, from Williams' perspective it's not so much that they don't need those extra blitzers to get to the quarterback, but that they do need that extra second that dropping guys into coverage can provide.
Ultimately, Williams wants the scheme to work, both in terms of not letting the other team score but also in terms of disrupting and creating the potential for turnovers.
The Ja'Marr Chase touchdown which led to him losing his cool came as the Jets sent five and Burrow immediately threw it to Chase, who was wide open due to a coverage mix-up. Had there been one more defensive player in coverage, perhaps that prevents the option to neutralize the rush with a quick pass.
The frustration may have built from earlier in the game too. On the Tyler Boyd touchdown, the Jets sent seven, but the Bengals picked it up by leaving seven in to block, although Burrow still had heavy pressure in his face as he got the throw off.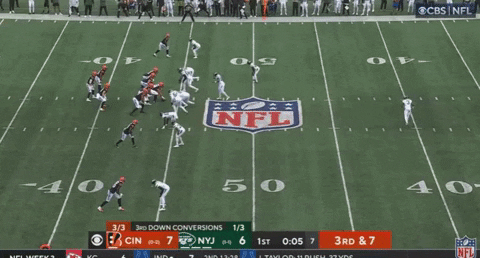 Here you have three cornerbacks in man coverage and a safety sitting in center field, but it's a disaster for the Jets as the receiver gets a step on Deuce Carter and Burrow throws a perfect pass in spite of the pressure, then Jordan Whitehead compounds the misery by throwing a weak shoulder at Boyd rather than wrapping him up securely.
It's also not necessarily the case that Williams doesn't trust the rest of the back seven to do their job in coverage if one or more of them blitzes, but he likely views it as playing into the other team's hands to do so.
All of this begs the question as to why the Jets did do this but, as noted, they didn't do this all the time, and the overall gameplan defensively was actually kind of successful over the last 35-40 minutes. When they did opt to do it, clearly they were looking for quick pressure, the likes of which you generally only get from a blitz. Unfortunately, in the face of pressure, Burrow threw a perfect pass to Boyd, just like Lamar Jackson did to Devin Duvernay two weeks ago.
Seeing fire and passion like this from Williams is interesting, because it's not something we've seen before and underscores the desperation to get things pointed in the right direction this season.
Is it a sign of insubordination, or that the Jets players are losing faith in either the scheme or some of the gameplans? Who knows? It does seem like something that the coaching staff will rethink and - as we saw with the Garrett Wilson situation - they're could end up at the same conclusion their critics have already arrived at.
---
We'll have some more in-depth analysis for you throughout the rest of today and over the next few days, so keep checking back here early and often.