QuickFix: Ahmad-y Nuggets from the Jets' loss to the Ravens
We're going to kick off today's analysis with some things you might not have noticed from yesterday's game:
Reed the Room
It was our first chance to see DJ Reed in action for the Jets because he didn't play in preseason and he had a big day.
Reed had a spectacular leaping interception to go along with a forced fumble, which could have been a turning point had the Jets recovered it.
Only one other Jet in the last five years has had an interception and a forced fumble in the same game and that was Marcus Maye who achieved this in that wacky game against the Broncos where Isaiah Crowell rushed for like 700 yards. Maye intercepted a pass on the very last play of the game, which was memorable because he returned it 104 yards only to run out of steam and get tackled on the goal line.
Reed also had an early pass disruption, although he didn't officially get credit for a pass defensed on the play. His most impressive play, though, was arguably this one: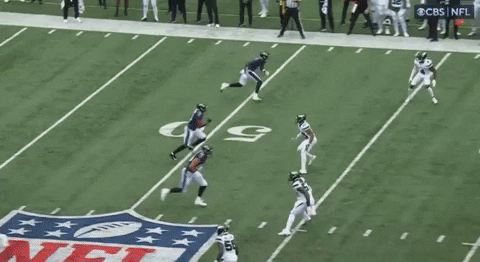 That's elite recovery speed from Reed, who allows the receiver to get behind him but never panics and chews up the ground to get on the receiver's hip and locate the ball. It might even have been an interception chance if the ball wasn't overthrown.
The Jets argubaly haven't had a cornerback with recovery speed like that since Darrelle Revis tore his ACL in 2012. 10 years later, they might even have two.
Snapchat
Some interesting nuggets from the snap count data:
Garrett Wilson ended up with 41 snaps, just ahead of Braxton Berrios on 39. Most of these came in the second half;
Lawrence Cager was in the starting lineup and played 10 snaps;
Tyler Conklin missed just seven snaps and Elijah Moore missed just nine;
The Jets were in base approximately two-thirds of the time on defense, which may end up being a season-high but is definitely a sign they could play with three linebackers a lot more this year to counter the run;
Other than Quinnen Williams (36 snaps), the other seven defensive linemen all played between 19 and 30 snaps;
Tony Adams played one defensive snap in his NFL debut;
In what would have been his NFL debut, Grant Hermanns didn't take the field for a single snap on offense or special teams; and
Jamien Sherwood, Jacob Martin and Justin Hardee led the team with 22 special teams snaps each.
Package Deals
The Jets kept the game close in the first half, outgaining the Ravens by 170 to 92 yards, although they only scored three points. A feature of that gameplan, which they essentially had to abandon in the second half, was that they mixed in some two-back and three-tight end personnel packages.
The Ravens have a strong secondary, which figures to get even stronger as Kyle Hamilton develops into an impact player, so setting up to create mismatches was a viable move and a good curveball to throw in when you're starting the backup quarterback and the offensive line has been compromised.
The two-back packages could be something we see more of as the season goes along but they had four plays with both Hall and Carter in the game. This included back-to-back plays with this personnel on the field, one of which worked and the other of which almost did.
On the first of these two plays, the Jets lined Ace Carter out wide and then brought him in motion from right to left. Breece Hall then sprinted out to the right flat and caught a short pass in stride which he took upfield for a first down.
On the next play, it was Hall who came across in motion and this time Carter bluffed like he was going to stay in to block and then leaked out into the flat where he was wide open for a potential easy big play. Unfortunately, George Fant got badly beaten on the play and Joe Flacco was sacked before he could get the ball out to Carter. There's potential there though.
The three-tight end packages yielded mixed results although where they failed, this was more down to bad luck than bad design. They opened up the game with this personnel grouping and Tyler Conklin and CJ Uzomah combined to set the edge for Carter to burst outside on a big run.
On the first play of their third possession, they once again came out with a heavy three-tight end package. This time, though, Lawrence Cager hesitated briefly before releasing outside and running a go route down the sideline. Elijah Moore, the receiver on that side, ran up the seam. This created a situation where if Marlon Humphrey had stayed with Moore, Cager would've been open for a big gain down the sideline. Humphrey was forced to pass Moore off and Flacco made the right read to hit the now-open Moore for a 24-yard gain.
So far, so good. However, the next two plays with this personnel grouping saw Cager called for a holding penalty and then Flacco threw an interception as Cager slipped while making his break. The hold seemed harsh, as Cager appeared to keep his hands inside the whole time and then the interception (and long return) was obviously unfortunate too with Flacco releasing the throw just as Cager slipped.
They went to a three tight-end look again later on, with Cager this time lined up as a wide receiver and making a great downfield block. This play was also notable for the contributions by Hall and Max Mitchell.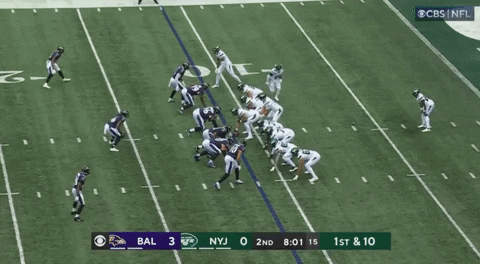 As noted, the Jets essentially abandoned this plan after halftime as they fell into a two score deficit on Baltimore's second drive. They only rushed the ball four times after halftime, having racked up 74 yards on 13 carries in the first half.
Of course these packages did mean that there were fewer reps available for their wide receivers, but they made up for lost time with Wilson as he played a ton in the second half and was targeted seven times in the fourth quarter alone.
This led to Joe Flacco ending up with 37 completions, which is actually tied with Mike White's performance against the Bengals last year for the third-most in Jets history. Flacco attempted 59 passes, which is obviously too many, although Jets quarterbacks have attempted 60 or more five times.
Pancakes with da ... Elijah Moore?!?!
We didn't have to wait long for our first pancake of the season, but it came from an unlikely source, as Elijah Moore used every one of those 12 pounds he put on during the offseason to put Marlon Humphrey on his keyster...
If he keeps making plays like this, they're gonna start calling him Moorekhi Becton.
(Okay, no they're not).
---
We'll have some more in-depth analysis for you throughout the rest of today and over the next few days, so keep checking back here early and often.