QuickFix: Ahmad-y Nuggets from the Jets' win over the Browns
We're going to kick off today's analysis with some things you might not have noticed from yesterday's game:
Now that's what I call a Pre-Snap Reed
DJ Reed's spectacular touchdown-saving open field tackle on Nick Chubb was a memorable moment from the first quarter. However, a closer look at this play is equal parts insightful and hilarious.
First off, check out Kwon Alexander - who doesn't even wear the headset on defense - directing traffic before the snap to ensure everyone is lined up in the right place. Alexander is a vocal leader, whose motivational style apparently meshes well with CJ Mosley's quiet lead-by-example approach. On-field communication is a unit-wide challenge, though, and it's always interesting to see it in action.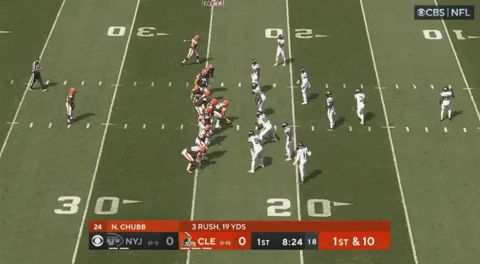 So, as you can see, Alexander re-aligns the defensive line so the tackle is over the center and the edge rusher is over the left tackle to counter the overload to the strong side.
Unfortunately, the Browns break tendency and pitch it to the weakside, rendering this the worst pre-snap adjustment in NFL history. This looks like an easy touchdown - or at worst Alexander takes a conservative angle and maybe bumps Chubb out at the five or something: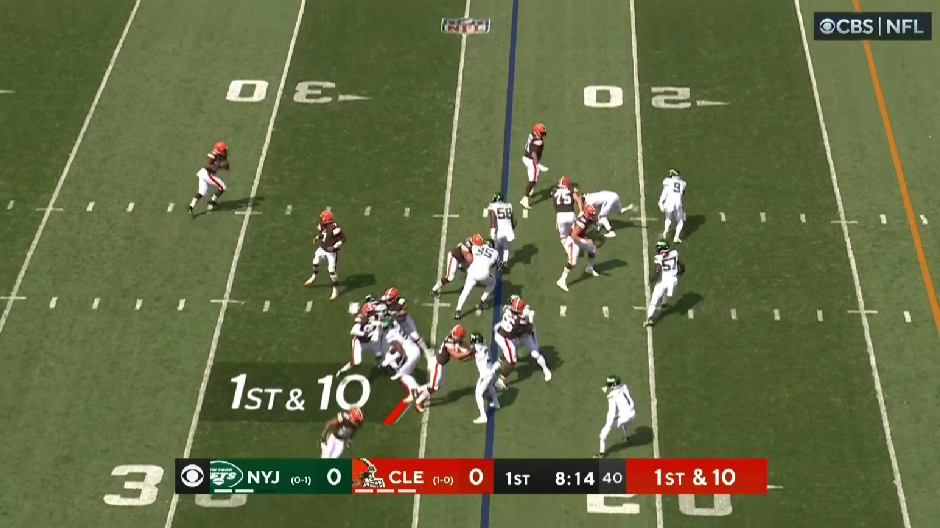 All is not lost though, as Alexander realizes Reed has been sucked in and is in danger of getting sealed inside and losing contain. So, he literally shoves Reed in the direction of the ball carrier: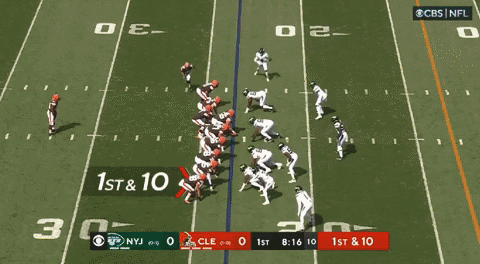 Somehow, Reed stumbles but maintains his balance and completes the dragdown tackle.
It's evident the Jets have strived hard to tighten up the run defense this season and it was really good not just against Baltimore but also through the first three quarters of the Browns game as the Jets had allowed just 43 yards on 16 running back carries heading into the fourth quarter.
However, the Browns' running game really got going in the fourth quarter. They ended up with 184 rushing yards, with 87 and three touchdowns from Chubb. 43 of those came from the quarterback, though, including a 21-yard scramble against the prevent defense at the end.
This is still slightly better than the 217 yards the Browns racked up against the Panthers (with 141 from Chubb) but clearly things went awry late as the Jets looked gassed. Their inability to get off the field in the first half was no doubt a factor here, as Brissett completed 12 of his 13 passes with the only incompletion coming via the replay booth on the play before they scored anyway.
Reed had one other run stuff on a play where Alexander didn't need to push him in the right direction, but also got isolated in space and beaten on the outside a few times. One of these was the final touchdown, which actually worked out quite well because the Jets likely wouldn't have got the ball back had Chubb not scored.
Reed and some of the other defensive back additions are contributing with willingness and aggressive in run support, which is and will hopefully continue to be a big factor in not giving up big breakaway runs like they did last season.
Whose side are you on?
Here's a fun moment featuring former Browns tight end Lawrence Cager, the guy in shorts on the right side of the screen, as he initially points to the right as if he's appealing for Cleveland ball, then realizes which way the Jets are kicking.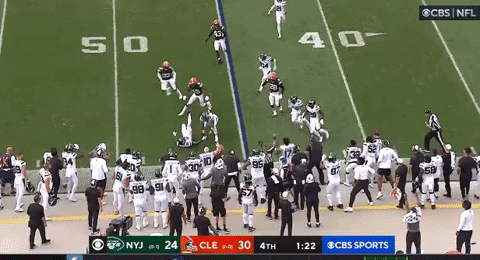 Perhaps he was still upset at the Jets making him inactive.
Snap to it
Some really interesting nuggets from the snap counts:
Backup safeties Ashtyn Davis and Tony Adams each had a significant play. Davis had an interception as the Jets went into a prevent defense and Adams got burned by Amari Cooper on a third down with the Jets in a dime package. In each case that was their ONLY snap.
At the other end of the scale, Tyler Conklin played every snap with CJ Uzomah out. Jeremy Ruckert played 18 snaps and Kenny Yeboah played two.
Hilariously, after Garrett Wilson's breakout game seemingly vindicated those who said he should play more after last week, he only actually played two more snaps than he did in the opener.
The Jets ran five plays with two backs on the field this week.
The Jets weren't in base as much as last week, but still were almost half the time which is much more than last year (usually 20-30 percent of the time).
Finally, congratulations to Grant Hermanns, who worked on the placekicking unit this week to make his NFL debut. A few snaps like these can be valuable to a practice squad player like Hermanns, who will now also qualify for some performance related pay after the season. He does only have one standard elevation left this season, though.
Regular as Clockwork
Here's how the team has fared on a week-by-week basis since the Robert Saleh era began:
2021 Week 1: Loss
2021 Week 2: Loss
2021 Week 3: Loss
2021 Week 4: WIN (Titans)
2021 Week 5: Loss
2021 Week 6: Bye Week
2021 Week 7: Loss
2021 Week 8: WIN (Bengals)
2021 Week 9: Loss
2021 Week 10: Loss
2021 Week 11: Loss
2021 Week 12: WIN (Texans)
2021 Week 13: Loss
2021 Week 14: Loss
2021 Week 15: Loss
2021 Week 16: WIN (Jaguars)
2021 Week 17: Loss
2021 Week 18: Loss
2022 Week 1: Loss
2022 Week 2: WIN (Browns)
The pattern has been established. The future is determined. We should have known the Jets would win and we can already be sure that the Jets' next win will be against the Packers in four weeks time. Unfortunately, the Jets' bye week is in eight weeks ... so this means the Jets are now going to lose nine of their next 10 games.
Oh well. We'll always have yesterday.
---
We'll have some more in-depth analysis for you throughout the rest of today and over the next few days, so keep checking back here early and often.