QuickFix: Ahmad-y Nuggets from the Jets' win over the Steelers
We're going to kick off today's analysis with some things you might not have noticed from yesterday's game:
Breaking the Pattern
You'll recall we noted a few weeks ago that the Jets have always one once every four weeks throughout the Robert Saleh era, so they were actually not due to win again until the Packers game in week six. Yesterday's win breaks that pattern and the Jets have won two out of three for the first time in the Saleh era.
One other pattern was broken. Last week we pointed out how the Jets' run defense has been solid early but weak late. This flipped on Sunday as the Jets gave up 4.5 yards per carry in the first half, but only 3.2 in the second half. That also translated to four yards per carry in the first three quarters and three yards per carry in the fourth.
Above and Beyond
One feature from this game was that, in order to win, a lot of players needed to step up and do things that normally wouldn't be their usual role. Chief among them was Alijah Vera-Tucker, whose last minute move to left tackle was well hidden from the media.
In addition, you had Braxton Berrios throwing touchdown passes, Zach Wilson catching them and Lamarcus Joyner making plays in coverage. (Okay, that last one kind of is supposed to be his job, but it's not one he had been doing in the first three games).
Here's a couple of examples of players making plays you can't always rely on them to make. First of all, Ace Carter picks up the blitz well to enable Wilson to complete a nice pass to Elijah Moore.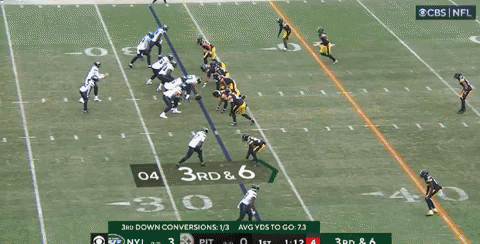 Now here's Deuce Carter with an impressive hit to force a punt. He passes off the assignment superbly to close on the back running the crosser here.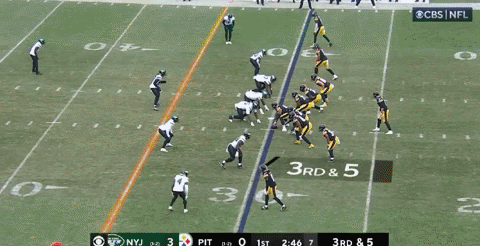 In each case these would be situations where the player in question has often had negative plays in the past, so seeing the growth here is encouraging. Deuce would later come up with a big interception and while Ace had a quiet game overall, he had an important catch on the game-winning drive.
Make it Snappy
Looking through the snap count data, there are a few interesting points to note.
Active for the first time, Bryce Huff's inclusion made a big difference to the Jets' pass rush. Or did it? Yes, he had a couple of pressures as he was out there with the primary pressure unit early. But Huff actually only played nine defensive snaps. The main difference to the pass rush was was just that Mitch Trubisky took a couple of sacks rather than getting rid of the ball. The Jets actually had three fewer quarterback hits than last week.
CJ Uzomah wasn't targeted again but did play a role as he was in the game for almost half of the time as the Jets went with multiple tight ends regularly to help out their ailing offensive line. Braxton Berrios sacrificed playing time here as he only had eight snaps.
On defense, the Jets were in base almost half the time, with Kwon Alexander in a full time role (he only came out when the Jets went into prevent defense) and Marcell Harris in the game almost half the time. This seems to be an indicator for how much respect they have for the opposing quarterback, if anything.
After all the talk this week about Quinnen Williams and his snap count, he led the 10 active defensive linemen in snaps as he was in the game for 61 percent of the time. If you wanted a good example of what Jeff Ulbrich was referring to when he said Williams plays to hard he often needs to come to the sideline for a breather, his cross-field hustle to shove Kenny Pickett out of bounds was exaxctly that.
There was one snap each for Jeremy Ruckert, Brandin Echols and Hamsah Nasirildeen.
Meaningless October Rugby
One of the most entertaining plays of the day came on what should have been the last play of the first half as the Jets intercepted a Hail Mary pass and then threw three lateral passes as they attempted to return it 100 yards for a touchdown. They ultimately made it 70 yards before fumbling, which they wouldn't have been allowed to advance even if they recovered it because there were less than two minutes left in the half.
Ultimately, this play turned out to be as frustrating as it was entertaining because it cost the Jets three points. Carl Lawson was flagged for roughing the passer to negate the interception and give the Steelers another play on which they were able to boot a 59-yard field goal.
It was fun while it lasted though. Jordan Whitehead intercepted the pass, ran it back 30 yards, then lateralled to DJ Reed, who ran another 15 before flipping it back to Whitehead who rang for another 11 and then finally it ended up back with Reed, who gained another 12. Had this play stood, Reed would have ended up with 0 interceptions for 27 return yards officially.
While it didn't count because of the Lawson penalty, it might not have counted anyway, even without the penalty. It's difficult to see whether Chase Claypool's hand makes contact with Whitehead as he secures the catch, but it seems likely. If he did, then it's down by contact and halftime.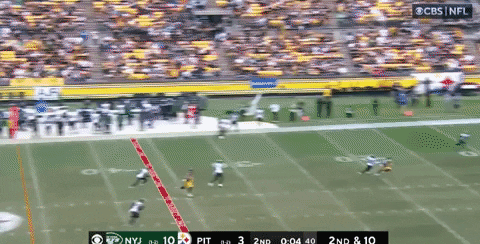 Also fun to observe here is how Ahmad Gardner - who probably would have been one of the most effective guys to play rugby with had he ended up with the ball - assumes the play is over and start untying his shoes.
SHEESH
Sheesh.
---
We'll have some more in-depth analysis for you throughout the rest of today and over the next few days, so keep checking back here early and often.