QuickFix: Saucy Nuggets from the Jets' loss to Miami
We're going to kick off today's analysis with some things you might not have noticed from yesterday's loss to the Dolphins:
Pancakes with da Becton
Breakfast time...Hey - that's cheating! You can't roll under a pancake!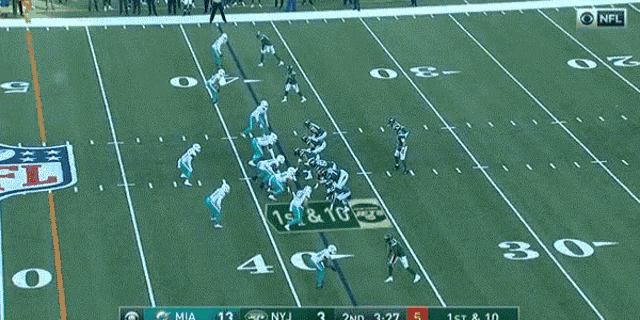 Ya dats not right.
Can't hit the motion
While the media is having fun with the scuttlebutt over who is in charge of playcalling, does it really matter? The scheme sucks, the players' ability to execute it sucks and how well they've been coached to execute it correctly has also sucked. Does whoever picks the play make any difference? Evidently not.
One pattern that's been apparent since the beginning of last season is that when Sam Darnold is in at quarterback, they don't seem to use the entire playbook. For example, last season, they used the same two staple running plays almost all season. They've expanded the running game a lot this year - and to good effect - but there will still be elements of the gameplan that will be absent on a game-by-game basis.
Another example of this is the use of the tight ends. In some games, they're not part of the offensive gameplan and that was the case on Sunday. No tight end was targeted all day, whereas Miami completed passes to 10 different players.
Another common complaint is that they often don't use enough motion and this is also a tell-tale sign that they might be dumbing down the playbook for their young quarterback.
Let's compare and contrast how much they used the motion last week with Joe Flacco in as against this week's game.
Against the Chargers:
The Jets had pre-snap motion on 20 plays, a player in motion at the snap on nine and 26 with no motion. So they definitely used it less.
Interestingly, when they used motion in the first half it was way more effective than when they didn't. They had 82 net yards on 14 plays with motion and zero net yards on nine without.
In the second half, the balance shifted towards more plays with no motion and the effectiveness was also much better on plays where there was no motion. They had 45 yards on 15 plays with motion and 168 yards on 17 plays with no motion.
Against the Dolphins:
The Jets had pre-snap motion on 15 plays, a player in motion at the snap on four and 34 with no motion.
Where they did have success it was typically on plays with no motion. The 19 motion plays generated 65 yards (just over three per play), whereas the 34 without motion generated 195 (about six per play). 151 of these yards came in the first half though.
Is this enough to confirm our hypotheses? (Namely that the Jets do less of this with Darnold to make his life easier and also that it doesn't give Darnold benefits in terms of helping him to make better reads).
One thing is for sure - the offense isn't working very well and reducing the lack of complexity doesn't seem to be leading to better execution or ANY tangible progress in terms of Darnold's development.
May the force be with you
Something unique in this game was that the Jets forced four fumbles. Playmaking ability like that is often sought-after and would usually set up the offense to score way more than three points.
In the first 10 games this season, the Jets had just seven of these and looked set to end up with 10 or less forced fumbles for the third year out of the last four.
These days, forced fumbles are usually most common on sacks so if you don't have an elite pass rusher, you probably won't find yourselves getting very many.
For example, last year, TJ Watt, Chandler Jones and Shaq Barrett were the only NFL players with more than five. However, this year has been a bit of an anomaly. Myles Garrett is tied for the lead but with Marlon Humphrey and only five of the top 14 were full time edge rushers. Last year, 14 of the top 18 were players who play on the edge.
Whether the Jets will continue to force fumbles over the remaining five games remains to be seen. They had 15 back in 2015 but had only averaged 11 per season since then, entering this week. You wonder what they could do with a reliable edge though.
Doctor Q
We can't let this game pass without giving special mention to Quinnen Williams. Last week, Williams had one of his best ever all-round performances, but this week he was even better.
He ended up with seven tackles, 1.5 sacks, one other quarterback hit, a tackle for loss, two pass deflections and a forced fumble.
Williams absolutely destroyed Ereck Flowers to blow up this run in the backfield and force a turnover on a fumble.
Splash plays like this are great but what's really exciting is his consistency and the production he's starting to generate.
In yesterday's game there was only one negative play and that came as he dropped off to try to make the tackle on a short pass and couldn't make the tackle. That's the second week in a row he hasn't had any negatives in the trenches.
Last week, Williams racked up seven total pressure which was a career high but, by our count, he matched that number by the end of the third quarter.
Add in the fact that all seven of his tackles came on plays that went for four yards or less and Williams has made the graduation from hidden production to
Thank goodness no teams offered them the second round pick they so obviously would have accepted for him at the trade deadline.
---
We'll have some more in-depth analysis for you throughout the rest of today and over the next few days, so keep checking back here early and often.