QuickFix: Saucy Nuggets from the 109th Grey Cup between the Toronto Argonauts and the Winnipeg Blue Bombers
We're going to kick off today's analysis with some things you might not have noticed from yesterday's game:
50 Shades of Grey Cup
We can't be bothered to recap that awful Jets-Patriots game so we're going to break down the real big game on Sunday night instead. The Toronto Argonauts went toe-to-toe with the Winnipeg Blue Bombers in the the CFL's 109th Grey Cup.
One of the most interesting aspects of the first half was the pressure packages that Blue Bombers head coach Mike O'Shea drew up to rattle Argos quarterback McLeod Bethel-Thompson after Toronto drove down into the red zone in the first half.
This allowed Winnipeg to get home and kept the score at 4-0 Toronto midway through the second quarter, enabling Winnipeg to take the lead when Dakota Prukop scored a touchdown on their next drive.
They eventually knocked "Macbeth" out with a thumb injury, forcing them to turn to Chad Kelly down the stretch.
However, Toronto countered with some overload blitzes to rattle two-time Grey Cup MVP Zach Collaros and this was a key factor in them having a chance to win it down the end. They had four sacks and would have had a fifth to clinch the win if not for a penalty.
This defensive chess match was somewhat reminiscent of how Bill Belichick approached yesterday's game with the Jets. New England's defensive performance was spectacular, although people seem eager to attribute that entirely to the Jets' offensive futility, as opposed to New England gaining almost 300 yards but this being seen as a great job by an excellent Jets defense.
And perhaps that's right, but Belichick deserves credit for his gameplan. With two weeks to prepare, Belichick shows the true value of a defense that is coached well enough to execute a gameplan with virtually no breakdowns. New England's defense isn't as talented from top to bottom as that of the Jets, but when a gameplan is good and everyone executes their role correctly, it really emphasizes how the better coached teams find it easier to plug players in and overcome injuries.
Higher up, we referred to this as a chess match and the thing about a chess match is that you need to be able to think a couple of moves ahead. New England won the previous matchup because they constantly brought pressure off the edge and Zach Wilson kept vacating the pocket and running backwards to try and "create".
In the lead-up to the Bills game, everyone agreed that Zach needed to focus on stepping up or staying in the pocket and being prepared to take a hit and trust his protection. He did this and was effective in doing so.
Belichick anticipated this with two simple adjustments. On some plays he used Mack Wilson as a spy to prevent Wilson from being able to step up and run, blitzing late whenever Wilson hesitated. On others, he sent a stunting lineman right up the middle on an aggressive rush which, even if picked up, would at worst plug up the middle so Wilson is unable to step up.
What the Jets needed to do was anticipate that obviously Belichick was going to do things of this nature and come up with a plan to overcome it. No doubt they'll watch the film and figure out where a hot route or designed run or whatever could have been successful, but that doesn't do any good unless the teams meet again in the postseason or other teams adopt the same blueprint.
When it was Belichick's time to make a move, he took the whole two weeks to make up his mind and then pressed that little button on the top of the clock and Mike LaFleur was unable to come up with a suitable timely response. With their quarterback misfiring and New England dominating them in the trenches, the Jets' best hope was for stalemate, which they nearly achieved.
Ultimately it's one thing to have all the pieces, but you've got to make the right moves and the Jets were on a board that seemed to be on tilt all afternoon.
As for Wilson, we literally had a section in the last Saucy Nuggets that was titled Get Your Eyes Up, but...
Patriots edge Matthew Judon on Zach Wilson: "I think whenever you have pressure on a guy like that he looks at the rush and instead of having his eyes up they're more down."

Said the #Jets didn't have many route combinations down the field.

— Zack Rosenblatt (@ZackBlatt) November 20, 2022
But, yeah we don't want to talk about that game. Good job by Argos coach Ryan Dinwiddie to make that adjustment.
Can't contain myself
In case you were unaware, you only get three downs rather than four in Canadian Football, so it's often difficult to establish a running game. However, both teams did a good job of running the ball. Toronto had 100 yards and two scores on just 18 carries and Winnipeg had 103 yards and two scores on 23 carries.
Both teams also had success in the red zone with both Blue Bomber touchdowns coming on quarterback sneaks and both Argos touchdowns coming on runs bounced to the outside.
Contrast this with, say, the Jets' performance in run defense against New England on Sunday. On the face of it, New England had decent success running the ball, with 98 yards on 26 carries against a team that literally entered the game giving up 99.8 yards per game on 25 carries.
However, New England wouldn't have got close to this if not for two elementary mistakes.
You'll recall from the previous game where Jermaine Johnson pinched in right before the snap and then got sealed inside to set up Josh Allen's long touchdown burst. Well, in this game he made pretty much an identical mistake.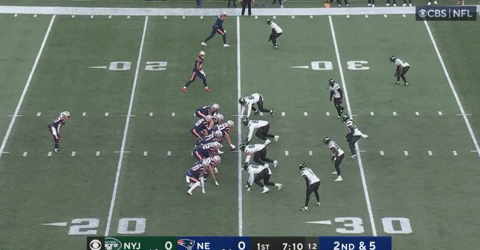 Then on this play, John Franklin-Myers sees something that causes him to crash inside, leading to a bounce-out and a huge gain as Sauce Gardner also loses contain.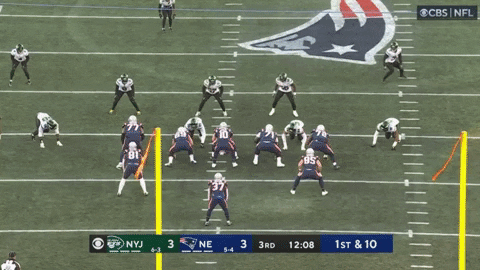 Those two plays netted 52 yards. Without them, New England managed just 47 yards on 24 carries. That's sensational, lights-out, defense by the Jets, but two tiny mistakes make a huge difference.
We digress, however...the main point here is that sometimes it pays off to stick with the run (even when it isn't working) and the Argos and Blue Bombers both profited from that too.
SHEESH
Man, you should have seen this 2nd-and-13 play by the Argos in the third quarter. Unfortunately there's no GIF available of this play so here's one from the Jets game instead.
Sheesh.
The Excellence of Execution
Let's try to end on a more positive note, though, and appreciate some of the impressive plays made during this game. Let's highlight some of the best ones.
Here's veteran running back Rupert Prefontaine-D'Artagnan with the spectacular open field hurdle on safety Monteée Ignominious III:
Fullback Foo-Foo Fontana trucked linebacker O'Neil Gargamel Jr. for the go-ahead touchdown in the third quarter: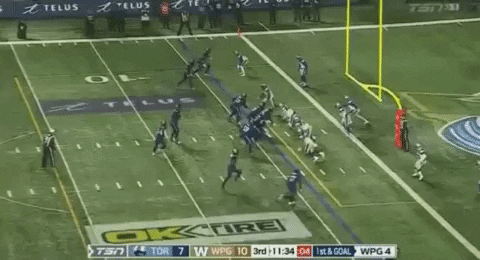 Finally, De'Jaymion Hunter-Wilkins from Morris Renault College, who the Jets were reportedly interested in as an undrafted free agent, also impressed with a strip sack and several pressures. Not bad for a tight end.
Some of these players could have a future in the NFL, where they'll no doubt be looking to make dominant plays like this one from Carl Lawson, who displays impressive power and technique on the long-arm move:
Or perhaps an under-the-radar play like this one, where Vinny Curry penetrates, but then shows displays discipline, patience and technique to control his blocker on the outside run, stretch it out and then shed the block for the stop.
We can appreciate these moments but don't need to think about that right now though.
In conclusion, a fascinating matchup north of the border ended up being a thriller, as Kelly led the Argos back and they clung on to win by one, blocking a game-tying field goal attempt with 54 seconds left. Unfortunately, the Jets' own pursuit of a championship seems a little further away after yesterday.
---
We'll have some more in-depth analysis for you throughout the rest of today and over the next few days, so keep checking back here early and often.