QuickFix: Saucy Nuggets from the Jets' loss to Buffalo
We're going to kick off today's analysis with some things you might not have noticed from yesterday's game:
With or Without Q
One impressive aspect of the Jets' performance was how they hung in the game despite losing Quinnen Williams to injury. The defense still kept the game close enough that the team had a chance to win. So they surprisingly didn't miss him that much, right?
Actually, that's probably not the case. The defense wasn't too bad by normal standards, but the Jets were playing lights out until Williams got hurt and potentially on their way to doing something really special.
Up to and including the play where Williams was injured, the Bills gained just 51 yards on 21 plays. They also didn't give up any points.
Williams himself had two sacks, including this one which is just about the best bull-jerk move you'll ever see as he rocks his man back, throws him down and uses this to propel his momentum into Josh Allen. And Williams is not just doing this to some scrub - that's Roger Saffold, who was a pro bowler last season.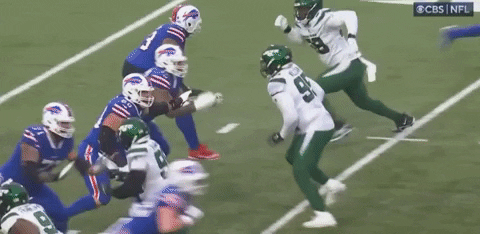 From the injury onwards, they gave up 181 yards on 33 plays - and allowed the Bills four scoring drives for 20 points. That's an average of 5.5 yards per play as opposed to 2.4 before Williams was knocked out of the game.
So, yes, the Jets hung in there without their 2022 MVP (stop the count), but without him, the defense isn't as special as they'll need it to be over the last month of the season if they're to make the playoffs.
Fumble Futility
We need to talk about the Jets' inability to recover a fumble. Analysts have studied this in the past and determined that whether or not a team recovers a lot of fumbles is primarily a function of luck. If that's accurate, the Jets have been really unlucky of late.
The Jets remain dead last in the league with a 20 percent fumble recovery rate. 12 teams have recovered 50 percent or more with the Falcons leading the league at 62.5 percent.
With just three fumble opponent's recoveries in total on the season, if the Jets fail to recover one over the remaining four games, they will tie the NFL's all-time record for the fewest in a season, held by the 1974 Rams (14 game season) and 1995 Packers (16 game season). Two players - Sam Williams and Yetur Gross-Matos have as many fumble recoveries as the entire Jets defense.
It's been seven full games since the Jets last recovered an opposition fumble. They do have a long way to go to challenge the longest such streak in the modern era though. The 2016 Cincinnati Bengals recovered an opponent's fumble in week five of the 2016 season but then didn't recover another until their eighth game of the 2017 season.
The Jets obviously have a great defense in spite of this issue, which might be just an anomaly. And, bizarrely, this does seem to be something that affects good defenses. Those other teams we mentioned above? The 1974 Rams led the league in terms of fewest points allowed and went 10-4 while the 1995 Packers were 4th in points allowed and won 11 games. The 2016/17 Bengals weren't quite as good, as they had a losing record in each year. They were 8th in the league in points allowed in 2016 though.
The problem with this fumble issue is that the interceptions have dried up too. The Jets have 12 interceptions, but only one since the bye week (by CJ Mosley in garbage time against the Bears). They've gone without a turnover in their other three games since the bye week, losing all three, having had at least one in every game before the bye.
The Jets were sitting pretty at 6-3 but if they don't manage to start forcing turnovers again in these last four games, they're likely to fall out of the race.
Milestone Watch
Garrett Wilson broke Keyshawn Johnson's franchise record for rookie receiving yards in yesterday's game and now has 63 catches and 858 yards on the season. Clearly he only needs 142 yards in these last four games to have a thousand-yard season which would be the first for a Jet since both Eric Decker and Brandon Marshall managed it in 2015. Prior to that, the last Jets player to achieve this was Jerricho Cotchery in 2007.
Wilson has definitely exceeded expectations. Here's what we wrote when discussing his likely 2022 production:
It's highly unlikely that Wilson will put up numbers to rival Johnson's rookie output of 63 catches, 844 yards and eight touchdowns, primarily because he's going to be sharing touches with the likes of Moore, Corey Davis and Braxton Berrios, not to mention a deep group of running backs and tight ends. Johnson was joining an awful Jets team that ultimately won just one game.
The play on which he broke the record was a nice one too, as he executed a neat reverse spin to pick up the first down.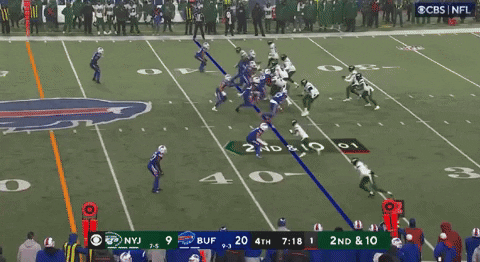 Wilson's next target, however, is the franchise record for receptions by a rookie. Wayne Chrebet holds that with 66 so Wilson needs just four more to break that one too. He needs five touchdowns to break Johnson's rookie record in that category, though, which seems less attainable.
With four games to go, here's a few other statistical milestones still in play:
It would be cool if Bam Knight could get to 537 yards so him and Breece Hall rush for a thousand between them. Knight needs to rush for 307 in the last four games to get to that. Knight has averaged five yards per carry so far and if he carries on that rate, he will need to average about 15 carries per game to reach this mark. Ending up as the team's leading rusher is well within his reach though.
CJ Mosley leads the Jets with 125 tackles, averaging 9.6 per week. In order to beat his career high of 168, set last season, he needs to average 10.8 in these last four games.
Perhaps surprisingly, Tyler Conklin has quietly racked up 45 catches with four games to go. His career high, set last year, is 61 so he needs to average four a week to tie that.
In a disappointing year, Elijah Moore still has a shot at beating his numbers from last season after catching six passes for 60 yards. He needs 16 catches and 188 yards in the last four games to exceed last year's numbers.
Mike White needs just 328 more passing yards to overtake Zach Wilson as the Jets leader on the season.
With 16 passes defensed on the season, Sauce Gardner has no shot of breaking Darrelle Revis' franchise record of 31. Could he get to 21, the second-highest total (also by Revis), though?
Snap Count, Crackle and Pop
Finally, some interesting observations from yesterday's snap counts:
Mike Remmers saw his first action of the season due to a George Fant injury, but was only in for five snaps before Fant came back in. The damage was done, though, as he gave up a strip sack on his first snap
Tony Adams replaced Brandin Echols as the team's nickel back, but they were only in this personnel package on three plays
Kwon Alexander's 16 snaps were a season-low
You might think Quinnen Williams getting hurt would create more playing time for backups Solomon Thomas and Nathan Shepherd. However, the Jets instead increased their other starter's workload. Sheldon Rankins was in on 75 percent of the snaps, a season high and actually higher than Williams himself in any game.
The main beneficiary of Micheal Clemons being absent was his fellow rookie Jermaine Johnson who saw action on a season high 24 snaps.
Ty Johnson, who has been playing well lately, didn't get a single offensive snap.
---
We'll have some more in-depth analysis for you throughout the rest of today and over the next few days, so keep checking back here early and often.