QuickFix: Saucy Nuggets from the Jets' loss to Buffalo
We're going to kick off today's analysis with some things you might not have noticed from yesterday's loss to the Bills:
Phancakes without da Becton
Okay who's ready for some breakfast? Finally Mekhi Becton is back so we can see some ferocious soul-altering decimations from the Jets' monstrous rookie: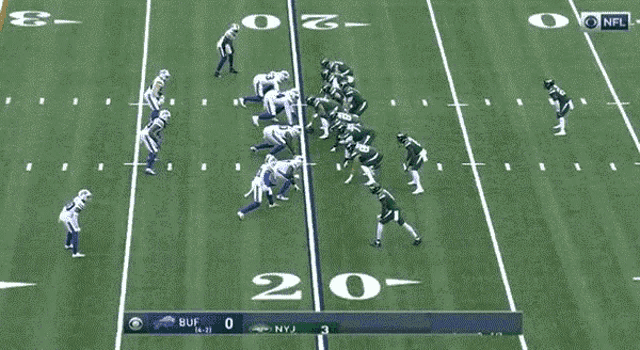 Um, okay.
The Adjustment Bureau
Kudos to Adam Gase, who made the first successful adjustment of his entire Jets tenure by making someone other than Adam Gase the playcaller for Sunday's game.
Seemingly galvanized, the offense looked sharp deep into the second quarter and built a decent lead. The blocking was good, runners were making good yardage and the passing game was efficient.
The problem came when it came time to counter the Bills' own adjustments. The statistical discrepancy between Darnold's start and his finish needs no further analysis:
First 12 passes: 11 completions, 116 yards, no interceptions (106.9 passer rating)
Last 11 passes: One completion, four yards, two interceptions (0.0 passer rating).
On their first play of the second half, the Jets looked set to build on their first half play, as Frank Gore ran for 13 yards. However, on their next series, they went three and out.
And on their next series...they went three and out. And then on their next one too. And the one after that.
It wasn't until their final series of the game that the Jets picked up another first down - on the penalty that saw Jordan Poyer knock Breshad Perriman out of the game. But this series also only lasted three plays because Darnold was intercepted on his next snap.
This has to be the worst half of offensive football in recent memory, despite plenty of competition. If the only pass you can complete in an entire half is a four-yard dump-off, surely you have to find a way to dial up some kind of simple completions, especially with the other team so banged up that one of their top corners is a rookie playing his first ever game.
They used to say that Sam Darnold is at his best when he goes off-script but boy is this coaching staff ever bad at doing the same thing. Perhaps that's why it's been such a doomed marriage.
Seeing is believing
While the coaching staff deserves all the criticism for the listless second half display on offense there are still situations where Darnold simply isn't processing quickly enough to anticipate pressure, find an outlet or even in some cases to find a safe way to throw it away.
Even when Darnold was playing well - and he did play really well in the first half - you could see these issues.
On one play on the first drive, he dumped it off underneath for a short gain when he could easily have run for 10 yards and extended the drive. Then the drive stalled on third and short on a play where Denzel Mims was open for a long time but Darnold saw him too late and the pass got broken up: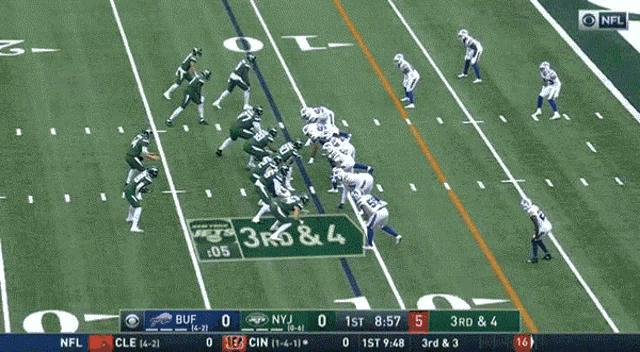 That was actually his only incompletion until the late stages of the second quarter.
This isn't just an issue for Darnold though. Check out the wide open receiver in the left flat that Allen fails to see on this play. The design is for Allen to fake left, then fake right and then dump underneath to the tight end. However, Allen should still be aware of these options even if they are initially intended as decoys.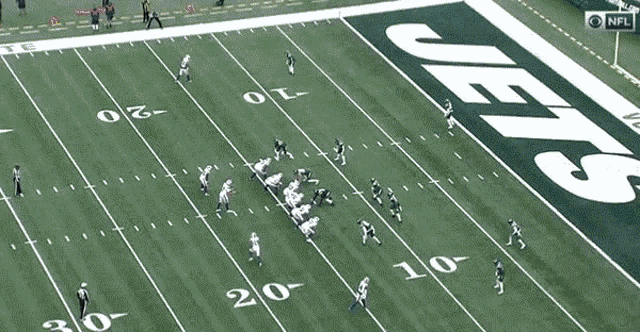 Allen should sense that Jordan Jenkins - who is a mismatch for a running back in space anyway - merely passes the back off to non-existent safety support and revert back to that option rather than just aborting as he ends up doing.
Here's the difference though: Allen will take off and run for a first down on a regular basis and also the Bills get plenty of mileage from the kind of horizontal passing game that never generates any offense for the Jets.
Again, this brings things back to the coaches and their inability to work around the deficiencies of their players compared with that of the Bills.
Go fourth and multiply
One complaint from the dying vestiges of the Todd Bowles era was that they never seemed to go for it on fourth and short, giving the impression of a team that was too afraid to fail or not even prepared to try. At least the 2020 Jets usually seem to go for it in these situations. Unfortunately, they invariably fail.
This happened again in the second quarter on Sunday, as the Jets got stuffed on a fourth down run up the middle in the red zone.
Anyone who's seen every Jets game this year would probably have guessed that (a) they'd run it up the middle and (b) it would get stuffed, regardless of how well they'd been running the ball to that point.
Watching this again, it actually looks like a read-option. But do we think Darnold had the option to pull it out and run with it or was this just supposed to look like that was a possibility to keep the end honest?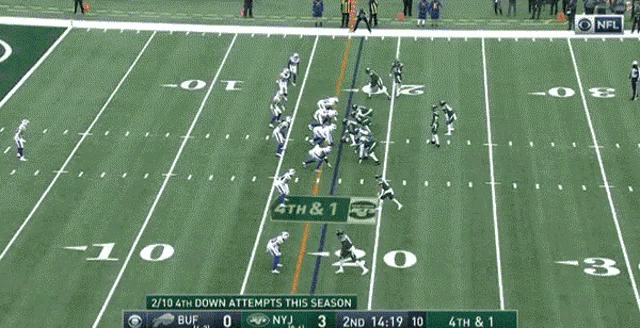 Considering Darnold has had issues with reading defenses anyway, it might not be the best idea to rely on him making the right read in this situation. His read is off the left edge defender, who does stay home and is ready to kick out and bring down Darnold if he keeps it so on the face of it, handing the ball to the back is the right read.
However, you only need a yard. If Darnold is about to hand the ball off and senses the defensive line penetrating into the backfield, he should be able to pull it back late and run off the edge where he can hope to dive ahead to pick up that yard.
One of these days, someone is going to run a "give-and-go" in this situation. If La'Mical Perine pitches the ball back to Darnold immediately and Denzel Mims and Ryan Griffin make a block each that's a walk-in touchdown.
Probably a stupid idea...but we can't all be a "brilliant offensive mind" can we?
---
We'll have some more in-depth analysis for you throughout the rest of today and over the next few days, so keep checking back here early and often.