QuickFix: Saucy Nuggets from the Jets' loss to Miami
We're going to kick off today's analysis with some things you might not have noticed from yesterday's game:
The most depressing sentence you will read about the Jets this season
You'll need to steel yourself to read this comment, which on the face of it is just an innocuous fact, but when presented without the context we're all well aware of, is enough to make you shudder.
Here it comes - don't say you weren't warned:
The Jets finished 7-10 which was their best record since the 2019 season.
Pancakes with da Ogbuttaehi
We haven't done this all season, so why not?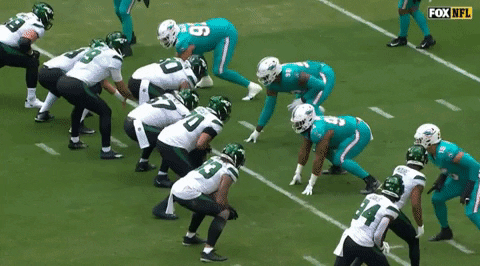 Ya dat's right!
A Rough Slate
In retrospect, the Jets' schedule was tougher than we ever anticipated this year. They only faced three teams all season that weren't in postseason contention until this final week - and actually won all three games (against the Browns, Broncos and Bears).
Generally speaking, if you're a team in the postseason mix, you'd expect to get at least a few freebies against teams who are out of contention and perhaps resting players, giving extra reps to inexperienced players over older veterans or even actively tanking.
Take 2015 (the last season in which the Jets were still in contention in December) for example. In that season the Jets played ELEVEN of their games against teams who were eliminated from postseason contention before the final week. (For the record, they lost four of these, including the postseason decider against the Bills).
It's possible that introducing a seventh playoff team in each conference will have a positive effect here by keeping more teams in the mix for longer and ensuring more competitive late-season games. Clearly the team was never going to back their way in this year.
The whole outlook changed with the late season resurgence of the Lions and Jaguars. Both teams started off badly and it looked like the Jets were destined to be facing teams for whom the wheels would have come off by then. However, it didn't work out like that and what could easily have been the team's eighth and ninth win of the year ended up being two tough losses.
We learned today that nine wins would have been enough to get them to the postseason and this easily could have been the outcome without much else changing. So the Jets could be heading to the postseason in their current state - a broken offense, an offensive line comprised mostly of third-stringers and a rapidly deteriorating confidence level.
Perhaps it's merciful that this isn't what happened after all.
The SexyBack Formation
Let's make our final nugget of the season something fun.
The Jets had a rare successful running play (and an even rarer short-yardage conversion) on a play where they brought Laurent Duvernay-Tardif in to play right guard so that starting guard Dan Feeney could motion from an H-back alignment into an I-formation full back role.
Here's the play: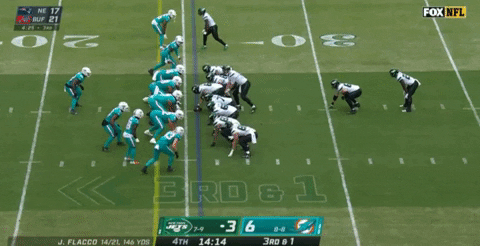 Bam Knight gets the carry and hits the hole hard, picking up some yards after contact on the play - something else that's been rare over this last month or so.
Feeney fires off from the SexyBack position to pancake the defensive back while Jeremy Ruckert, operating as more of a decoy, also fires off a powerful block after going in motion.
The key to this run's success was Duvernay-Tardif making a good pulling block on the linebacker on the edge, as Tyler Conklin and Mike Remmers both blocked down to create a seam.
Running to the opposite side of the formation where Christian Wilkins lined up was probably also a smart idea.
The running game was absolutely terrible on Sunday. Perhaps they should have tried to use Feeney in this fashion more often.
---
We'll have some more in-depth analysis for you throughout the rest of today and over the next few days, so keep checking back here early and often.