QuickFix: Saucy Nuggets from the Jets' loss to New England
We're going to kick off today's analysis with some things you might not have noticed from yesterday's loss to the Patriots:
Hold everything!
Something weird is going on with these defensive holding calls on running plays against Jets' linemen. The Jets have had four of these in the last three games. Prior to this, none of their five active defensive linemen had any defensive holding penalties in their combined careers.
It's not impossible for a defensive lineman to commit defensive holding. Nathan Shepherd had a good example of one in London. Clearly, he prevents the offensive lineman from being able to climb to the second level and making his block, as you can see: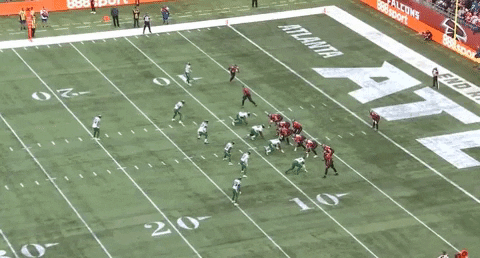 So, okay, fine, that's a penalty. However, the rest of them seem to be the kinds of things that either never get called or don't even look like a penalty in the first place.
Take the first play of yesterday's game for example. Quinnen Williams takes on the double team, tries to fight it off and...gets called for defensive holding.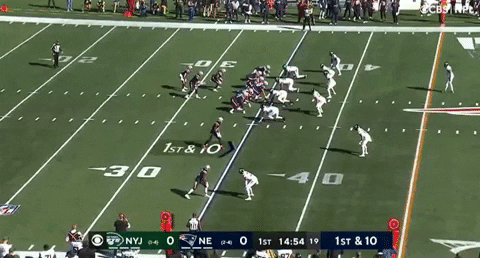 This seems difficult to justify. Neither of the players engaged with Williams is trying to get to the second level and all he seems to be guilty of is fighting for hand placement which happens on every single play.
So what's going on? Is this a league wide emphasis in 2021? Is it something officials are looking for just in respect of the Jets? Is it something the Robert Saleh defensive linemen are specifically coached to do and sometimes get caught out?
Blockers getting to the second level too readily has been an issue all year. Is that because the Jets aren't being allowed to occupy blockers the same way they ordinarily would?
We can look at the data, but the number of defensive holding penalties on defensive linemen will be inflated by those situations where they drop into coverage and get called for defensive holding on a receiver or hold a running back to prevent him from leaking out of the backfield.
Even so, there's only been 328 defensive holding penalties on defensive linemen since 2009. That's 12.5 seasons, so that's 26 per season. In other words, less than one per team each season on average.
So, is there more of an emphasis in recent years? Not really. There was 32 last year, so only a slight increase. No team had more than three. Robert Saleh's 49ers only had two and the Jets had none. Remember, they have four in three weeks.
Is there more of a 2021 emphasis though? Nope. Other than the Jets, there have only been five through the first seven weeks.
But then, you turn to the other side of the ball and the Jets' other big problem - starting the game on offense. The first drive ended in a 3-and-out again: Run, run, sack.
But, it might have been different. 2nd-and-9 and the Jets had a run that was set up pretty well. Unfortunately, Connor McGovern failed to make his block at the second level and the run got stuffed.
But why didn't he make that second level block? Why do you think?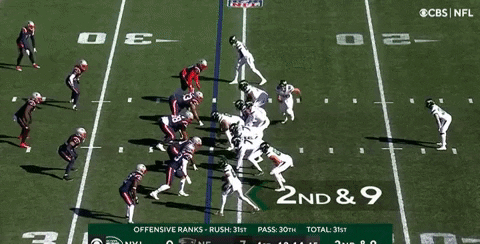 Yep, the Jets called a play that should have worked, was stopped by a more blatant defensive hold than they themselves have been called for several plays earlier and this forced them into a passing down when they otherwise should have had a first down, either due to the penalty or because if McGovern makes his second level block, Ace Carter has plenty of room to make good yardage.
You can't say this changed the outcome of the game to the blowout loss the Jets ended up with, but when a team is so desperately in need of a fast start and ends up with the opposite of that on both sides of the ball, it's not helpful to say the least.
Should we be pissed about this? We should...
Ace earning his place
Ace Carter had a disappointing end to the game as he lost a fumble on the Jets' final offensive snap, but ultimately if you're going to lose one fumble all year, in the closing stages of a blowout loss when it doesn't really matter is probably a good time to do it.
The error ruined Carter's most productive game so far, as he was heavily featured in the short passing game. Carter ended up with 104 yards on 19 touches; a quality output. This included six of the Jets' 18 first downs.
One of his more encouraging moments was this nice blitz pick-up, although the pass was not completed.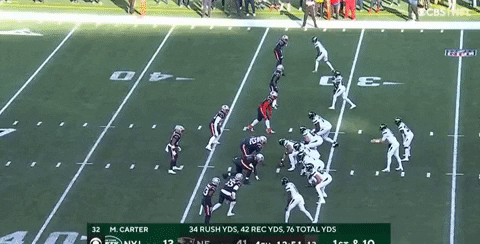 As long as he's not in the doghouse for losing that fumble, it will be fun to see Carter continue to develop. If he continues to produce like this, he could end up with more than a thousand yards from scrimmage.
Something to Chu on
Earlier this week, we shared our scouting report on Isaiah Williams. At the time, we were speculating as to whether it would be Williams or Chuma Edoga that makes way once Mekhi Becton (or possibly Conor McDermott) is ready to return from injured reserve.
That speculation was based on the fact that Williams has been getting special teams reps while Edoga hadn't taken the field at all this season. However, that changed on Sunday.
For the first time all year, the Jets employed an offensive lineman as an eligible extra tight end in a goal line package and it was Edoga who got that assignment. (Ironically, in the scouting report for Williams, we remarked that he might be good in this role based on some short yardage plays from preseason).
On first down, Edoga let his man get off his block to stuff the run. On second down, he stayed in and did a decent job as Ty Johnson broke the plane in behind him, only for the play to be negated by a false start.
That wasn't his only action though, as George Fant got injured and Edoga got some reps at left tackle.
The Patriots seemed to recognize this and immediately ran a stunt on the left side. Matt Judon broke through cleanly and Alijah Vera-Tucker was called for holding as he tried to prevent the sack.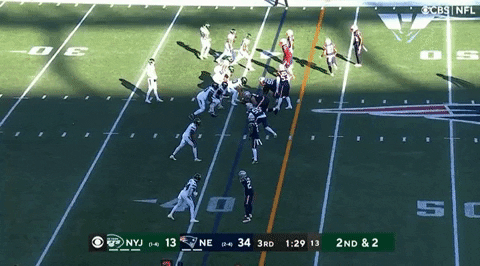 That's smart recognition from New England, who presumably knew that the Fant and Vera-Tucker pairing has developed their chemistry to the point where they are usually picking these up in recent weeks. But Edoga and Vera-Tucker have never played together so running a stunt to sow some immediate confusion was a no-brainer and worked like a charm.
In addition, as if to confirm this was something they actively sought to exploit, they did the same thing on the very next snap. This time, Vera-Tucker picked up the stunt but the tackle looped around the outside of Edoga and got a hit in on Mike White.
Fortunately, Fant was back in the game after that, but it can't have helped Edoga's chances of retaining his spot over Williams or McDermott in the weeks to come to see one of his weaknesses laid bare like this. If he does play again this year, hopefully he gets more of a chance to prepare next time.
---
We'll have some more in-depth analysis for you throughout the rest of today and over the next few days, so keep checking back here early and often.