QuickFix: Saucy Nuggets from the Jets' loss to New England
We're going to kick off today's analysis with some things you might not have noticed from yesterday's loss to the Patriots:
Zach Wilson and the Terrible, Horrible, No Good, Very Bad Boring Game of Football
Robert Saleh said it perfectly after the game; Zach Wilson needs to learn to play a boring game of football. You can perhaps forgive him for being amped up for his first game in front of his home fans but he clearly threw too many risky passes.
In fact, this stat sums things up perfectly:

This actually came before the end of the game and Wilson completed his last three passes for 30 yards after this, but this says it better than the final numbers do. On the same number of passes, Jones only had six more yards than Zach despite completing a much higher percentage of his passes, but with it translating to 25 points instead of six.
What you can glean from this statistic is exactly what played out. Wilson took more risks, got burned four times on interceptions and Jones was just as productive by constantly taking the easy option.
Here's one example where he could have had an easy first down to the left, the right or over the middle but threw a low percentage pass incomplete downfield instead: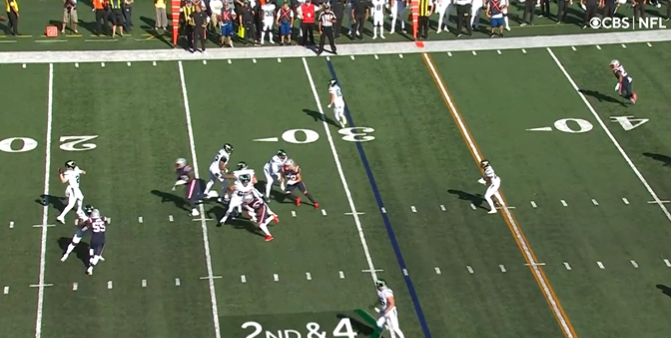 Let's not nitpick the performance too closely, though. You can perhaps try to make excuses for one or two of Wilson's mistakes but ultimately what Saleh says is true. Take the easy option, keep the chains moving and don't be afraid to take a sack, throw the ball away or punt the ball back to the other team. That's what the Patriots did - and they beat a Jets team that pretty played well on defense without breaking a sweat.
If Wilson can make the terrible into boring, then hopefully the Jets can start winning. Because if Mac Jones is already boring and winning, that's terrible for the Jets.
Did we learn nothing from preseason?
If preseason taught us anything, it's that when you get to the 18-yard line, you have to throw the ball to Tyler Kroft. However, the Jets got down to the 18-yard line and Kroft wasn't even in the game.
They ran two unsuccessful plays from there and ultimately came away with just a field goal.
C'mon guys - that's the Kroft Zone. If the Jets are going to pass up the opportunity for 18-yard Tyler Kroft touchdown catches what's even left?
Interestingly, Kroft seemed to take over the fullback role from Trevon Wesco this week. Wesco played just two snaps.
Pancakes without da Becton
The Jets were without Mekhi Becton, but George Fant held up pretty well in pass protection and helped contribute to a solid 152-yard output in the running game. He did have two holding penalties called on him though.
How well he'll ultimately be able to replace Becton over the next several weeks remains to be seen but Fant definitely did a good approximation of him here.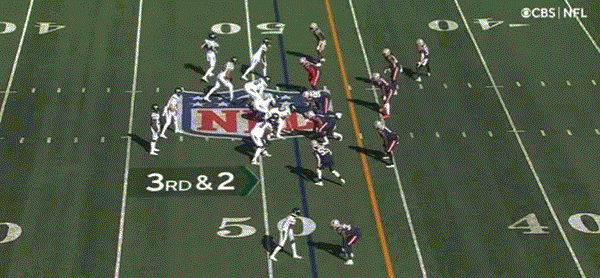 The most fun block of the day wasn't a pancake though, it was this Alijah Vera-Tucker get-out-of-the-club effort, which often happens when a guard locks onto a defensive back.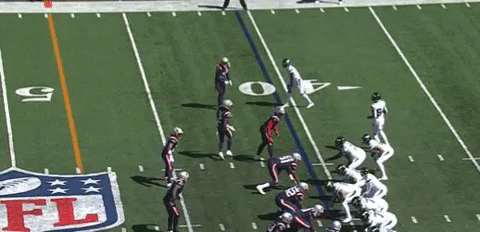 Vera-Tucker still has some things to work on, but he had more of an impact as a run blocker this week and also held up better in pass protection for most of the game, although he gave up a few pressures late in the game again.
The Moses Fit
Sticking with the offensive line, we've talked a lot about how Morgan Moses wasn't necessarily an upgrade over Fant because he might not be as good of a scheme fit despite his talent.
Here's an example of this, as he's just not athletic enough to get out and make this block.
What he does do well though, is control at the point of attack and drive his man off the line. This should come in handy near the goal line, although the Jets tried to run a few times inside the five on Sunday and came up empty.
The Jets may have to tweak their gameplans because moving Fant from right tackle to left tackle immediately limits how effective plays where the right tackle has to get on the move will be, while perhaps increasing the effectiveness of plays where he can dominate at the point of attack. Like this one, for example: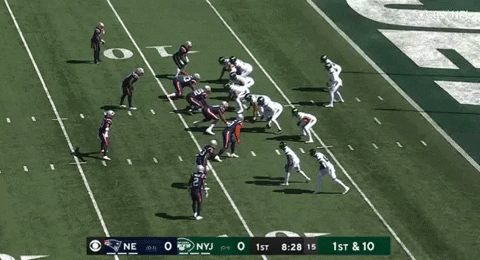 One side-effect of this that may be overlooked is the effect on Greg Van Roten's role. Whether this helps or hinders him in the long term remains to be seen, but he had a lot of negative plays in this game.
The Ubiquitousness of Negativity
We've only talked about offense so far and, on a day when the defense was pretty good, we're going to talk about their worst moment; Damien Harris' 26-yard touchdown run. This came immediately after Wilson's fourth interception and it's reasonable to suggest that morale-sapping moment had some impact on the Jets' effort on this play.
We'll spare you this gif of this play but could this be a rare occasion where all 11 defensive players attract a negative grade?
Seven players had an opportunity to tackle Harris:
Brandin Echols shot into the backfield but Harris slipped his tackle. Marcus Maye met Harris in the hole while being blocked from the side but Harris bounced off him. At the second level, Adrian Colbert slowed him up but Harris broke out of his tackle. Quincy Williams ran him down from behind and tried to make a diving tackle but Harris slipped through it. Deuce Carter was blocked downfield and disengaged and tried to stop him but Harris just ran through him. Bryce Hall tried to rip the ball loose rather than stopping his momentum and was dragged towards the end zone. Finally, Bryce Huff, initially blocked on the edge by a tight end, hustled back to wrap him up at the goal line but then the pile just got shoved into the end zone.
So that's seven guys who would probably get a negative grade for this play.
The other four were all blocked out of the play:
Both Quinnen Williams and Foley Fatukasi got double-teamed. Williams got moved laterally and blocked to the ground to open the running lane and Fatukasi was sealed off on the backside. John Franklin-Myers was single blocked by the right tackle on the backside and made no upfield or lateral in-roads whatsoever. Finally, Mosley - who, to be fair, had an extremely active performance which hopefully shows signs he's getting back to his old self - filled the other A gap and got caught up in traffic so he couldn't get back into the play.
For these four, except maybe Williams, you're talking about a minor negative at worst or perhaps even a neutral play. It's harsh to criticize someone who controlled their gap just because they weren't otherwise able to affect the play. However, in terms of the play as a whole, there were more negatives than you're ever likely to see on one play.
Clearly if everyone takes a play off at the same time, you're going to get punished - and embarrassed.
---
We'll have some more in-depth analysis for you throughout the rest of today and over the next few days, so keep checking back here early and often.