QuickFix: Saucy Nuggets from the Jets' loss to the Chiefs
We're going to kick off today's analysis with some things you might not have noticed from yesterday's loss to the Chiefs:
Pancakes with da Becton
Breakfast time! And Mekhi Becton had a healthy stack of pancakes on this week's menu. Here's a sample...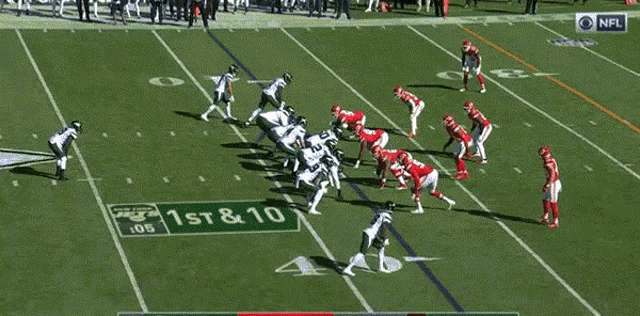 And, in case you want a second helping...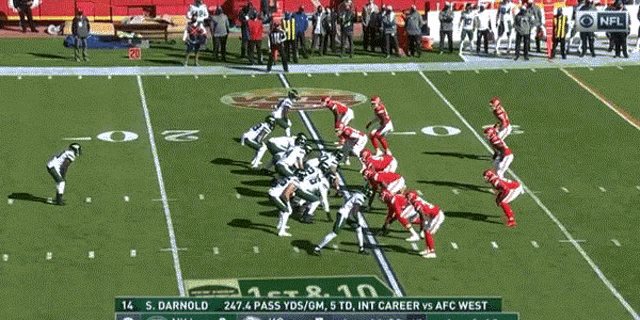 Pancakes with da Butker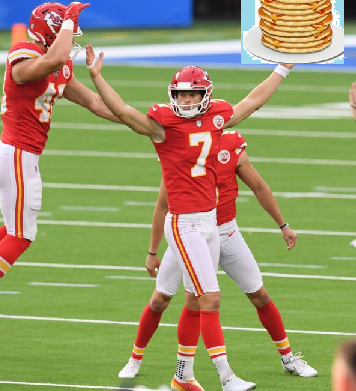 Ya dats right.
I would pass 400 yards and I would pass 400 more
In the final reckoning, Patrick Mahomes passed for 416 yards for the Chiefs. Ho-hum. This is nothing he hasn't done before. Despite only being in his third season as a starter, this was the fourth time he's reached the 400-yard mark.
Entering this week, seven other quarterbacks had racked up 400-yard games this season. Last year it happened 19 times. Drew Brees alone has done it 16 times in his career, plus another three times in the playoffs.
What of the Jets, though? The last time their quarterback did this was on Christmas eve in 2000. Vinny Testaverde passed for 481 yards, although he had to throw an almost NFL-record 69 passes to get there and the Jets still lost 34-20 anyway. Since that time, there have been hundreds of 400-yard games. In fact, there have even been 16 games where the quarterback passed for more than 500 yards.
Amazingly, there are two teams whose last 400-yard game was even longer ago: Baltimore (1996) and Chicago (1999).
The Bears are known for their statistical futility in terms of passing numbers. They're the only NFL team never to have had a 4000-yard season from their quarterback. The Jets did this with Joe Namath (albeit over 50 years ago) and the Ravens did it with current Jets backup Joe Flacco.
Darnold was supposed to be the quarterback to change these trends for the Jets - much as Mitchell Trubisky presumably was to Bears fans. It's looking increasingly unlikely that he's going to be that guy with this team.
Stuff Justice
Let's try and finish with something the Jets did well. Although Mahomes passed the ball all over the field, he kind of had to because the Jets stuffed the Chiefs' running game all day.
With just 50 yards on 20 carries, the Chiefs found themselves struggling to move the ball unless they got Mahomes to drop back. And it wasn't a case of them just running the clock down with short gains once it got into garbage time, either. If anything, they improved their numbers with a couple of late runs from Darrel Williams.
Pre-game hype suggested that Le'Veon Bell was going to pop off for 200 yards or something but he ended up with a measly seven yards on six carries. Also, Clyde Edwards-Helaire, who was averaging 4.8 yards per carry and 79 yards per game, was held to a season-low 21 yards.
This is notable for the Jets because they traded away Steve McLendon but don't seem to have missed a beat without him. They operated out of a lot of subpackages where they had no nose tackle in the game anyway, but Foley Fatukasi showed he is capable of holding up in that full-time nose tackle role.
Fatukasi broke out last year and has been making fewer flashy plays in 2019 but he's still quietly doing a solid job against the run. Sunday was his most productive game of the year as he had five stops, all of which came on running plays that went for four yards or less.
In addition, he also helped bottle up two other runs with penetration, including Bell's fourth down carry that was stopped short for a turnover on downs.
Henry Anderson also had five stops on runs that were stopped for gains of four or less - a few on them on plays where he cleaned up after Fatukasi penetrated into the backfield. Conversely, Quinnen Williams wasn't credited with a single tackle against the run all day - his three tackles came on two passes and after a fumbled handoff. Nevertheless, he was still a disruptive force up-front.
This is one area where the Jets were very good in 2019 and it was alarming to see the level of play fall in this area where the personnel changes shouldn't have been a factor. Hopefully, they do a more consistent job over the second half of the year and this can be a staple of their rebuild towards forging a new identity.
---
We'll have some more in-depth analysis for you throughout the rest of today and over the next few days, so keep checking back here early and often.