QuickFix: Saucy Nuggets from the Jets' loss to the Colts
We're going to kick off today's analysis with some things you might not have noticed from yesterday's loss to the Colts:
Pancakes without da Becton!
It's breakfast time...let's get some more pancakes from our young left tackle.
Ya, dats right! Wait a minute this sucks. 😭
Sam as it ever was
Already this year, there's been a few occasions where it looked like there was an easy opportunity for a big play down the field but Sam Darnold failed to see it - or, and this is arguably worse, saw it but didn't have the confidence in himself to make the throw.
You'll have seen on the broadcast that he had Chris Herndon wide open 35 yards down the field, five yards behind the nearest defender and with his hand up calling for the ball:
Darnold instead ran for the first down, taking a big hit at the marker in the process. In the past, we've been critical of Darnold for taking chances downfield when he had an easier conversion available, but wide open opportunities like this one don't come along too often and you can't afford to pass them up.
The play was particularly hard to swallow given the fact that it looked like the Jets could have had a touchdown on the first snap of the game, reversing their fortunes from last week: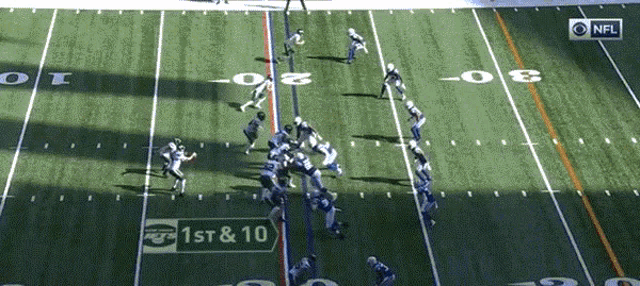 On the face of it, this is an innocuous two-yard run by Darnold, but Berrios is running down the sideline and has his hand up because he's uncovering deep.
The route combination causes the outside corner to follow Chris Hogan as he breaks towards the post. He can't recover to Berrios because his back is to him as he's uncovering. As for the slot corner, he gets caught up with Hogan and can't stay with Berrios as he breaks downfield.
It sure looks like the Jets schemed up a play-action look that was designed to give them a shot at a big play and it seems to have worked perfectly only for them to never actually take the shot.
While you'd need to review the all-22 footage to be sure just how open Berrios was, it's usually the case that it ends up confirming exactly what you thought you saw from game footage.
And if a sentient Checkmarkwrenchsaber from England can make anticipatory analysis from his couch at 2:00 in the morning, the Jets' star quarterback should be able to make an anticipatory throw. You have to take that shot.
Like the deserts miss the rain
Over the first two games, the Jets were apparently missing tackles at a higher rate than any other NFL team, averaging almost 20 a game.
The initial count for this week isn't much better - especially since the Colts had hardly any returns on special teams, which usually account for a handful. Also, they didn't get much pressure on the quarterback this week, so there weren't many missed opportunities in the pocket.
We counted 17, with Marcus Maye and Blessuan Austin once again the main culprits. Austin was already leading the league with Maye tied for second.
At half time, though? The Jets only had three...so that's 14 missed tackles after half-time.
Make me wanna scheme
On their first drive of the second quarter, the Jets - down 14-7 at the time - were almost up to midfield until a sack caused the drive to stall. This was another mistake by Darnold, as Berrios was wide open on a whip route for an easy first down. That's not what we wanted to talk about here though.
Having punted, the Jets forced a first down incompletion and so the Colts had 2nd-and-10 from their 23. Gregg Williams decided this would be a good time to get aggressive and dial up what he obviously believes is one of his best blitzes.
It's a risky one, because if you don't get home, the offense has a real chance at an easy chunk play. But it takes some pretty spectacular offensive line play to prevent the pressure.
The Jets sent Austin on a corner blitz and Brian Poole on a blitz from the slot. For all the world, it looks like Poole has a clean shot at Philip Rivers from the blindside, but it gets picked up and Rivers finds his tight end wide open downfield for 45 yards. So instead of the Jets getting the ball back with a chance to tie, the Colts are in scoring range to make it a two-possession game.
But how does it happen? On the broadcast, Trent Green gave credit to Quenton Nelson for dropping back from left guard to pick up Austin. However, Mark Glowinski dropping back from right guard to pick up Poole at the last moment is arguably even more impressive.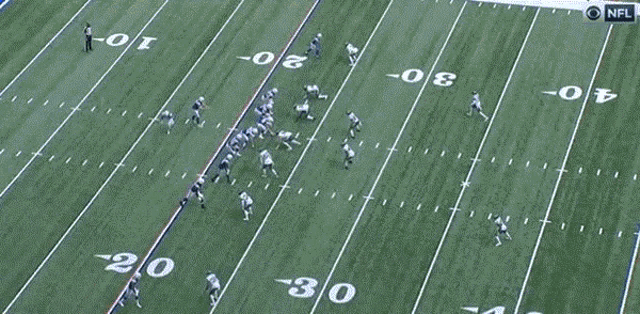 On the broadcast, you can clearly hear Glowinski yelling "I got it, I got it, I got it" so Rivers knows he's safe to step up and make the throw...and that throw was always going to be easy as the Jets dropped Quinnen Williams and Henry Anderson into the intermediate zone. Neville Hewitt has to follow the inside slot receiver down the seam so the tight end - who lined up in the outside slot - can leak in behind the dropping linemen for a wide open catch with green grass ahead of him.
This is sensational offensive line play to thwart the Jets' best pressure package and set up an easy opportunity to exploit the inherent risk that exists with that play.
You make the call
And finally...this is painful to re-live but can you figure out what went wrong here, because it's difficult to figure out...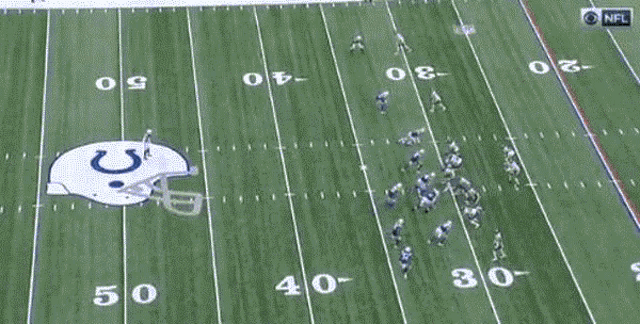 The most obvious initial reaction to this would be that Darnold threw where he thought the receiver would be and Hogan ran the wrong route on the outside. However, there's no route in that area of the field that makes logical sense in combination with what Berrios runs from the slot.
Berrios fakes the out route and then breaks back towards the middle, but the linebacker in the A-gap drops back so they have this bracketed.
Two possibilities present themselves: Either Darnold was looking for Berrios but saw he was covered late, panicked and tried to put extra juice on it to throw it away or he was looking for Hogan, saw that he wasn't going to break when he expected and tried to take something off it.
You may have a better idea though. What do you think?