QuickFix: Saucy Nuggets from the Jets' loss to the Lions
We're going to kick off today's analysis with some things you might not have noticed from yesterday's game:
28 Days Later...
The last time we saw Zach Wilson at quarterback for the Jets was on November 20th. Mike White's medical prognosis during the week meant that the Walking Wounded would make way for the Walking Dead. 28 days later...
We now live in a world where infection has set in. Is it stupidity? Ineptitude? Misfortune? Whoever is responsible, the Jets are now dead men walking in the playoff race and we live in a world where you can be killed by your own kind.
The concept of Wilson as a starting quarterback died 28 days ago and some have long suspected he was already brain dead long before this. However, he was back in the role today, with nothing to lose and an insatiable thirst. Zombie brains no longer register pain so someone in this situation can be dangerous and unstoppable and Wilson gave the Lions some issues.
However, they also lack intelligence and survival instincts, are usually completely uncoordinated and can easily be lured into traps. Dan Campbell had obviously done his research.
At the end of the day, a zombie rarely wins, but one thing's for sure...there's nearly always a sequel. Get ready to go through this again.
Misplaced Blame?
The notorious #JetsTwitter was quick to blame CJ Mosley for the Lions' game-winning touchdown and he no doubt accepts part of the responsibility because it was a team breakdown and he's the one responsible for getting everyone lined up.
However, even though the eventual receiver ran right past Mosley and into open space, this wasn't actually Mosley's error. (Note: Team sources have verified that this is correct).
Here's the pre-snap set-up:
As you can see, the tight end who eventually catches the pass is bracketed by Jordan Whitehead and Quincy Williams. Since Whitehead attacks the line of scrimmage, this becomes Williams' man. He could become Mosley's man if the Jets are reverting into a conventional zone and Williams passes him off but that's not what happened here.
As the play runs, it's interesting to contrast how Mosley plays this compared to Williams. Mosley reads that the hand-off has been faked and drops off into the middle of the field ready to react to a short pass or quarterback scramble. Williams keeps one eye on the tight end initially but then assumes he's staying in to block. His eyes are on the back the whole time because he's bought into the playfake completely and is playing the run. This leaves him in no-man's-land as far as the coverage is concerned.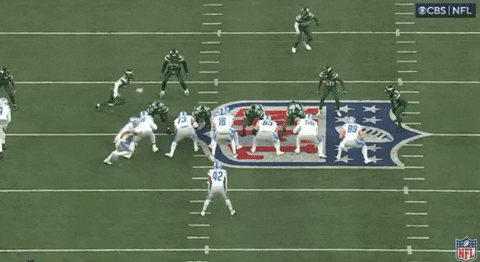 Could Mosley sense the danger and pick up the tight end even though it's not his man? Absolutely. In fact, on a similar play last week, he did pretty much exactly this and disrupted a third down pass. But that's an example of him going above and beyond his role to bail out someone else's mistake. No doubt he's still frustrated at the fact he couldn't do that this time, though.
This is a superbly-designed play by the Lions, with the leak-out by the tight end well disguised and a completely clean release. Williams thought he had read it, got caught peeking in the backfield - and crucially realized too late that it was a pass so he couldn't even yell for help.
In a post-game interview with SNY after the game, Williams said the Jets didn't do a good enough job with their eyes and their communication on that play, which rings true. Mosley, in his postgame presser, simply said that "they got us".
This was a frustrating breakdown, at the worst possible time, and there were multiple players who could have done a better job on that play, including Mosley. The Lions made a ballsy call on 4th down, especially throwing to a rookie who had dropped a pass earlier on the drive, but this was avoidable for the Jets and potentially puts an end to their playoff hopes.
And, for those wondering why people think Mosley is good when they're so certain he's awful. The reason is simple: Those people probably understand football better than you do.
Wilson airs it out
Zach Wilson's return was noteworthy enough to warrant more than just a self-indulgent and tortured Night of the Living Dead analogy that nobody is going to read anyway because you're all still pissed about the loss. But we do have a couple of interesting nuggets on Wilson, who had just his second 300-yard game ever and his second multiple-touchdown pass game of the season.
First of all, let's look at this deep completion to Jeff Smith: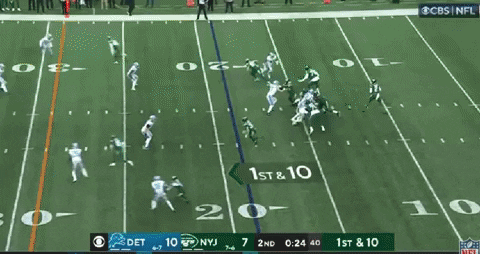 Thrown from the 10, caught at the 32. That's an impressive 58 yards through the air. And such throws may be rarer than you think.
Wilson himself has just two completions that went 50 or more yards through the air in his career, both of which were in last season's week four win over the Titans (the throw on the run to Keelan Cole and the touchdown to Corey Davis).
These haven't exactly been commonplace over the years in Jets history either - well, not since the days of Joe Namath and Ken O'Brien. For example, Mike Vick completed a long touchdown to TJ Graham against the Steelers in 2014 which was apparently the first completion that went 50+ yards through the air by a Jets quarterback since Mark Sanchez in 2010.
You'd think this would have escalated in recent years when the Jets had one of the best deep threats in the league, but looking back at all Robbie (then Robby) Anderson's longest plays, he had touchdowns of 69 yards from Josh McCown and 76, 92 and 41 yards from Sam Darnold, all of which went just under 50 yards through the air. He did, however, catch a 54-yarder from McCown that went over 50 yards through the air.
You'd think that a guy like Patrick Mahomes would have loads of these but that's not necessarily the case. The only decent ranking list we could find in this category was from 2018 and makes for surprising reading. Only five quarterbacks completed more than three passes that went 50+ yards in the air, including the league leader with six: Mitchell Trubisky of all people. The other four, with five each, are not who you'd expect either: Russell Wilson, Case Keenum, Kirk Cousins and Deshaun Watson.
The final, and perhaps most interesting factoid in this category is that Drew Brees didn't have one in his entire career.
Our second nugget also involves throwing downfield. More accurately, it's all about long passing plays, which don't necessarily have to be on downfield throws, but in this particular case, they were.
Wilson had completions of 50, 40, 33 and 33 yards. That's four 30+ yard pass plays in one game. How rare is that?
Wilson himself had seven of these in his other seven starts this year, with no more than two in any game. Last season, though, he only had five. Moreover, he only had two in his last 11 starts, including a streak of five games without one that was only broken when Keelan Cole broke free for a 40-yard touchdown in the final game.
Interestingly, Mike White also achieved four in a game this season, (although two of these were 31 yarders, so we could have cheekily removed him from contention by using a more arbitrary parameter). Joe Flacco had just two in his three starts though.
White had seven 30+ yard plays in his three starts this year, but none in his four starts last year which perhaps underlines how Wilson's improved success in this area is down to the Jets' receiving talent more than himself. Undeniably, though, 11 such plays in eight 2022 starts is a rare sign of progress from Wilson, after having only five in 13 starts last season.
You can't say we don't dig deep to find these nuggets...
---
We'll have some more in-depth analysis for you throughout the rest of today and over the next few days, so keep checking back here early and often.