QuickFix: Saucy Nuggets from the Jets' loss to the Patriots
We're going to kick off today's analysis with some things you might not have noticed from yesterday's loss to the Patriots:
Invisible Pancakes without da Becton
Breakfast time! But Mekhi Becton disappeared again early in this game and wasn't able to serve up any pancakes. Still, an invisible force was at work instead, laying out Patriots defenders: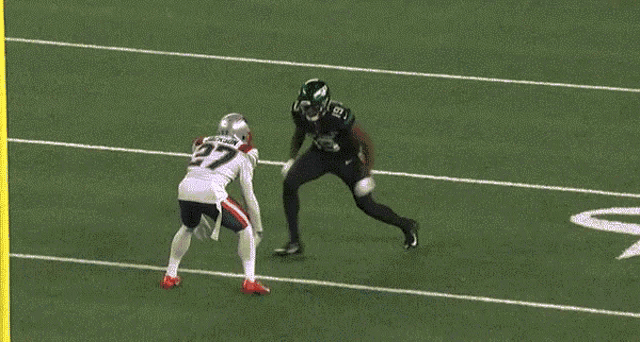 Ya dats right.
Take a hike, Mike!
Heading into the game, it was apparent New England were going to have to get creative due to a lack of available linebackers. Having lost Kyle Van Noy, Jamie Collins and Elandon Roberts since last season, had Donta' Hightower opt out before camp and ruled out Ja'Whaun Bentley on Sunday, New England effectively found themselves down to zero playable linebackers.
At times, they actually embraced this, running some 4-0-7 and 5-0-6 packages with defenders milling around and no inside linebacker on the field.
As for what the Patriots did have available, they mostly used Terez Hall, a player elevated from the practice squad who was making his NFL debut. Two rookies who played as edge defenders in college - Anfernee Jennings and Josh Uche - also saw action briefly.
Without a full time linebacker on the field, New England also had to get creative with their pre-snap preparation, so they had free safety Devin McCourty wearing the headset.
It was lucky for New England that they were able to limit the Jets to 46 offensive plays to limit their number of opportunities to exploit this and clearly it was a big factor in the Jets having their best offensive output in terms of points all year.
A Tale of Two Mims
Another factor was of course the fact that the Jets finally had all three of their top receivers available, although actually Jamison Crowder appeared to be on a bit of a pitch count as he only played 31 snaps and was targeted just twice.
Denzel Mims, whose return has made this lineup complete, continued a strange anomaly from his first three games which has seen him effective in the first half and totally ineffective in the second half.
In first halves, he has 10 catches for 146 yards in his first three games. However, in second halves, he has zero catches and just three targets.
Extrapolate those sums to a full season and if Mims could produce like he has in the first half of the last three games over both halves of a 16-game season, he'd rack up 107 catches for 1,557 yards. The potential here is apparent and tantalizing.
Then again, if you extrapolate his second half production over a full season, he'd average zero catches on 32 targets so let's not get carried away.
Plane Sailing
One of the concepts the Jets have been using a lot since Dowell Loggains took over the playcalling has been the sail concept.
In the past, the Jets have often used this as an ice-breaker to get a struggling young quarterback an easy read with clear sightlines. It can also help mitigate pressure by having the quarterback roll out. And it made particular sense in light of the Patriots' personnel issues because stopping it relies on the linebackers making the right read.
Even though Joe Flacco is anything but a young quarterback, an ice-breaker for him was a good idea too, especially after he admitted he was nervous in the early stages of his last two starts.
Here's an example of him having some good success with it: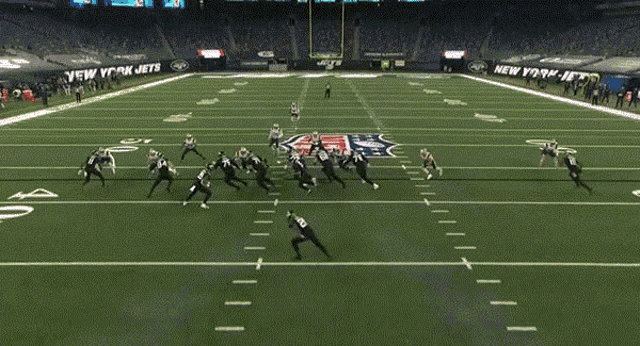 If you recall, the concept has a deep option, an intermediate option and a short option, all presenting in front of the quarterback as he rolls out. Chris Herndon (who, by the way, wasn't targeted as his season-from-hell continues) is the flat option and Breshad Perriman goes deep, but Flacco picks the intermediate option and hits an open Ryan Griffin for the Jets' first 20-yard play to a tight end all season.
The Jets have been using this with Sam Darnold too, but - having gone away from it early in the season - he's not been as effective at picking the right option. Also, if you overuse it, the defense will be able to start to anticipate the three levels pretty easily and flood that side of the field to make it difficult.
We broke down this concept in more detail back in 2018.
It will be interesting to see how effective this is if Loggains retains play calling duties after the bye and persists with it.
---
We'll have some more in-depth analysis for you throughout the rest of today and over the next few days, so keep checking back here early and often.