QuickFix: Saucy Nuggets from the Jets' loss to the Raiders
We're going to kick off today's analysis with some things you might not have noticed from yesterday's loss to the Raiders:
Perrimancakes with da Becton
Breakfast time...but make sure you watch the right guy.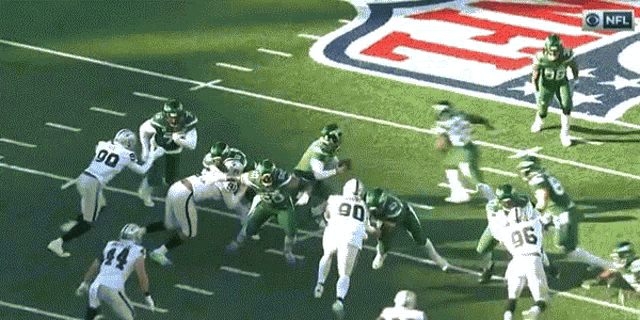 Ya dats right.
Failing to live up to MekhsBectations
One major downer from this loss was that Mekhi Becton allowed two sacks in the second quarter, both of which created turnovers because Sam Darnold fumbled the ball away.
It was a rough game in pass protection compared to the usual standards he has set for himself, as he also gave up a few other pressures, including one where he was bull rushed into Darnold's lap and another where the Raiders ran a stunt and he got knocked off his spot.
That was similar to what happened on the second of the two strip sacks. You can see that Pat Elflein passed his man (Clelin Ferrell) off to Becton but Becton wasn't prepared for this and was shoved off balance.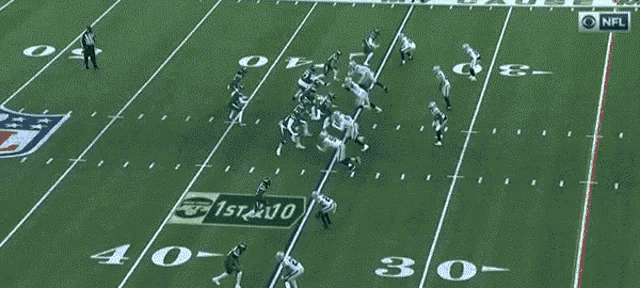 Do pay attention to George Fant at right tackle too though. This went unmentioned but he also got beaten pretty badly on the play, by a Maxx Crosby spin move. It's Crosby who recovers the fumble but it was the Ferrell hit that knocked the ball loose. However, it should be noted that Crosby hit Darnold in the head which could have negated the turnover if they'd called it like they usually do.
The earlier one saw Becton beaten around the edge for what was Ferrell's first sack of the season in his 10th game, but there was a touch of misfortune about this play too. He did his best to send Ferrell the long way around and enable Darnold to step up but Darnold appeared not to anticipate or sense the pressure.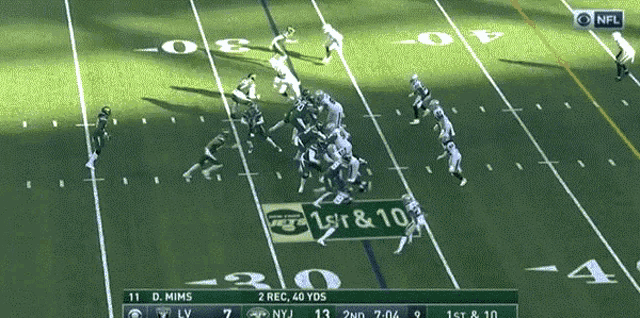 The actual fumble wasn't caused by the hit or by Ferrell batting the ball, but it came when Darnold reared back to throw down the middle. As he pulled his arm back, the ball hit Ferrell's helmet and was knocked loose. Ideally, you'd want to see Darnold aware of the backside rush and able to get the ball out.
Becton will get beaten at times and sometimes he'll give up sacks and even strip-sacks whereas at other times, the quarterback will get the ball out or eat the ball when they could have lost it. As long as he limits the amount of times this happens, he should have a long career as a reliable pass protector. He has done until now, so let's hope this is just a blip.
It wasn't all bad though. Becton started and finished strongly in pass protection as he kept Darnold totally clean in the first and fourth quarters.
Kick out the jams
Something else Becton did well on Sunday was his contribution to a Jets running game which racked up over 200 yards. This included a 100-yard game from Ty Johnson, the first since that crazy outlier game against Denver which we wrote about extensively here.
They mostly achieved this by doing the same thing over and over again. Mekhi Becton was performing kickout blocks to open up a channel between himself and Pat Elflein and the Raiders never seemed to adjust to this.
This isn't something the Jets typically do all that often, although Becton is consistently good at it. On Sunday, we noted that Becton did this well on NINE separate occasions, including at least one in each quarter. Our scouting notes from only made note of him doing this on SEVEN occasions in the entire rest of the season combined.
That's an incredible number. And, knowing the Jets, he'll hardly do it at all next week.
Still, it's not like this is the only thing he does well. He had a handful of other positive contributions to the running game, usually sealing his man or blocking downhill to set the edge, and only had a couple of negative run blocking plays.
Also worthy of a mention was Connor McGovern, who had some impressive reach blocks and made an impact at the second level. It was particularly interesting that the team had so much success even without their top two guards.
You Gotta Be Guidring Me!
Finally, on the other side of the ball, it was interesting to see Javelin Guidry getting plenty of reps in the slot and displaying some feistiness.
Guidry had two forced fumbles in the fourth quarter which means he now has three on the season. Guidry not only leads the Jets in this category but is tied for fifth in the entire NFL. Only four players have more forced fumbles than him this season.
This is almost certainly going to be one of those anomalies whereby he doesn't have another one for another season and a half or something (like how Marcus Maye had two sacks in the opener and hasn't been close to getting one since), but it's an interesting nugget all the same and that's what we're here for.
---
We'll have some more in-depth analysis for you throughout the rest of today and over the next few days, so keep checking back here early and often.