QuickFix: Saucy Nuggets from the Jets' loss to the Vikings
We're going to kick off today's analysis with some things you might not have noticed from yesterday's game:
Livin' in the red
One of the biggest keys to the Jets coming up short in this game was their red zone futility on offense. They had to settle for five field goals, only finally scoring a touchdown after a replay booth reversal following an apparent turnover on downs and failed to score on two red zone opportunities that would have won them the game inside the last two minutes.
For Vikings defensive coordinator Ed Donatell, this seems like it's the plan. His team ranks dead last in pass defense but he's happy to bend-but-not-break if that keeps them in games. Sure enough, all nine of the Vikings' wins since the season opener have been by one score.
However, despite what they did to the Jets, this isn't exactly something they excel at as you might expect based on their record. They entered the day with the 7th highest touchdown percentage on opposing team's possessions in the red zone. As for the Jets, they were middle of the pack entering the game.
That's not the way it played out though, and on a day when some of the red zone numbers were simply staggering.
The Jets didn't run a single play inside the Vikings' red zone in the first half as the Vikings built a 20-3 lead with the Jets adding a late 60-yard field goal to produce the 20-6 halftime deficit.
After half time the Jets ran 24 (TWENTY FOUR) plays inside the red zone and, as we know, only scored on one of them (and then only thanks to the replay booth).
Mike White went 6-for-17 for 24 yards and an interception on these plays and the Jets rushed five times for 12 yards (with the other play being a penalty).
Without getting too deeply into why none of these plays worked when so many of them were close to doing so, here's an interesting one that was a missed opportunity.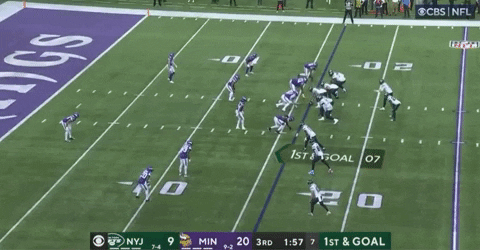 This is that classic play where you set up as if you're going to run a receiver screen and hopefully the defensive backs bite on this and the "blockers" leak downfield for an easy pass option. White didn't really sell this convincingly enough but even so, should have recognised that the primary option wasn't there and checked down to his running back for a walk-in touchdown.
As for when Minnesota had the ball, for the entire game, the Vikings ran just six plays in the red zone. Three of those six plays went for touchdowns. The other three were two runs that gained two yards each and a 15-yard pass play.
You could arguably say that the Jets' red zone defense was as bad as their red zone offense was, especially considering how good their non-red zone defense was for most of the day (including giving up just 89 yards after half time).
You Mike that?
As improbable as it seemed after he had just 121 yards in the first half, on 26 attempts, White ended up with 369 passing yards.
While that's not an outstanding number by modern NFL standards, it's quite impressive for a Jets quarterback given the team's long-term struggles at the position. 369 yards are actually the 26th most any Jets quarterback has passed for in team history. White's own 405-yard game is 10th overall with Ryan Fitzpatrick being the only other person to throw for more than 369 since 2003 (twice, one of which he followed up with a six-interception game).
Perhaps even more interesting is the fact that White also had 315 yards last week against the Bears. Back-to-back 300 yard games are rare, but not unprecedented in team history. In fact, Joe Flacco did it this September!
White's 684 yards in a two-game span is something that's much rarer in Jets history though. You have to go all the way back to Boomer Esiason in September 1993 to find a higher two-game total. Esiason managed 693.
Since then, several Jets passers have come close to White's two-game total, with Vinny Testaverde exceeding 670 three times but still falling short.
As you'd expect, you need to go back to Ken O'Brien for a Jets passer that had over 700 passing yards in a two game span. O'Brien passed for 753 over a two-game span in 1986, having already reached 737 in the previous season.
While they never reached 700, Dick Wood and Richard Todd narrowly beat White's total with 692 and 687 each, but it was - of course - Joe Namath who set the standard here. Namath went over 700 four times, including a two-game span in 1967 where he passed for 814 yards.
White has a long way to go to achieve that and even longer to go to break Dak Prescott's NFL record (974 yards). Even so, we shouldn't take for granted what he's been able to achieve and what it says about the potential of the offense (especially when you consider that he's had some missed opportunities despite those numbers).
Welcome Back
Quinnen Williams had a monster game at defensive tackle again, but alongside him it was good to see Sheldon Rankins back in action. While he wasn't as productive as Williams, he might have had the most dominant win of the day: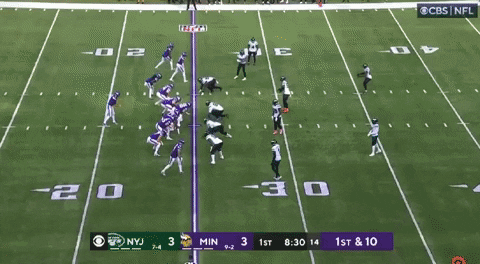 Swinging Sixty
As noted above, Greg Zuerlein booted a 60-yard field goal which is the first in Jets' franchise history. The previous record was 57 yards, which Zuerlein actually tied last week. Chandler Catanzaro previously held that record and Zuerlein himself had tied it earlier this season before tying it again last weekend.
Much like the proliferation of 4,000 yard passers and 500-yard passing games, the Jets are late to the party on this one. This was the 30th field goal of 60 yards or more in league history.
Interestingly, of the previous 29, nine of these were from kickers who also played for the Jets - including a couple by Zuerlein himself.
There was just one 60-yard field goal in the NFL prior to 1980, one in the eighties, two in the 90's and three in the 2000's. Since that time, they've become much more commonplace with 15 in the 2010's and Zuerlein's was the eighth already in the 2020's so we're on course for maybe 25-30 this decade.
Zuerlein's kick probably wasn't the most impressive one seen this week though. That belongs to this guy:
Cork Con kicker George Coomber kicked this penalty from the next parish over 😳pic.twitter.com/hf39AAyga4

— Balls.ie (@ballsdotie) November 28, 2022
71 yards? Not bad for an amateur.
---
We'll have some more in-depth analysis for you throughout the rest of today and over the next few days, so keep checking back here early and often.