QuickFix: Saucy Nuggets from the Jets' win over the Bears
We're going to kick off today's analysis with some things you might not have noticed from yesterday's game:
Zach to his best
We've been a bit out of the loop this week, so we're not privy to what the Jets said to Zach Wilson or worked on this week in practice, but it had an amazing effect because Wilson literally looked like a different quarterback.
He got himself into a nice rhythm right from the start, patting the rock on most of his throws to aid him and driving the Jets downfield to score points on their first drive for the first time since Joe Flacco was benched. In fact, the Jets only previously had one opening drive first down with Wilson at the helm this season.
There were plenty of things on display that we haven't seen from Wilson all year. Check this out: An honest-to-goodness hot route!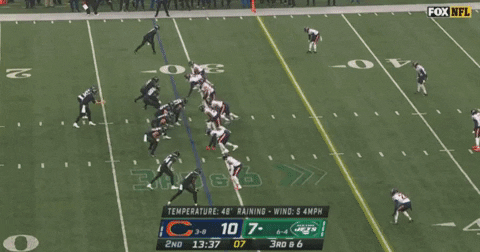 Such a play could unlock everything on offense because it will dissuade teams from sending this kind of all-out rush on third down. For whatever reason, Wilson seems to have developed the awareness and processing speed to execute this, at last.
The footwork was also better than we've seen all season too. Good awareness, climbing the pocket and setting the feet to make a solid downfield throw simply isn't something we've seen Wilson be comfortable with this year, even with the recent emphasis on hanging in there to do this.
Even on simple plays like this pass to the flat, you can see the difference in pocket navigation. If you can survey the field but still be aware of what's going on around you so you can slide slightly to the left to avoid the interior rush and reset your feet as you're making the progression to your checkdown, instead of looking at the checkdown as an afterthought and rushing the throw with poor technique, you're far more likely to have success.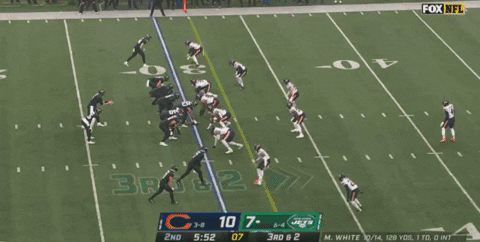 They said it was unrealistic for things to improve overnight and even suggested that the inexperienced, weak-armed Mike White would be a better option, but yesterday's game proves that maybe there was a solution after all.
[taps earpiece]
Oh, wait...
Attack the Block
With Nate Herbig, Max Mitchell and Corey Davis all making their return to the lineup on Sunday, the Jets could have been expecting an upgrade in their blocking. However, it wasn't necessarily these three players that were making a difference.
Denzel Mims does a great job of locking onto his man and driving him back on this play, while Elijah Moore finds his target on the move.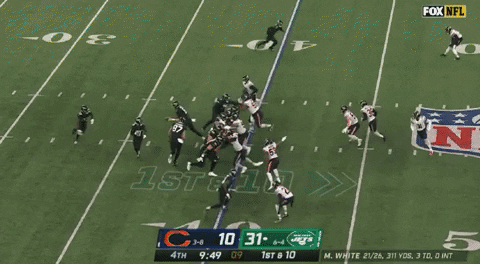 The tight ends also got into the act with CJ Uzomah and Tyler Conklin both making great blocks on this play.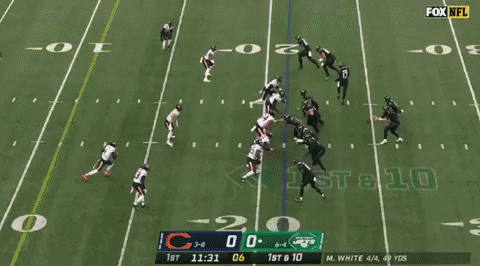 On the offensive line, Connor McGovern was responsible for Armon Watts' sack. However, he made a couple of blocks that showcase how important his athleticism is to the success of the offensive line.
It was Laken Tomlinson's punishing second level block that got much of the attention on Ty Johnson's touchdown run. However, the play never would have worked without McGovern's excellent reach block, getting to his man's outside shoulders and keeping his hands inside as he drove him to the ground.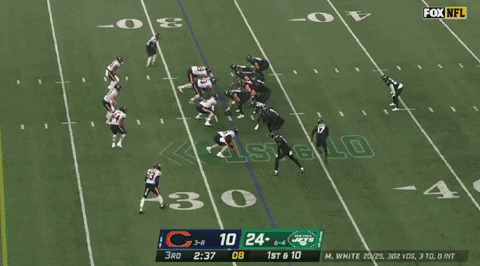 McGovern also later got moving and sprung Braxton Berrios for a first down on this hustling pancake block:
With the way the Jets imposed themselves at the end of the Bills game, there was some hope they could still lean on the offensive line despite losing Mekhi Becton and Alijah Vera-Tucker for the year. The Patriots game may have caused concern that this was an aberration, but Sunday showed that if everyone pitches in, they can block together well as an offense.
PEN REF!
Since we made the commitment to post a weekly article on the officiating performance, it's always been a nice boost to see a low penalty count at the end of a Jets game. It's like getting a week off!
Truth be told, the work involved in compiling the AFR is often just as much when there's a low penalty count, because you get loads of missed calls and controversial plays instead. However, this week was particularly barren on the penalty front.
Surprisingly, the Bears and Jets had just one accepted penalty each. Considering the Jets were leading the league in penalty yards a few weeks ago and the Bears are also in the top half, this is remarkable. Maybe the officials just wanted to get through the game as quickly as possible in the horrible conditions. If that was the goal, it worked because the game was over in two hours and 48 minutes. By comparison, the Jets-Steelers game was 25 minutes longer than this.
How unprecedented is this though? Extremely. In fact, it would have been a record for the fewest combined penalties in a Jets game in franchise history if not for a game between the Jets and the then-Boston Patriots in 1967. In that game, the Jets had one personal foul and the Patriots didn't have a single penalty. The Jets took a 29-3 lead into the fourth quarter and held on to win 29-24.
This was only the sixth time since 2006 that the Jets have committed fewer than two accepted penalties (including zero twice) with the last being in November 2018. It was also the sixth time they've accepted less than two penalties since 2006. That included one occasion with none, on the most recent occasion in the 2016 season finale.
Yes...and it counts
Finally, a look at this week's snap count analysis shows that some players like Max Mitchell, Bam Knight and Ty Johnson getting more playing time than expected, but ultimately the snap count data followed the usual pattern.
Perhaps the more interesting changes were on special teams. Bam Knight got a chance to be the main kickoff returner, Greg Zuerlein was back on kickoff duties and the Jets had to cope with Jeff Smith on the inactive list for a change.
One observation worth making though, is how Bryce Huff continues to jump off the screen every week while actually playing a smaller role than you may realize. On Sunday, he flashed with a nice sack (albeit on a completely blown protection by the Bears). However, he was only in the game for eight more snaps other than that play.
---
We'll have some more in-depth analysis for you throughout the rest of today and over the next few days, so keep checking back here early and often.