QuickFix: Saucy Nuggets from the Jets' win over the Bills
We're going to kick off today's analysis with some things you might not have noticed from yesterday's game:
Heading into the bye
It's a good feeling to be heading into the bye week with a win - and not a very familiar feeling either. The last time this happened? Back in 2015 after the Jets beat Miami in London.
However, in the years after that win, going into the bye with a loss was the unfamiliar feeling. That 2015 win marked the fifth time out of the last six that they had won the game before their bye week.
Can they come out of the bye strong too though? In 2015, they won their first game after the bye, but then lost four out of five. In 2014 and 2013, they lost their next three after the bye. In 2011, they won the next one but lost two in a row. In 2010, they came out of the bye and laid an egg, losing 9-0 at home to Green Bay. But then at least they did win their next four (with three of those down to the wire).
Time will tell how the Jets will perform coming out of the bye this time, but the team won't be looking past a chance at revenge in New England.
Start as you mean to go on
The Jets opened yesterday's game with a three-and-out. That's certainly not an unfamiliar feeling. Let's break it down:
Zach had 18 career starts entering yesterday's game. These break down neatly into three groups of six in terms of how he fared on opening drives.
In his first six starts, all the opening drives ended in a punt apart from one that ended with an interception on the second play. The last three of these were three-and-outs.
In his next six starts, the Jets scored on five of their six opening drives, including four touchdowns. We'll come back to this.
In his last six starts, all six opening drives ended in a punt. All of these were three-and-out apart from one where the Jets had one first down on the first play and then went three and out on the next series.
So, yesterday increases that to seven straight opening drives with a punt for Zach.
First question: Is this down to Mike LaFleur's play-scripting rather than Zach's failings?
Well, in the seven games with LaFleur calling plays and Zach not at the helm, the Jets have just two three and outs. However, they've only scored twice - one touchdown and one field goal. So that's not really significantly better.
Next question: Why did Zach suddenly start doing well at the start of games but then reverted back to being bad on opening drives? On some level, this might be a bit of an anomaly. Those five scoring drives were as follows:
One short drive for a field goal after the Jets started in opposing territory due to an interception return and Wilson passed for just 18 yards;
One short drive for a touchdown after a 79-yard kickoff return by Braxton Berrios and Wilson passed for just 11 yards;
A long drive, 83 yards for a touchdown, where Wilson did contribute 55 yards with his arm;
A long drive, 91 yards for a touchdown, where Wilson only passed for 25 yards with the bulk of the yardage coming on a long run (albeit by Wilson himself);
A long drive, 67 yards for a touchdown, where most of the yardage came on another long run and Wilson passed for just nine yards.
So, really, Zach has only marched his team down the field by passing the ball on the opening drive one time in his whole career. And that one game is a bit of an anomaly anyway because it's the only time he's (a) thrown a touchdown pass to Elijah Moore and (b) completed more than four passes to Moore.
Before we move on, one interesting pattern is that if the Jets do manage to score on their opening drive, Wilson is somehow less likely to have a productive game. Despite getting off to a fast start in those games (although, as noted, he didn't pass much even on those successful drives), he ultimately averaged just 175 passing yards in those games. In games where they didn't score on the opening drive, he averaged 205 (entering yesterday's game).
Then again, maybe it's better that he has a low yardage total. He's had under 200 yards in 10 games (including yesterday) and over 200 yards in nine. In those games where he had over 200 yards, he threw 12 interceptions. In those games where he didn't? Only four.
(For the record, these patterns did not hold for the non-Wilson games).
So, when the Jets went three and out yesterday, there was a thought that maybe this is good news and he'll play better. It wasn't a big game for Wilson, but this sort of happened. Then again, there's another thought that maybe it's better when he doesn't have a big game. This sort of held up too.
Seriously, though, they have to find a way to get him into games earlier. We'll see what kind of plan they come out of the bye with.
Get your eyes up
Zach Wilson definitely stepped up and took a step forward yesterday, figuratively and literally. From the very first dropback of the day, a deep incompletion to Denzel Mims, it was clear Wilson had been drilled to actually stay in the pocket, trust his protection and not be afraid to throw with pressure in his face.
After last week, where he kept vacating the back of the pocket and running backwards to try and create, but ultimately created nothing but a series of interceptions, possible grounding penalties and throw-aways, the Jets obviously made it clear to Wilson that he needs to get the ball out from within the pocket to have a chance of success.
Encouragingly, he took off up the middle for one first down and rolled out and kept it for another first down. Two good decisions when nothing was on in the passing game.
However, let's revisit the second of those plays because maybe something was on after all.
Wilson has rolled to the right here, so this cuts the field in half and he's not thinking about the receivers on the left. However, Braxton Berrios separates on the left side and an improvised pass to him here could have resulted in a touchdown.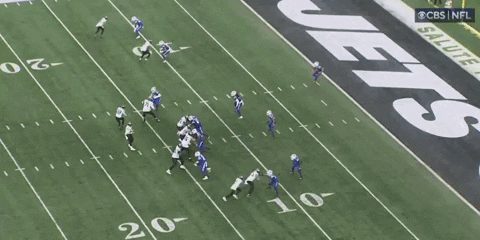 Now, do we want Wilson throwing across his body when the Jets can't afford risking a turnover and he has the chance to make the first down with his legs? Perhaps not. However, a guy like Patrick Mahomes has his head up as he's running there and would likely see Berrios and make a pass to him, which needn't be a risky one because he's running into plenty of open space.
On balance, Zach made the right decision here (especially given the benefit of hindsight and knowing that he threw a touchdown pass anyway on the next snap). However, he's just getting back into the habit of running when he can't find anything from the pocket and it would be good to see him keeping his eyes up and looking for these opportunities before he crosses the line of scrimmage.
Breaking down the breakdown
Finally, the Jets' defense was consistent throughout other than on the Bills' first touchdown drive - where New York was without CJ Mosley and Jamien Sherwood's lack of experience showed as he was blocked out of a play at the second level, involved in a blown coverage and missed a tackle on Josh Allen's first down run.
The only other breakdowns saw the Bills smartly exploiting the Jets' rookies. First Stefon Diggs beat Sauce Gardner over the top for a deep gain which luckily didn't lead to points as Jordan Whitehead got the ball back on an interception a few plays later.
The other big defensive breakdown was on a superbly designed play by the Bills on 3rd-and-short, which Allen took for a 36-yard score: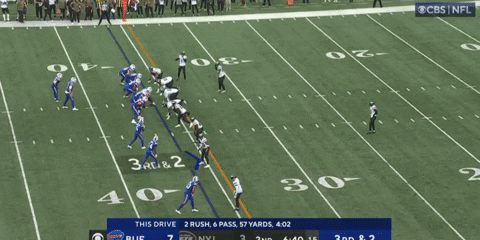 The first thing to note is that the Bills line up with three receivers to the bottom of the screen, so each of those is matched up with a Jets player, taking those players out of the game when the run goes the other way.
Next, the back suddenly motions out towards the flat. This reveals that the Jets have CJ Mosley tasked with spying the back and as he tracks him to the outside, this takes him out of the play too.
Right before the snap is the key moment. Jermaine Johnson, seeing that the back has gone in motion, pinches inside - seemingly forgetting who he's playing against. It's over at that point.
When the left guard pulls around to block Gardner and the tight end seals Johnson to the inside, with Johnson basically having handed him the outside leverage advantage, Allen is easily going to break into the clear.
The only way to stop this play would have been for Johnson to maintain outside leverage, get upfield, keep his outside arm free and force Allen to cut back inside where the rest of the defense is. Once he moves inside, he essentially seals his own fate - and gets himself sealed off.
This is a case of Johnson making a natural reaction to the misdirection and the Bills anticipating and exploiting this. Hopefully, he can learn from this, but it's a good example of a defense that doesn't make a lot of mistakes but good offense from the Bills to create that situation.
Everybody Snap Your Hands
Some nuggets from this week's snap count data:
The main story on offense this week was Elijah Moore once again not getting any targets, although he was out there for 27 snaps so at least his workload is increasing. Denzel Mims played 50 snaps though.
On defense, the Jets opted to stay away from base packages, obviously wary of the threat of Josh Allen running with three linebackers on the field. They were in base just five times, although Kwon Alexander and Quincy Williams played in a rotation with Williams getting exactly twice as many snaps as Alexander.
What they did instead was obviously plenty of nickel packages, seven of which saw them operate with three safeties. Will Parks was in the game instead of Deuce Carter on these.
Finally, Sherwood played nine snaps and wore the headset when CJ Mosley got injured. Obviously that wasn't part of the plan but it's notable because these are Sherwood's first defensive snaps since last October.
---
We'll have some more in-depth analysis for you throughout the rest of today and over the next few days, so keep checking back here early and often.