QuickFix: Saucy Nuggets from the Jets' win over the Broncos
We're going to kick off today's analysis with some things you might not have noticed from yesterday's game:
It's here!
We did it you guys! MEANINGFUL DECEMBER RUGBY is on the way!
At 5-2, the Jets are now in a situation where even if they lose their next four games the Jets will still be 5-6 with six games to go and will enter the game against Minnesota on December 4th guaranteed to be in the postseason mix.
In fact, even if they were then to go on and lose their next three and drop to 5-9, there's still a good chance they won't have been mathematically eliminated yet entering their final December game, because 8-9 could theoretically still be enough to get you into the postseason. Of course, we hope and expect them not to lose seven in a row, which obviously means these games will be even more meaningful. It should be fun not to have to worry about draft pick scenarios too.
So, all four of their December games are practically guaranteed to be meaningful. This is all we wanted guys! Drink it in and get ready.
Let's try to cut Zach some slack
Zach Wilson was objectively poor in this game. His line -- 16 for 26 for 121 yards -- tells the story that the Jets didn't need him to do too much to be able to win the game and, as long as he didn't make a big mistake that was potentially going to be enough.
Wilson completed just two passes that went for more than 10 yards and both were on dump-offs; a wide receiver screen to Garrett Wilson for 12 and a check-down to Ace Carter for 37.
He only tried to throw downfield a few times with no success and one of these should have been intercepted, although there was a defensive penalty on the play anyway.
You can make some excuses for him: He was without his top two receivers, he was running for his life because they lost one of their most important linemen, the Broncos are one of the best defenses they'll see all year. However, it's difficult to defend his lack of success. Nevertheless, you can perhaps credit the coaching staff with not asking him to do too much or giving him enough rope to hang himself with. The end result: He's 4-0 as a starter without really getting off the runway yet.
What positives can be said about Wilson's performance, though? Had Joe Flacco played in his place, maybe he has some more success in the quick passing game, but it seems inevitable he'd have been sacked several times. The one thing Wilson did well was (mostly) avoiding sacks, even if it was just so he could throw the ball away.
One interesting play came on the down before the Jets kicked their last points of the game to make it 16-9. Obviously, if the Jets had managed to keep this drive going and score a touchdown, the ending would not have been so tense and they perhaps had an opportunity here.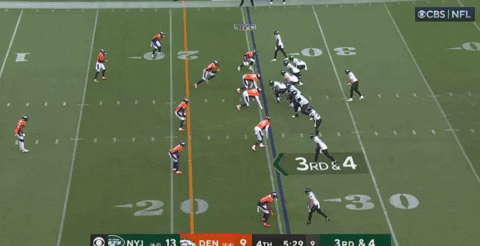 Wilson has nowhere to go on third down, but rolls out to extend the play. At this moment, Jeff Smith leaks downfield and his man stumbles, giving Wilson a chance to complete the ball downfield for a first down or maybe even a touchdown.
This may have been worth the risk and it looks like Wilson has his head up and will have seen this possibility, but in the moment he has to weigh up several factors.
Can he make the throw? Probably, but the defensive back does recover from the stumble, so he'll need to put touch on the throw and potentially squeeze it into a tight window. As noted, he basically didn't make a downfield throw all day, so this may have been something he lacked confidence in at the time, like a shooter turning down a jump shot due to not being in rhythm.
Can Smith make the catch? Of course, but Wilson perhaps factored in that it was only Smith and not one of his other targets that he might have more faith in.
What's the downside? Of course, an interception is a risk on any throw, but even an incompletion here would give the Broncos an important extra 40 seconds of time within which to potentially make their comeback.
What's the upside of not throwing? By running, Wilson (a) has a chance to get the first down, (b) keeps the clock running if he doesn't make it and (c) still preserves the chance to kick a field to go up seven. He can even go out of bounds, because there's just over five minutes to go, and this is the sort of thing he was probably aware of as he weighed up the possibilities.
Wilson might have had more confidence in throwing this had there not been pressure in his face, essentially because Cedric Ogbuehi figured he'd done enough blocking for one play and basically turned his man loose. In the end, he tried to run and came up just short.
So, what do we see in Zach? ESPN's Bill Barnwell sent this tweet, which is understandable on some level, but still invites dissent:
Second-year Zach Wilson looks a lot like second-year Sam Darnold

— Bill Barnwell (@billbarnwell) October 23, 2022
First of all, Barnwell and his ilk were probably saying that Darnold was still on a path to be good during his second season, which you'll recall ended with the Jets on a 6-2 run despite Adam Gase being in charge as they sought to keep justifying their over-gracious pre-draft evaluation of an obviously-flawed prospect.
However, it's clear what Barnwell is trying to say here. He's saying Zach is on a path to being a similar kind of bust to Darnold. This, based on what we've seen so far, may turn out to be true. (It may not, though).
Do they "look like" each other, though? Arguably not. Wilson gets the team lined up in plenty of time, so there's no panic to get the play off. He can cope with the complex shifts, motions and kill-options without the coaching staff having to simplify the offense to take things off his plate and he genuinely makes good decisions under pressure in terms of getting rid of the ball effectively, demonstrating good instincts and situational IQ.
Now, these are things which every quarterback should be able to do and we shouldn't bend over backwards to praise him for achieving the bare minimum, but at the same time, you really notice when this stuff isn't happening and it's a sign his foundation is more solid than not only Darnold, but also the likes of Christian Hackenberg, Bryce Petty, Mark Sanchez and even Geno Smith (who actually looks good now, but only several years/teams later).
He's going to have to find more ways to move the ball now, though, because just giving it to Breece Hall is no longer going to be a viable approach. After all, if he does everything else right but throws the ball inaccurately or to the wrong people at the wrong time, that's not why he's there.
Threading the Needle
Greg Zuerlein had another good game this week and his 45-yard field goal just before half-time meant that the Jets went in with the lead rather than being down 9-7. It also ended up being enough for them to win it, as Denver wouldn't score again.
How on earth did he make this though?
As Zuerlein prepared to kick this, it looked for all the world like this would be blocked. Not only did Tyler Conklin not get enough of the cornerback flying in off the edge, but Ogbuehi got blown up too, leading to big penetration on the right side.
Zuerlein's kick was hit to the left side of the upside, with fade taking it through the uprights. Had he kicked it down the middle, there's no question it would have been blocked.
This surely wasn't by design, or even Zuerlein aiming it that way to avoid the rush like a quarterback looking for a clean lane to get a throw off. You just have to assume they got pretty lucky here.
Risking Life and Mims
Denzel Mims' much-ballyhooed return to the active roster ended with a bit of a whimper as he caught a short pass, had an offensive penalty and saw one key fourth quarter pass bounce off his hands. That might not go down as a drop because Wilson threw it behind him, although you're left wondering if perhaps Mims was expected to sit down in the open area underneath.
Mims did make one key contribution though. As noted on the broadcast, he had a key block on Hall's touchdown, but this is worth a second look because he lit that guy up - and then followed up by engaging him with good technique to spring Hall: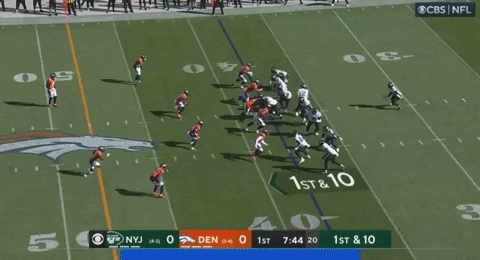 (Let's just ignore the fact that Corey Davis probably got away with a holding penalty).
---
We'll have some more in-depth analysis for you throughout the rest of today and over the next few days, so keep checking back here early and often.