QuickFix: Saucy Nuggets from the Jets' win over the Browns
We're going to kick off today's analysis with some things you might not have noticed from yesterday's win over the Browns:
Pancakes with da Becton
Breakfast time...but while there were pancakes all over the field on Sunday, the only one involving Mekhi Becton once again had him cast as the pancakee: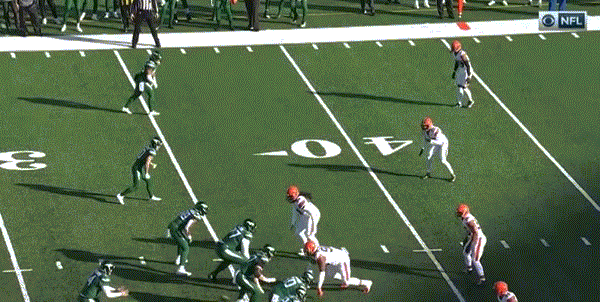 Still a good block though. Ya dats right.
Saucy Zuggets
We've been waiting to see some flashes from rookie pass rusher Jabari Zuniga, as he's been relatively quiet and completely underwhelming since being activated. Sure, he could have had a pick-six on Sunday if John Franklin-Myers could have just tipped Baker Mayfield's pass a little bit higher up into the air but really his only positive contribution was this hustling chasedown tackle: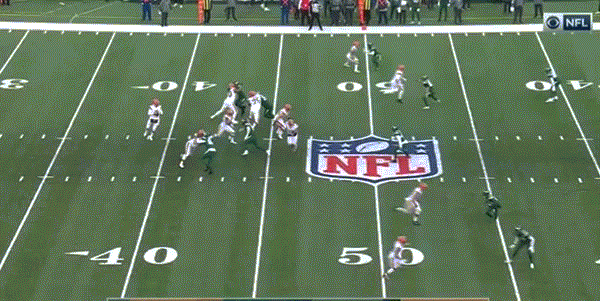 Unfortunately, he still looks a little out of his depth. He was blocked to the ground twice and got buried on this run that got bounced outside, losing contain to allow a 16-yard gain:
Zuniga has one last chance to put some positives on film next week to give him something to build on as he heads to camp in year two hoping for the customary year two "he'll be better after a year in an NFL weights program" bump.
Cammy Clak!
This was also our long-awaited first opportunity to see Cameron Clark in uniform as the offensive lineman was active for the first time. Here's a gif of Clark in action:
He kept his pad level consistent, had a solid base and didn't allow himself to be moved off his spot. Not bad.
Adam Gase makes an in-game adjustment
Becton had his hands full with Myles Garrett (or, more accurately, didn't on a few plays and that was the problem). He was beaten around the edge for a half-sack in the first quarter and then was lucky not to be responsible for a strip-sack in the second as Sam Darnold's possible fumble was generously ruled to be an incompletion.
After the second of these plays, the Jets actually adjusted:
Frank Gore gave Garrett a chip so he wouldn't be able to beat Becton around the corner and Darnold had time to make a quick pass. It's only a gain of five or six yards but it gets Darnold back into a rhythm and gives Garrett something to think about while helping to rebuild Becton's confidence.
From here, they ran a screen pass, ran the ball a few times and then had a roll-out pass; all good ways to neutralize a pass rushing threat. They didn't score, but they sustained the drive a little rather than going nowhere, losing momentum and handing the Browns great field position.
It's ridiculous that we should have to point this out as something unusual that we noticed from this week's game because it's exactly what a team should do every time one of their offensive linemen is placed in such a situation - especially when they have a young quarterback who is affected by the pressure.
The fact we are, underlines how these kind of elementary adjustments haven't been made all season long and suggest that it's been the rigidity and inflexibility of Adam Gase's system rather than personnel deficiencies that have truly held the Jets back this year.
Unfortunately for Gase, if he's figured out how to adapt in the final month of his third season, that's got to be too late to save his job.
The Nexus of Bryces
NFL history was made in the second quarter as the Jets had three Bryces on the field at the same time:
This is an unparalleled instance in NFL history. There have only been 10 Bryces to play in an NFL game since the league began, with only four currently active in the NFL. (Bryce Callahan is the other - although Bryce Love is spending his second straight year on injured reserve and still hoping to make his NFL debut at some point).
Furthermore, there has only been one other Bryce whose second name begins with H to play in an NFL game and that's former Saints tackle Bryce Harris.
Wrapping things up neatly, the three Bryce H's on the Jets almost all registered on the stat sheet on the same play - only their second on the field together. Bryce Hall and Bryce Hager combined on the tackle after a short pass, while Bryce Huff rushed the passer and could feasibly have recorded a quarterback hit had he not been stonewalled on the play.
You didn't know you needed to know any of this information, did you?
---
We'll have some more in-depth analysis for you throughout the rest of today and over the next few days, so keep checking back here early and often.