QuickFix: Saucy Nuggets from the Jets' win over the Jaguars
We're going to continue today's analysis with some things you might not have noticed from yesterday's win over the Jaguars:
The one that (should have) got away?
The Jets managed to cling on at the end for the 26-21 win but, um, isn't this a touchdown?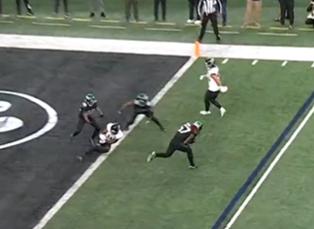 Replays showed that Marvin Jones made a clean catch and the ball was clearly across the goal line when he established control. The Jets are lucky that the replay booth didn't buzz down for a second look as the Jags hustled to get to the line so they could spike the ball and stop the clock.
The reason they might have been reluctant to do so - other than a surprising lack of any attempt to celebrate or claim that it should have been a score by the Jacksonville players - might have been because they wanted to avoid intervening and triggering the confusing rules in that situation which necessitate a 10-second run-off when the replay booth stops a moving clock.
However, that wouldn't actually have changed much. Had the replay been ruled as a completion but not a touchdown, the clock would've simply been restarted after the 10-second run-off which would have led to them spiking the ball with about the same amount of time on the clock as they did anyway ... or coming to their senses and taking two shots at the end zone instead.
The Jets continue to limit explosives...on offense
It's been a focus of the Jets all season to try and limit explosive plays, but that's supposed to be on defense. These past few weeks, they're playing conservatively and avoiding turnovers on offense (although the Jaguars were really close to an interception three times on Sunday). This has led to a serious lack of big plays, although the hope is that Wilson will eventually learn to see opportunities to dial up some of these.
He's not there yet. Last week, he didn't complete a single pass more than 10 yards down the field. This week, he did a few times, but his longest completion went for just 22 yards.
There was one opportunity missed though, on the first play of the second half: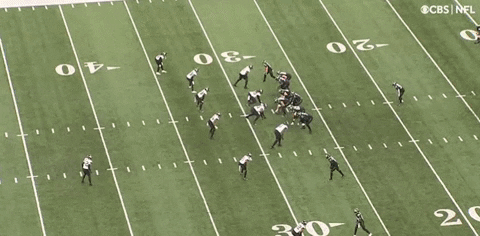 As you can see, this is a sail concept and Wilson opts for the shortest option for a four yards gain to Braxton Berrios. It's probably just as well, because the other two players in this route concept - DJ Montgomery and Tyler Kroft - basically got in each other's way. There should be one intermediate route and one over the top here, but there's far too much traffic to hit either option.
However, on the back end of the play, the Jags totally blow the coverage and Keelan Cole is open for what could have been a 72-yard touchdown to completely transform the statlines for both Cole and Wilson. It's not an easy throw rolling to the right and then throwing back down the middle, but it's one we've seen Wilson attempt and succeed on in the past.
Wilson was good at going through his reads and making decisions in this game, although you'd ideally like to see him get the ball to Conor McDermott a little earlier on that touchdown pass too.
These plays do give us some sense of what kind of things Wilson can do that he isn't right now if he keeps developing to the point where he is seeing and delivering on these opportunities.
Another step towards positionless football
Aside from Conor McDermott's pass catching exploits, there were a couple of other player who had to play out of position in this all-hands-to-the-pump situation.
Cornerback Jason Pinnock deserves plenty of credit for his performance at safety which saw him stuff two runs, force a fumble and break up a pass with a well-timed hit. However, we've seen a cornerback (Darryl Roberts) initially fare well at safety only to then see their weaknesses exploited in future games, so it will be interesting to see what happens if Pinnock gets another chance. There was perhaps a slight warning sign on the deep ball to Tavon Austin where Pinnock initially allowed some separation before recovering as the ball was thrown late.
Credit should also go to Kyle Phillips, who over the past two weeks has been taking some reps as a defensive tackle because the interior line rotation has been so shorthanded. Phillips definitely contributed to a solid run defense effort that saw the Jaguars running backs held to 70 yards on 21 carries.
Cool Runnings
Despite starting guards Alijah Vera-Tucker and Laurent Duvernay-Tardif being on Covid-19 reserve, the Jets improbably put up their best effort of the season in the running game - by over 100 yards.
Yes, Jacksonville were without the likes of Myles Jack and Josh Allen. And, yes, the numbers were padded by an unlikely 91 yards from a quarterback who entered the game with just 70 in his career. Still, though, this was an unexpected output.
How unexpected? Well, the Jets racked up 273 yards and the last time they did that was a game we've mentioned a few times before: The bizarre 2018 game against Denver where the Jets:

- racked up 323 rushing yards behind an offensive line of Kelvin Beachum, James Carpenter, Spencer Long, Brian Winters and Brandon Shell;
- saw Isaiah Crowell set multiple records including the team's all-time single game rushing record with 219 yards and the NFL all-time record for yards per carry in a game with 14.6; and
- rushed for four different plays of more than 35 yards, including a 54-yarder and a 77-yard touchdown by Crowell.
This game was the ultimate anomaly, especially considering how unproductive that line was in the rest of that season, but it keeps coming up when looking for comparisons like this. In fact, it's also the last game in which the Jets had a 50+ yard run until Wilson's scramble in the first half.
The Jets only rushed for 200 one other time since that Denver anomaly - last year's win over the Raiders in which they ended the game with 206. Until Sunday's 118-yard performance by Ace Carter, that was also the last 100-yard rushing performance by a Jets back - in this case Ty Johnson.
The only other 250-yard game in the past five years was in an overtime game, again versus the Jaguars in 2017. Even that was a little anomalous, as Bilal Powell had a 75-yard touchdown where he was tripped by his own man and ran the distance after nobody touched him down.
So, it was rare air for yesterday's group, continuing a recent trend of the running game being more productive which had coincided with Duvernay-Tardif's insertion into the lineup. You can't give Duvernay-Tardif the credit for this one though, because Greg Van Roten was back in at right guard. Perhaps even more surprisingly, they did it with Dan Feeney - who looked like a weak link in preseason - in for Vera-Tucker.
---
We'll have some more in-depth analysis for you throughout the rest of today and over the next few days, so keep checking back here early and often.