QuickFix: Saucy Nuggets from the Jets' win over the Titans
We're going to kick off today's analysis with some things you might not have noticed from yesterday's win over the Titans:
An AVTalanche is coming
Zach Wilson wasn't the only first round rookie to make strides on Sunday. Alijah Vera-Tucker held up well in pass protection all day and made some impressive contributions in the running game.
Other than one play where he and Greg Van Roten were unable to pick up a stunt between them, leading to Tennessee's only sack, he wasn't beaten cleanly all day in pass protection and while he had some negatives in the running game, he had several positives too, in a unit that struggled as a group.
Has any Jets lineman had a rep as good as this one all season, as he helps take out three guys on this end around?
As noted, the Jets' running game as a whole wasn't very successful so a lot of his better blocks came on plays where someone else's mistake meant not much yardage was gained. The Jets averaged just 2.6 yards per carry.
However, the Jets blocked well as a group on this play:
Focusing first on Vera-Tucker himself, you'll note that before peeling off to lock onto a second-level block, he gets good contact on the defensive tackle opposite him, making it easy for Connor McGovern to get across his face and that player takes himself out of the play by trying to get upfield on the inside shoulder. You'll also recall that play where the run was blown up last week when McGovern couldn't make the reach block because he didn't get that kind of assist from Greg Van Roten.
At the second level, Vera-Tucker stays on his block, enabling Ace Carter to be patient and find a cutback lane. He just about avoids grabbing the defensive player clearly enough to earn a flag as Carter cuts back.
Also doing an outstanding job on this run are George Fant and Van Roten. Fant drives his man back and kicks him to the outside and Van Roten executes the reach block and manages to anchor himself well enough to seal his man on the backside.
Corey Davis makes a contribution downfield and Ryan Griffin hustles to give Carter the opportunity to pick up extra yardage too.
Even Morgan Moses, who we've identified as not ideally suited to these kind of plays, contributes by getting downfield to slow up the linebacker's lateral pursuit. In the end the linebacker does get off the block and forces the cutback even though he can't make the play himself.
The hope here is that the running game is close to clicking and, if it does, that will make everything easier for Wilson and Mike LaFleur. Of course, the Jets still have Mekhi Becton to return but it's looking like Vera-Tucker's continued improvements will be central to that.
Bullock's on parade
Mortal JetsFix enemy Randy Bullock's time as a Jet was short-lived and uneventful and we can't even remember exactly why we remember him with such contempt.
It was probably something like he got signed by the Jets five minutes after we'd just published an in-depth article and stole our thunder, but whatever he did it was unforgivable...and since that time, he's blown it whenever a he had a chance to down a team the Jets needed to lose or to win us some money.
Anyway, to break down his final field goal attempt: Hahahahahahahahahahahahahahahahaha.
Hiding in plane sight
After a slow start, probably affected by rust after missing much of the offseason and all of the preseason, Quinnen Williams has been getting better and better every week. In the last two weeks alone, he has 3.5 sacks.
Often when a player like Williams is not statistically productive in a given game, coaches will mention the "hidden production" or disruptiveness that creates plays for other people. It's hard to stomach when that's all the player is doing, but when it's coupled with impact plays like Williams has been making these past few weeks, you have something very special.
Williams was at the center of a lot of the Jets' success on Sunday. His pressure up the middle led to John Franklin-Myers picking up a deserved sack after having created constant pressure all day. And here's a pressure where his brother gets the sack with the strong inside rush by Quinnen occupying the left guard so Quincy can get a clean run at the quarterback.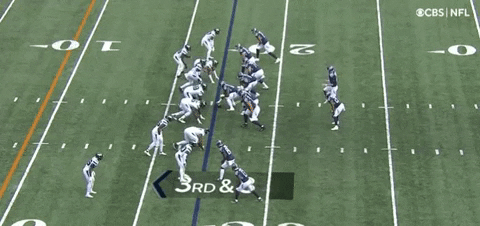 In the running game, there was an even more extreme example of hidden production from Williams.
On 2nd-and-short in the red zone, Williams was basically triple-teamed but handles it well enough that Derrick Henry can't get to the marker before Franklin-Myers gets downhill to trip him low with CJ Mosley cleaning up.
This forced a 3rd-and-short and the next play was a bad snap, forcing the Titans to settle for a field goal.
It's nice to be able to highlight these moments from Williams not as a silver lining but as a sign of everything else he's doing that goes unnoticed even after a game-winning performance.
Mims can't stop making plays
The most overblown story of the week once again proved to be Denzel Mims, who only played a handful of snaps and wasn't targeted. So much for "he's going to get an opportunity". Then again, the Jets offense looked potent at times, even without him.
Nevertheless, once he did get on the field, Mims did contribute, making this excellent block to set up a good gain on a screen pass.
With two inactive players looking to get back in the mix and all four of the other active receivers making a few plays on offense, it's difficult to see where his next opportunity is coming from, though.
Eyes in the back of his head
Another overplayed story this week was the viral image that appeared to show an oblivious McGovern letting a defensive lineman through for a clean shot at Zach Wilson. However, much of the discussion centered around how McGovern was responsible for the player to his right and couldn't possibly have seen the unblocked rusher.
After all, you can't block someone who is behind you. Or can you...?
Maybe our expectations for McGovern were too low all along and he should've butt-blocked that pass rusher out of the pocket so Wilson could step up.
This actually isn't the first time McGovern's used this technique with the Jets and while it didn't lead to a big play here, maybe he should pioneer that kind of box-out block and make it a part of his regular repertoire.
---
We'll have some more in-depth analysis for you throughout the rest of today and over the next few days, so keep checking back here early and often.