Over the last month, we've been sharing in-depth scouting reports on each of the Jets' free agent signings. Today we move on to look at wide receiver Charles Johnson.
The 29-year-old Johnson is listed at 6-foot-2, 217 pounds, and was undrafted out of Grand Valley State in 2013. The Jets are Johnson's fifth NFL team but all 60 of his career receptions - for 834 yards and two scores - have come in Minnesota, where he was one of Teddy Bridgewater's favorite targets. He was with the Panthers last year but missed the entire season due to injury.
Background
Johnson began his college career at Eastern Kentucky but left after his freshman year following an off-field scandal. He had caught only three passes.
After a year at a junior college, he transferred to Grand Valley State and took a redshirt year. However, he broke out in 2011 with a thousand yard season that included five 100-yard games and then improved his numbers the following year. Over the two seasons, Johnson made 128 catches for 2,229 yards and 31 touchdowns.
Johnson wasn't invited to the scouting combine but was drafted in the seventh round by the Packers. However, he didn't make their roster as a rookie and was added to the practice squad.
The Browns signed Johnson off the Packers' practice squad later that season, only to find out at his physical that he had a torn ACL. However, they opted to retain him and he began the 2014 season on their practice squad.
The Vikings signed him off the Browns practice squad early in the season and he spent three seasons with them. His best year was his first year with them, which saw him catch 31 passes for 475 yards and two touchdowns.
In 2015, he fell down the depth chart after having some injury issues. He ended up with just nine catches, although his clutch grab against the Bears set up the game-winning field goal.
He made the team again in 2016 but got off to a slow start. However, he saw more action than in the previous year, ending up with 20 catches.
The Panthers signed Johnson before the 2017 season but he spent the whole season on injured reserve after having to get surgery on a knee injury.
Let's move onto some further analysis of what Johnson brings to the table, based on in-depth research and film study.
Measurables/Athleticism
Johnson's workout numbers - from his pro day - show excellent speed and explosiveness, especially for his size, but poor agility and strength:
Usage
Johnson has primarily been used as an outside receiver but has caught a couple of passes from the slot each season and does flash an ability to make catches over the middle.
Deep threat
Johnson has had some good success on downfield passes over the course of his career. He has been able to get behind the defense for some big plays and made big catches on jump balls down the field. On this play he easily gets behind the defense for a long touchdown:
On this play, against the Jets, Johnson used a double move to get behind Darrin Walls. This was the only 100-yard game of his career so far: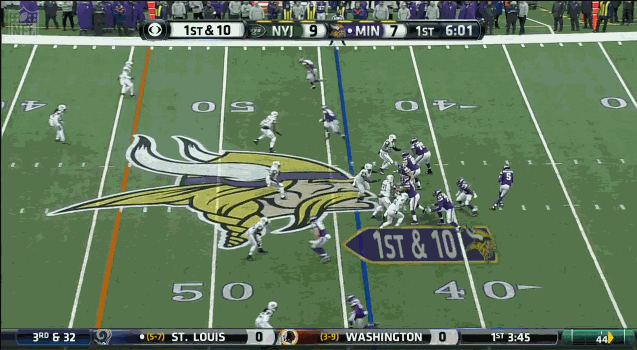 Routes
Being a big receiver with unspectacular agility numbers, you might expect Johnson not to be much of a route runner, but he's technically very sound. On this play, he completely fooled two defenders, one of whom fell over.
His route running ability factors into his ability to be a downfield threat. Note how he wins at the line of scrimmage here to prevent the cornerback from getting a clean jam on him, but then immediately adjusts his route to the outside so that the quarterback can hit him in stride before the safety can get over:
Hands
Johnson's hands have been pretty solid at the NFL level, as he's only had a couple of drops. While his catch rate is only 57 percent, that has more to do with the fact that he was targeted with a lot of low percentage throws than any weakness in his hands.
He shows an ability to go up and get it on this clutch play which set up the winning score in a 2015 game:
Johnson did have one fumble, as he was stretching for the goal line on this play. However, that worked out too, as his teammate recovered it for a touchdown:
Yards after the catch
Johnson hasn't been able to showcase his ability to make yards after the catch very often, with much of his yards after the catch being simply due to catching the ball in space. He doesn't break tackles very often. However, he showed so good burst and acceleration to get downfield on this short pass:
Red zone
There's no reason why a player with Johnson's size couldn't be a valuable red zone target. However, with most of his touchdowns in preseason and regular season action coming on downfield throws, Johnson hasn't had a chance to do much in the red zone. He's caught just two passes for eight yards in regular season action. However, he did score on a two-point conversion, as he ran a drag route and the defense left him completely uncovered.
He did manage to score this touchdown on a back corner fade in a preseason game:
Blocking
Johnson is able to make use of his size when blocking on screen passes in space but doesn't contribute much in the running game.
He reacts well on this play to make a good downfield block on a quarterback scramble:
Physicality
Johnson makes good use of his size when catching passes over the middle and his new/old teammate Teddy Bridgewater described him as "a big, physical guy" a few years ago.
He had two offensive pass interference penalties in his first year with the Vikings.
Special Teams
Johnson has played a variety of special teams roles as a Viking, but hasn't contributed much of substance. He has one special teams tackle in his career and another one in preseason. He's also fielded one kickoff and returned it 16 yards.
Johnson has also seen action as a gunner, a vice, on the punt rush unit and as a blocker.
Instincts
Johnson didn't seem to run the wrong route or blow any assignments based on the footage watched and seems to have a knack for finding open spots in the defense.
On this play he seemed to get slowed down in his route and then was slow to recognize that the pass had been intercepted, leading to a long return:
He had one false start in each of his three seasons in Minnesota.
Attitude
Johnson is another story of persistence and perseverance, just to have made it to the NFL at all. His time at EKU ended after he was suspended for two years because his roommate reportedly stole a laptop and Johnson didn't speak up about it. He opted instead to transfer and has apparently turned his life around after vowing to do so while his father was battling serious illness about a year later.
Coaches have praised his hard work and he's been described as "wise beyond his years" because he had to be self-dependent at a young age.
Scheme Fit
One of the best things Johnson has going for him as he strives to make the Jets' system is his level of chemistry with Teddy Bridgewater.
Johnson has also been teammates with Terrell Sinkfield while at Minnesota and Isaiah Crowell and Buster Skrine while with the Browns.
Injuries
Johnson is recovering from a knee injury, as noted, and already overcame an ACL tear five years ago. In addition he missed two games with a broken rib in 2015 and had some preseason injuries earlier that year.
Conclusions
The Jets already have some pretty good receiving options, but - as documented already this offseason - some of the key names are surrounded by uncertainty. Johnson only signed a one-year deal, like Terrelle Pryor, and with Jermaine Kearse on the final year of his deal, Robby Anderson a pending restricted free agent and Quincy Enunwa a pending unrestricted free agent, each these players are battling not just for a role in 2018 but also to be part of the team's future.
Don't read too much into the fact they have 15 receivers on their roster because it's highly likely several of those will be cut before the team begins OTAs and maybe even as soon as this week.
However, Johnson will still face an uphill climb as he battles for a roster spot. If there are no injuries or suspensions forthcoming, his odds of making the team are slim, but if he can prove he's as athletic as he was pre-injury, he has a shot.