In the run-up to the draft we're sharing in-depth scouting reports on all the players signed by the Jets in the offseason. Today we move on to look at tight end Clive Walford.
Walford is 26 and listed at 6'4" and 258 pounds. He was a third round pick out of Miami in 2015 and began his career with the Oakland Raiders, catching 61 passes for almost 700 yards and six touchdowns in his first two years. However, his role reduced significantly last year and he ended up with just nine receptions. The Raiders released him last month.
Background
Walford was a three-sport star in high school and was recruited to Miami to play tight end. After redshirting his first season, his production increased in each year and he posted career highs of 44 catches, 676 yards and seven touchdowns as a senior. He ended his career with 121 catches, 1,753 yards and 14 touchdowns.
After the draft, Walford boosted his stock with a great week at the senior bowl but then his combine workouts dampened some of that buzz. He eventually dropped to the third round, but was still the second tight end selected at 68 overall, behind Maxx Williams.
After suffering some injuries in camp and preseason, Walford began his rookie year as the third string tight end, but had a decent rookie year with 28 catches and three touchdowns. In his second year, he moved up to second-string and caught 33 passes for 359 yards and three more scores, adding two more catches for 16 yards in the playoffs.
The Raiders got a new offensive coordinator in 2017 and Walford fell out of favor, catching just three passes for 10 yards in the first 12 games. He caught four passes for 57 yards in a late season game against the Giants, but ended the season on injured reserve with just nine receptions in total.
The Jets claimed Walford off waivers after he was released last month.
Let's take a look at what Walford brings to the table based on in-depth research and film study.
Usage
Walford lines up as a conventional tight end most of the time, but also spends time in the slot and out wide. In fact, in 2017, all nine of his receptions came while lined up in the slot. In his first two years, he generated about a third of his production from the slot.
Measurables/Athleticism
After his performance at the senior bowl, Walford was described as the most explosive tight end in the draft class by the experts on NFL Network. His explosiveness numbers backed this up at the combine, but the rest of his numbers were a disappointment:
Downfield threat
Walford is a player who is capable of stretching the field by getting down the seam. He's had three receptions on throws more than 20 yards down the field in his career, including one last season.
He's never had a 40-yard play in the NFL but does have the ability to get over the top as shown here:
Routes
Walford has never been much of a technical route runner. He has success on slants and out routes, but doesn't look particularly sharp when doing so and lacks the burst to separate.
Nevertheless he does a good enough job of setting his man up here:
Hands
Walford locates and adjusts to the ball well and is capable of going up to snatch the ball out of the air and can hang on in tight coverage. However, he often double-catches the ball, occasionally showing good concentration and soft hands when doing so.
Here's a highlight-reel grab from when he was in college:
In college he had issues at times with concentration drops and he's had some in the pros but his overall catch rate has been over 60 percent each year. Here was one play where he couldn't make the catch:
Yards after the catch
Walford showed an ability to run after the catch when at Miami, and flashed those abilities in his rookie year. Here he slips the tackle for a touchdown:
On this play, he side steps a tackler nicely in the open field:
Since his rookie year, Walford hasn't done much after the catch and seems to have lost the ability to break tackles.
Red zone
Walford has had some success in the red zone with four of his six touchdowns coming from in the red zone and two from inside the five yards line.
On this play, Walford shows his ability to come up with a ball that's thrown to a spot at the back of the end zone:
Run Blocking
It was acknowledged that Walford had some work to do as a blocker when he entered the league, but at the same time it was felt he had promise as a blocker.
He seems to handle assignments where he sets up on the edge pretty well, but is less effective when required to block on the move.
On this play, Walford does a good job of sealing Jadaveon Clowney to the outside and preventing him from blowing up the run:
Here, he executes a cut block well to prevent Von Miller from exploding into the backfield to blow up a goal line run:
It's when he's required to locate a target or stay on a block that Walford can look a bit sloppier and this hurts his effectiveness. He had five holding penalties in his first two seasons, but none last year.
Pass Blocking
According to Pro Football Focus, Walford has put up some solid pass blocking numbers: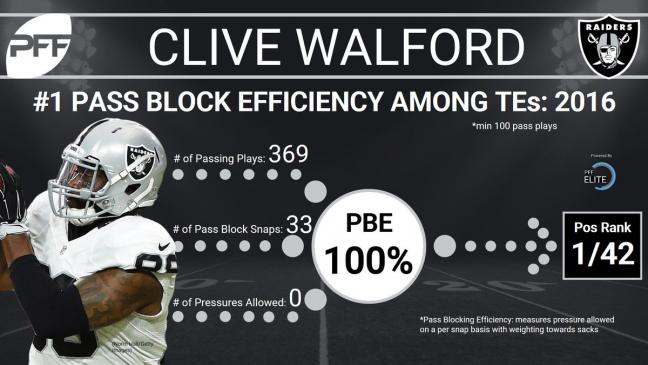 However, this isn't something he's been required to do more than a couple of times per game. He only got beaten once or twice though.
Special Teams
Walford has contributed as a blocker on special teams return units, albeit without much success. However, he does a decent job here of springing a return lane by driving his man downhill right before Cordarrelle Patterson breaks into the open field:
He's had one penalty for an illegal block in the back while blocking on special teams.
Instincts/intelligence
Walford's concentration can let him down at times. He had three false starts in 2015 and three more in 2016.
As a blocker he sometimes seems to block the wrong player or be uncertain about who he's supposed to block.
Attitude
Walford reportedly hurt his stock during the draft process with his attitude in pre-draft interviews. He reportedly acted entitled and "pissy" according to a report relayed to NFL.com's Lance Zierlien by a tight ends coach.
Bill Musgrave praised Walford's hard work and noted the improvements that he made as a blocker and route runner in his second season, but Walford's playing time reduced significantly once Musgrave left.
However, there is concern over his maturity and how seriously he is taking his career after he injured his knee in an offseason ATV accident in 2016.
Injuries
Aside from the above-mentioned knee injury, which caused him to miss offseason activities in 2016, he also ended up on injured reserve last year with a concussion.
During his rookie year he missed time in camp with a hamstring injury and three preseason games with another knee injury.
Scheme Fit
Walford has experience of playing on a team that employs zone blocking schemes and his ability to produce in the passing game as both a safety valve and an occasional downfield threat could help a young quarterback or stretch the field.
Conclusions
Walford is a much more established option than any of the other tight ends on the current roster. The other four have just 26 career receptions between them. However, he should not be considered to have a guaranteed spot.
The challenge for the Jets is going to be replacing Austin Seferian-Jenkins' production. However, in 2016, Walford had more yards than Seferian-Jenkins. The difference is that he did it on 33 catches, while Seferian-Jenkins had 50.
In that respect, he's a good signing because - while they may have hopes that one of their youngster can develop into a more productive player than Walford has been - he can be a good fallback if none of the youngsters step up and also a barometer by which to gauge their progress.