Scouting Rashard Robinson
Earlier this week, the Jets added a couple of players to their roster. We've already looked at free agent signing Xavier Cooper earlier today. Now we're going to take a closer look at Rashard Robinson, who the Jets traded a 2018 fifth-round pick for at the trading deadline.
The 22-year old Robinson was a third round pick out of LSU last year. In a year and a half with the 49ers, Robinson started 13 games and recorded 55 tackles, 15 passes defensed and two interceptions. However, he also has 23 penalties in just 22 career games.
Background
Robinson showed some talent at LSU where he played in 15 games, recording 30 tackles and an interception. However, he was suspended halfway through his second season and then not allowed to re-enroll for his junior year in 2015. He entered the 2016 draft and was selected by the 49ers in the third round.
In his rookie year, Robinson played quite well, making six starts, although he had eight defensive penalties and five more on special teams. It was hoped he would progress in 2017 and he started the first seven games of the year. However, penalties continued to be an issue for him, as he had another 10 in eight games, including eight on defense.
Let's take a closer look at what Robinson brings to the table, based on in-depth research and film study and divided into categories.
Measurables
Robinson's combine numbers were only average as you can see, although he was bothered by a calf injury and didn't complete a full workout:
He improved upon his 40-time by running a 4.40 at LSU's pro day but his agility drill numbers were not very good and he only managed five bench press reps.
The first thing that stands out about Robinson is that he's extremely thin, much like current Jets Derrick Jones and Robby Anderson. He has excellent length though.
Usage
Robinson is a boundary cornerback who lacks any experience of playing in the slot. He's been employed regularly in press coverage up at the line.
Coverage skills
Robinson's coverage numbers when targeted are very good as he's held quarterbacks to a completion percentage of below 50 when targeted. However, that of course doesn't take into account those plays where he was penalized.
He doesn't get beaten very often but it does happen from time to time. At the NFL level, the longest pass play he's given up was a 41-yard catch by Doug Baldwin in last year's season finale. Otherwise, the longest play he's given up is 32 yards. Here's a play where he was badly beaten in college:
In college, Robinson held up well in a match-up with Mike Evans, holding him to 51 yards on four catches. However, when he faced the Bucs in his rookie year, Robinson had a tough game, giving up two touchdowns.
Physicality
Of Robinson's 23 career penalties, seven have been on special teams. Most of the rest have been in coverage as he has had five for pass interference calls, five for defensive holding and one for illegal contact. He's also had four for illegal use of the hands.
Robinson has a tendency to grab at the line and occasionally panics when trying to recover. Here's an example of that: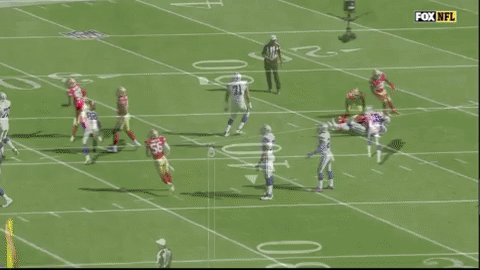 Much like Buster Skrine, he's going to have to adjust to the officials in terms of being physical without actually crossing the line and violating the rules. Leon McFadden is a good example of someone who also had to adjust to the NFL rules but failed to do so and ended up out of the league. Robinson only had two defensive penalties in his last year at LSU.
On this play, he got credit for a pass break-up but his hands were all over the receiver, so he easily could have been flagged:
In preseason, Robinson gave up a deep completion to Tyreek Hill on a play where he didn't get his hands on his receiver cleanly at the line, perhaps as an overreaction to his propensity to grab in the past.
Ball skills
Robinson is in position to make a play on the ball quite regularly and has broken up 15 passes in his 22 career games. He just has to be careful to get his timing right because it often isn't very clean even when he does make a good play:
Including preseason action, Robinson has intercepted five passes since being drafted so his hands seem to be pretty good. He's shown an ability to high-point an interception in the past and made a nice catch (and return) on this play:
This interception clinched a win for them in week 16 last year, as he showed his ability to jump a route:
Run defense
Robinson mostly plays on the outside and therefore hasn't had much of a chance to make plays in the running game. He's only made a couple of run stops each year and can be blocked out of plays down the field.
Tackling
Although he's thin, Robinson fights to get off blocks and will make an effort to get in on tackles rather than playing passively. However, his lack of strength can be an issue when making tackles:
He missed several tackles last year, mostly in the running game, but has been more efficient this season, although he had this bad missed tackle in preseason:
Blitzing
Robinson hasn't shown much as a pass rusher, only having attempted a blitz off the edge a few times at the NFL level, with no pressures.
Special teams
Robinson sees plenty of work on special teams, including work as a gunner, in the vice role, in kick coverage and on the kick rush unit.
He hasn't had any special teams tackles in regular season or preseason action, although he has missed a few.
Discipline was an issue for Robinson here too, as he's had seven special teams penalties in a season and a half. That included a penalty for running into the kicker:
Instincts/Intelligence
Robinson had some issues with substandard academics while at college, but that's thought to be more because he hated school rather than a sign of poor intelligence.
On the field, Robinson moves around naturally and has good positional sense. However, there are lapses in concentration and focus at times and he perhaps over-estimates his ability to recover in certain situations.
Attitude
Maturity was a major concern for Robinson as he entered the draft. He had been suspended for failing a drugs test and his academics and then wasn't allowed to rejoin the team after an offseason arrest for entering a teammate's property without their permission.
Robinson is also pretty talkative and cocky, although there's something to be said for cornerbacks with unwavering confidence in their own abilities.
Injuries
Robinson hasn't had many injury issues, although when he entered the league in 2016 he hadn't played a competitive game since October 2014, albeit due to non-injury reasons.
Last season he missed a couple of games with an MCL sprain and he also had the calf issue that slowed him down at the combine.
Scheme Fit
Robinson is a Todd Bowles' style cornerback with his length and ability to play press coverage. Unfortunately, he does little to address the need for cover in the slot, although now that Buster Skrine is back, perhaps that won't matter.
Conclusions
Everyone seems to be in agreement that Robinson is extremely talented and that he just needs to clean up one or two things so that the penalty issues that have plagued him so far can be limited.
He's close to his former college teammate Jamal Adams, his former teammate in San Francisco, Jeremy Kerley and also Anderson, who he grew up with close to in South Florida. Hopefully, they will help him fit into the team culture and live up to his potential.
It seems like a decent price to play for a move with a potential high upside but it will be interesting to see whether the Jets view him as a project to develop into the future or someone who will start contributing right off the bat. From that we will perhaps be able to infer one or two things about how the Jets view the guys already on the roster and the rookies they added in the offseason.