Over the next month, we're going to be providing in-depth scouting reports for each of the Jets' free agency signings. Today, we take a look at offensive lineman Travis Swanson.
The 27-year old Swanson is 6'5" and 312 pounds and was a third round pick out of Arkansas in 2014. He spent the first four years of his career with Detroit, where he started 42 games. The Jets signed him to a one-year deal worth up to $1.55 million in free agency.
Background
Swanson was an offensive tackle in high school and was a highly sought after recruit who ultimately decided to head to Arkansas. He was a four-year starter at center, starting 50 consecutive games and being voted as an all-American in his senior year.
The Lions drafted Swanson in the third round of the 2014 draft and he was in a reserve role as a rookie, starting five games due to injuries.
In his second season, Swanson became a full time starter and started 37 more games over the next three seasons but the Lions let him hit the open market at the end of his rookie deal. The Jets, having already signed Spencer Long to start at center, signed Swanson to a one-year deal worth up to $1.55 million.
Now let's look at what Swanson brings to the table, divided into categories.
Measurables
Swanson has good size and length but most of his combine workout numbers were below average. His agility numbers were okay though - and he reportedly ran a outstanding sub-7.4 second three cone drill while in college:
His bench press in particular was poor, as he had fewer reps than every other offensive lineman at the 2014 scouting combine.
Usage
While pre-draft scouting reports refer to Swanson being limited to just playing center, he did play tackle in high school and some guard in college. Also, his first four NFL starts were at left guard.
He graded out poorly in those games, although that may just be because he was an inexperienced rookie rather than a sign that he can't play there.
In his rookie year, Swanson also saw some time as a jumbo package tight end.
Run Blocking
Swanson battles well at the point of attack and is good when driving forwards. He's especially effective when making combo blocks with one of his guards. However, in the three years with Swanson as the starting center, the Lions' run offense has been dead last in the NFL twice and third worst once.
There are moments where he can be beaten by quickness. Here's an example of that:
However, when he can lock onto his block and exploit a leverage advantage, he can be effective at driving his man out of the middle:
On this touchdown, he gets enough of an initial surge that his man has to give up ground to leverage his way off the block, which creates enough of a seam for the runner:
Pass Protection
Swanson has been consistent in pass protection over the course of his career. He works with a solid base and uses his hands well. Even in 2017, when he wasn't quite as good, he didn't allow a sack.
In 2017, he had some issues dealing with powerful defensive tackles on the bull rush. That was the case on this play, as he allows #79 to drive him back: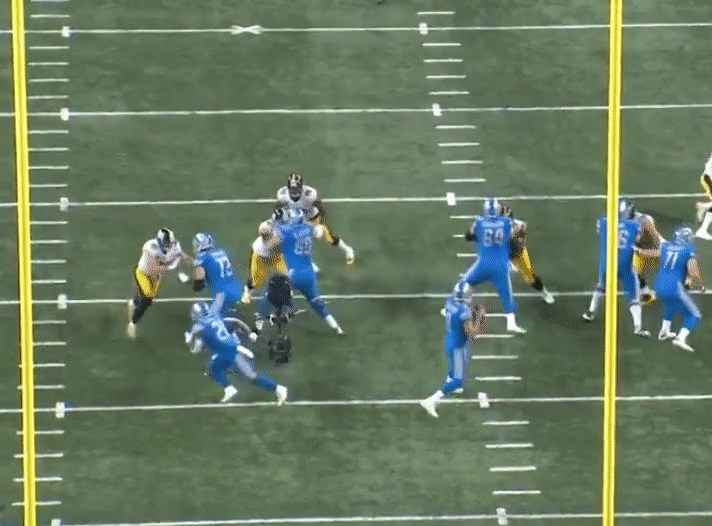 Although his numbers in pass protection have been good, it's worth noting that the Lions tended to take an inside-out approach to pass protection, often just swelling up with the three interior linemen to try and prevent any interior pressure.
While Swanson's awareness in such situations is typically good, he can have lapses at times:
This is notable because if his pass protection numbers are equivalent to a player who is required to block one-on-one more often, then perhaps his numbers are artificially enhanced because it's an easier assignment.
Footwork/Technique
Swanson's footwork seems pretty good although he does end up on the ground quite a lot. He uses his hands well in pass protection, but he will allow his man to get off blocks and in on a tackle quite often in the running game.
Note how his man is able to get his left hand off him to shed the block for this run stop: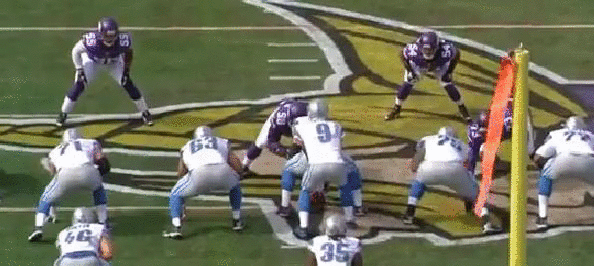 On this play, the low man wins, as his pad level is too high, allowing him to be stood up at the line and leading to the run being bottled up and an eventual fumble:
In space, he can have a tendency to overextend and lose leverage.
Penalties
Swanson has been consistent in terms of penalties with just three in each of his years of a starter. Of his 10 career penalties, he's had nine holding calls.
Special Teams
Swanson hasn't contributed much on special teams, although he was a blocker on the kick return unit as a rookie and even fielded one kickoff and returned it 18 yards in a preseason game.
Instincts/Intelligence
Interestingly, with the Lions, Matthew Stafford was responsible for all the checks and line calls. This is a contrast to Long's time in Washington where it was the center's job. This might mean Long is better positioned to handle a rookie who lacks experience.
Swanson's awareness in blocking schemes is generally good although he's not immune to the occasional mental error:
When he was a rookie, he had some issues with the shotgun snap in camp, but was fine in actual games.
He was a team captain at Arkansas.
Attitude
Swanson obviously has outstanding football character because coaches have praised his knowledge, leadership, intelligence and work ethic and he has had no off-field issues and no controversies. That's notable because he took over from Dominic Raiola who was considered one of the league's dirtiest players in some circles.
Injuries
Swanson has had issues with concussions in each of the past two seasons and there was some suggestion his career might be over. There's some dispute over this though, as Swanson claims he was wrongly diagnosed and that when he stopped taking concussion medication he'd been prescribed, the symptoms immediately subsided.
Swanson also landed on injured reserve in 2015 when he needed shoulder surgery. He's also been listed with ankle and knee issues last year.
Ironically, before he entered the NFL, his durability was seen as a positive because of his 50 consecutive starts.
Scheme Fit
Swanson played in a zone blocking scheme in Detroit and shows the ability to be effective on zone runs.
On this play, he clearly loses at the point of attack, as his man drives him into the backfield. However, he stays on the block and rides it laterally so the runner is not delayed from being able to get to the hole. He also stays on the block and finishes nastily:
While it didn't gain many yards, this play is notable because it comes against Damon Harrison - one of the league's best defensive tackles in terms of moving laterally and keeping the runner in front of him. Swanson beats him to the spot and seals him to the inside to allow the runner to get positive yardage:
Swanson was a teammate of recent Jets signings Brandon Copeland and Andre Roberts.
Conclusions
A few years ago the Jets signed another former Lions interior lineman who was coming off a down year in Nathan Peterman. However, it was obvious immediately from his film that he was probably finished. Swanson is still young enough that he could have more to offer and his film still shows some promise that he can still play with some consistency.
Halfway through the 2016 season, Swanson was actually playing at an elite level as Pro Football Focus had him grading out as the third best center in the league after eight games. Ironically, his 2017 season was the opposite, as he was poor in the first half, but then settled down and played more consistently for about a month, only to then see his season end prematurely again.
Long is a better fit for a number of reasons, but he has his own durability issues and, as possible replacements go, Swanson is probably a superior option to Wesley Johnson (who is ironically now in Detroit) or Jonotthan Harrison.
He put together a better string of games than Johnson, Harrison or even Long ever have in 2016, although it seems unlikely he'll ever play at an elite level like that again.
However, if Swanson's concussion issues are indeed overblown, then he could be a good addition, even though Plan A is obviously for Long to step up and make the center role his own, which would relegate Swanson to a reserve role.