Three on D: A. Davis, J. Davis, Franklin-Myers
After each game, we'll be highlighting three defensive and three offensive players and looking in detail at their performance. We'll wrap up today with the defense:
Ash and Burn
With Marcus Maye out for the season, Ashtyn Davis is going to have to step up. On Thursday night, Davis was statistically productive as he racked up 10 tackles and was credited with two forced fumbles. However, he had some rough moments.
Let's start with the good. Davis' two forced fumbles both came within two plays of one another with the Jets still only 14-7 down and could have swung momentum back in their favor and kept the game competitive for longer. Unfortunately, the Colts got a lucky bounce on each of these - and it appeared CJ Mosley was actually responsible for one of them anyway.
Despite racking up the 10 tackles, Davis didn't contribute much in terms of defensive stops. In fact, only two of his tackles came within 10 yards of the line of scrimmage; one on a six-yard run on 2nd-and-7 and an assist on a two-yard run.
Three of his tackles could be considered touchdown-saving tackles though, including this one.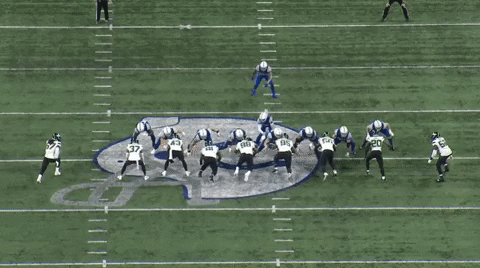 Even on that play, he took a bit of an overaggressive angle and the running back nearly broke his tackle to go all the way. This wouldn't be the last bad angle he took either.
Davis was also involved in three pass plays that went for a first down, the worst of which was this play where he completely bit on the fake toss to leave the tight end to leak underneath for 28 yards.
The secondary as a whole needs to do a much better job of limiting downfield yardage on big plays and Davis is a big part of that, especially with Maye now lost for the year. He'll have to improve in the second half of the year.
52 Jarrad Gold
It was hoped that Jarrad Davis' return from injury would improve the Jets' run defense. However, he's been playing too tentatively so far. No play illustrates how unsure of himself he is better than this one as he hesitates on the edge, reacts late and then overreacts to let the running back beat him in space.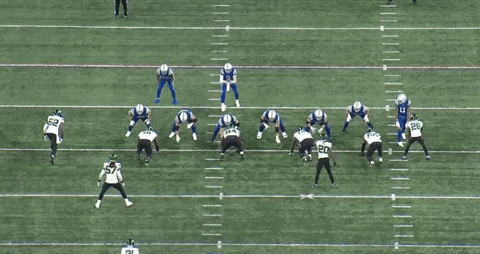 Unfortunately, Davis was a major reason for all three of the Colts' rushing touchdowns. On each play, he was kept clean and had a chance to fill a lane at the second level, but picked the wrong one.
The first score - Nyheim Hines' 34-yarder - saw Mosley encountered by three blockers at the second level. Davis moved in behind Mosley but instead of waiting to see which way Hines would cut, he guessed wrong and Hines cut back and ultimately scored.
On Jonathan Taylor's 21-yarder, Sheldon Rankins was driven back off the line and into the path of Mosley on the right side of the formation but Davis was free in space to fill the middle. However, he moved out in front of his blocker and again overpursued so he was sealed off, creating a cutback lane.
Taylor's 78-yarder is frustrating to watch because Davis is again free and has a chance to fill the running lane that Taylor takes to break into the clear. However, he instead moves to his right to contact a blocker on at the second level.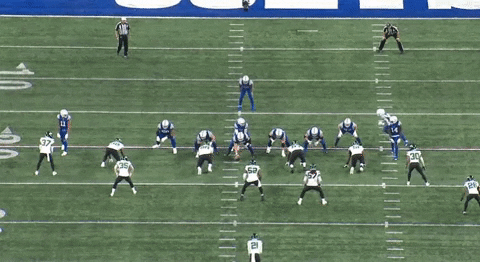 On the play, Davis either needs to fill that lane or be more decisive about taking out the blocker so that Mosley can read this and fill across himself.
On all three plays, it still wouldn't have been a touchdown if the defensive backs had done a better job or getting off blocks or taking better angles. Ashtyn Davis screws up here by taking an overaggressive angle again.
Davis ended up with just two tackles and also had two missed tackles, although he and Mosley weren't exploited in coverage, as they only gave up 20 yards on four targets between them.
The coaching staff has been again talking about fixing the run defense. This likely entails getting Mosley and Davis on the same page, although the secondary will also need to focus more on doing a better job. However, even if these runs had all been stopped downfield by a defensive back so the total yardage would reduce significantly, it would still end up being an unacceptable total.
Franklin-Myers' Thankless Task
Over the past two games, John Franklin-Myers had recorded just two pressures, which could have Jets fans concerned that he's going to go downhill now that he's signed a long-term deal. However, Thursday night's game was a bit of a return to form.
Franklin Myers had two run stops and his first sack since signing the extension. He also had another quarterback hit on a stunt and three other pressures, including this impressive bull rush into the quarterback's lap.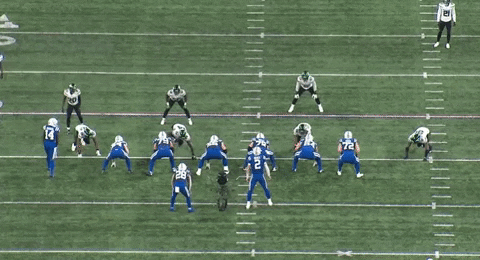 With less than half the season gone, Franklin-Myers has a career-high four sacks and has added nine quarterback hits officially. He entered the year with five sacks and 13 hits in his career. He also has 28 total pressures and is well on course to surpass 50 for the second year in a row.
Franklin-Myers has also shown growth against the run with 22 tackles already surpassing his career high from last season. Notably he was out of the game for two of the three long touchdown runs.
The Jets' pass rush seems to have lost something since Bryce Huff got injured but he should be back in a few weeks. Hopefully, Franklin-Myers can continue to pick up the slack in the meantime.
Previously - Three on O: J.Johnson, T.Johnson, Fant