Three on D: Adams, Gardner, Johnson
After each game, we'll be highlighting three defensive and three offensive players and looking in detail at their performance. We'll start today with the defense:
Setting the Tony
Lamarcus Joyner's hip flared up again, which has apparently put an end to his 2022 season (and potentially his career, given his age). What this did give us, though, was an extended look at Tony Adams in the free safety role. When Joyner was injured, the Jets had gone with Will Parks in that role but this time Adams, who entered the game with just 14 defensive snaps under his belt, got the call.
It was a good performance from Adams, who didn't make any glaring mistakes and ended up with six tackles including a couple of nice plays against the run.
This was his best play as he showed terrific closing speed to cut down the runner for a short gain.
The undrafted rookie also came up into the box to assist on this tackle near the line of scrimmage.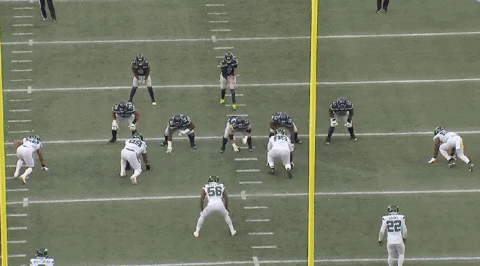 Adams, who was also in on a special teams tackle on the opening kick-off, only really had one negative on a play where he could have had a clean-up sack but let Geno Smith spin out of his tackle.
With Joyner confirmed as out of next week's game, it will be good to get another extended look at Adams and will be interested to see if they challenge him in coverage or if he has to try to tackle the likes of Tyreek Hill or Jaylen Waddle in the open field.
Never look a gift Sauce in the mouth
Sauce Gardner had another great game on Sunday, as he racked up a career-best four passes defensed. Perhaps the best of these was this clean left-handed deflection to deny DK Metcalf in the end zone.
Metcalf ended up with just one three-yard catch on a short pass where Gardner made the immediate tackle.
Gardner now has a league-high 20 pass break-ups on the year, a total only 16 NFL players have exceeded in the decade since Darrelle Revis left the Jets. Revis' 31 is well out of reach but if Gardner gets a few more in the last game, it will be one of the highest totals of the past 10 seasons.
(It should not go unmentioned that Dee Milliner had 16 passes defensed in the last eight games of his rookie season).
Even more impressive than his pass defensed numbers are the low totals for yardage and receptions surrendered. Here are Gardner's numbers:
30 catches given up on 69 targets for 302 yards with one touchdown and four penalties
How does that compare with Revis' rookie season? There is no comparison...instead we should be asking how it compares with his best season (2010).
28 catches given up on 67 targets for 411 yards with three touchdowns and one penalty
(Note: This includes the three playoff games, which counteract the fact that he missed three games early in the year).
Gardner's coverage has been almost flawless all year, although he didn't get his head turned on a deep shot to Metcalf in the second half. He was still right with him and able to disrupt at the catch-point but Metcalf could still have come up with that and perhaps would have if Ashtyn Davis didn't range across to get in on the act.
His other negative was a missed tackle in the hole that saw Ken Walker spin away for a first down run, but he did make one good play against the run, maintaining outside leverage here to stretch this out to the sideline for a short gain.
The Jets have to be thrilled with Gardner. Hopefully he can force more turnovers next season. Right now that's the only thing missing from his game.
Jermaine Event
We checked in on the encouraging progress of the Jets' two rookie defensive ends last week but both Jermaine Johnson and Micheal Clemons continue to see their snap counts increasing by the week, so let's take another look at Johnson.
Although in this game he only had one tackle and one quarterback hit, it was another encouraging performance, particularly in the pass rush where he recorded three pressures for the first time all season.
On this rep, he gets upfield well and keeps working to get off the block to pressure Smith into a near-interception.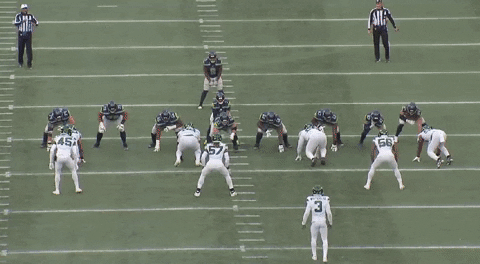 In the running game, his lone tackle saw him make a heady play as he was double-teamed on the edge and span out of it to bottle up the run at the line of scrimmage.
Interestingly, the Jets put Johnson in four times on third down in passing situations. Those aren't situations where he's played in the past, with Bryce Huff and Carl Lawson typically at defensive end in those situations.
The first of these saw Johnson stunting up the middle and Lawson creating pressure with a power move to flush Smith into John Franklin-Myers for a sack. The next was a quick pass that was incomplete. On the third one of these, Lawson again got pressure with a bull rush, forcing Smith to step up into a Quinnen Williams hit, although he still completed the pass. The final one, on 3rd-and-20, was the only one of the four in which Huff rather than Lawson was in the game with him. They ran right at Johnson for 10 yards and then settled for a field goal.
It wasn't a perfect performance from Johnson who was on sealed on the edge on a few of Walker's better runs, but plays like those above where he can beat a block to make a play are a good sign of his development over the course of the season and seeing him on the field in passing situations is a nice glimpse into the future.
We'll be back with the 3-on-O tomorrow.