Three on D: Alexander, Joyner, Quinnen Williams
After each game, we'll be highlighting three defensive and three offensive players and looking in detail at their performance. We'll wrap up today with the defense:
Quinnen Time
This is a big year for Quinnen Williams, who is hoping to earn a big money deal. However, some fans are freaking out because he had no tackles in Sunday's game. This has created some interested discussions around stats vs. analytics, especially after PFF gave Williams a 92 grade.
Over the years, we've had plenty of discussions about "hidden production" from defensive linemen and the relative value of someone who occupies blockers so someone else can make a play as against someone who makes plays themselves.
In this game, though, Williams was doing more than occupying blockers. He had three pressures and one play where he busted into the backfield to bat down a pass - and that was on only 22 pass rush attempts, many of which saw Lamar Jackson rushing to get the ball out quickly.
The run defense was obviously really good, whether or not Williams was making the plays himself. He helped anchor a line that bottled the Ravens up all day and held them to 63 yards - an all-time low in the Jackson era and with an average of just three per carry.
On this play, Williams takes on a double team, isn't moved off his spot and then fights off the left guard to grab the runner. Although he didn't get credit for the stop on this play, it's all down to him.
Williams played 36 snaps as he rotated in on the main defense and then re-entered the game on passing downs with the Jets' primary pressure package featuring Carl Lawson, John Franklin-Myers and Jacob Martin.
While this package will usually see Franklin-Myers and Williams inside, they mixed up the looks a little. On one play, Martin was standing up in the middle and Franklin-Myers and Williams lined up alongside one another on the right side. On this one, the Jets similarly isolated Lawson on one edge by having the two interior defenders aligned to the right side of the offensive line. This sets Williams up in a one-on-one which he destroys, affecting Jackson's throw even though it was only a three-step drop. The Jets were incredibly unlucky here as the pass needed to be inch-perfect and was in spite of the pressure.
Williams did look stronger in the trenches and his initial punch looked more powerful than ever, but you wonder if he just dominated more than usual because the likes of Lawson drew more attention and gave Williams more favorable matchups. Essentially, you're asking whether Williams was always this great but now he's finally going to get a chance to show it.
Who cares? Either way, he looked great on Sunday and hopefully will continue to do so. He'll be in the pro bowl if he does.
Kwon with the wind
Linebacker Kwon Alexander actually played more snaps than Williams, which might not happen again all season because the Jets were presumably in base as often as they were due to the Ravens' tight end-heavy personnel.
We did, however, speculate that the Jets might line up in a base defense more this year in an effort to counter the run. They potentially now have the personnel to do this, so it will be interesting to see what happens in the weeks ahead. If Alexander plays like this, it's going to be tough to keep him off the field.
The Jets essentially had Quincy Williams in a full time role, so Alexander came in as the third linebacker about two-thirds of the time. Within that role, he only lined up inside the tackles on two plays.
It seemed like Alexander was everywhere in the first half, but surprisingly he only had one tackle. He ended up with three, two of which were close to the line of scrimmage.
This 3rd-and-short stop, even though Alexander didn't even get credit for the tackle, might sum up the importance of the linebackers to the run defense better than any.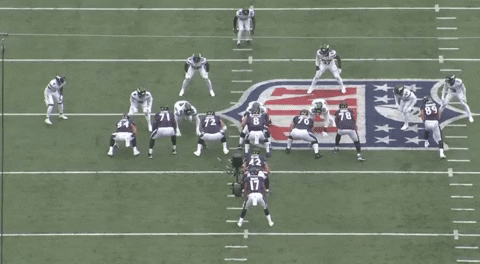 On the broadcast, the announcers gave the credit to Alexander who chased the play down from the backside for a big hit, although the ball carrier was basically already on his way down.
CJ Mosley is the key here, as he reads the play and gets outside leverage on the fullback to prevent a situation where he can be sealed inside to create a big running lane off-tackle. He then cuts back inside the block to get a piece of the runner.
Mosley is trusting the fact that his teammates will be in position behind him to clean up here. Had they not been, the back likely runs through his arm tackle and into the open field. This was the issue last year. Many saw Mosley as out of position in these situations when actually he's in his lane and it's players behind him that were driven out of position or late to get across.
In this case, Jacob Martin fights off the tight end to fill the cutback lane. Had Mosley not trusted the scheme, he'd have tried to shoot inside and then Martin would be potentially sealed inside to create an outside lane.
Williams, on the other hand, is cleanly picked up by the center at the second level and driven to the ground. Fortunately, that doesn't matter because Alexander hustles across to fill in behind him.
Let's not overlook Jordan Whitehead's contribution either. He gets upfield on the outside to prevent any kind of bounce-out, even though Morgan Moses gets across to take him out.
It's only one play, but this is a good example of the various components of the back seven working together to stuff a run which might have gone for a big gain last season because of poor linebacker discipline or defensive backs coming up too fast or getting taken out. Alexander could continue to be a part of this improvement.
It will be interesting to see whether Alexander takes any of Williams' reps away in future but he is so far looking like a good signing that should boost the flexibility on defense.
Late to Joyn the party
Lamarcus Joyner's season ended after less than 10 snaps last season, but he's back and some Jets fans might be wishing the same thing happened on Sunday after he had some costly errors.
The biggest was on Rashod Bateman's 55-yard touchdown which came on the play after the Jets almost recovered a fumble in Baltimore territory and essentially ended their hopes of a comeback there and then.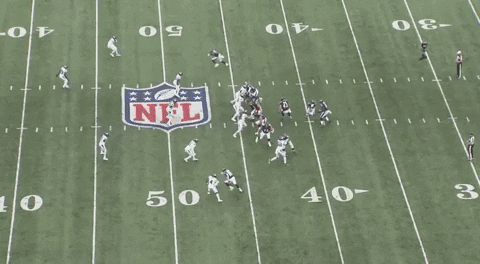 Joyner is the deepest safety and Ahmad Gardner passes him off into his coverage just as he backpedals away from the middle of the field. It looked like Joyner was anticipating the post-corner route and panicked and tried to give himself a head start.
It's possible Jordan Whitehead should also have been deeper as he also anticipated a route incorrectly, but this is clearly Joyner's error.
In addition, Joyner's pass interference penalty set up the first Ravens touchdown. In the media, he complained that this was a bad call, but he bumped into the receiver, impeding his progress, with the ball in the air, so it's difficult to say he should have expected to get away with that.
Joyner played deep more often than Whitehead did as you'd expect, but Whitehead actually matched up in the slot more often than Joyner despite the fact that was Joyner's full time position in 2019 and 2020.
In terms of positives, Joyner didn't produce much. His only tackle was 15 yards downfield. The Jets have showed faith in him, but fans must be wondering what this is based upon. Hopefully, he can prove why they're starting him as the season progresses.
Previously: Three on O: Tomlinson, Fant, Davis