Three on D: Carter, Lawson, Joyner
After each game, we'll be highlighting three defensive and three offensive players and looking in detail at their performance. We'll start today with the defense:
Deuce WRLD
Deuce Carter was one of the heroes from Sunday's game, as he recorded his first NFL interception to set up the winning touchdown. Carter made a nice play on the ball to make a low diving grab before it hit the turf after Ahmad Gardner helped disrupt a high throw on the outside.
Carter was a solid contributor at nickelback for most of last year, only giving up one touchdown and no 40-yard plays in coverage. However, he didn't make enough impact plays, made some mistakes against the run and missed too many tackles.
Reliable nickelbacks are not easy to find so any progress from Carter in 2022 would be welcome. He did get beaten for a 56-yard touchdown last week, although that was arguably more down to Jordan Whitehead's poor tackle attempt. Otherwise, he's held up quite well.
In Sunday's game, he had four tackles, two of which were short of the marker to force a third down and a punt. This was a great play on third down: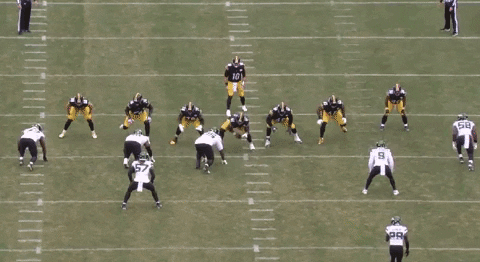 In Sunday's game, Carter did give up three catches, the longest of which was a 26-yard catch where Kenny Pickett threw up a jump ball and Carter was draped all over George Pickens but he still came down with the catch. There's not much more he could have done on that play and not many nickelbacks that could have done much to prevent it. He also gave up a first down to the tight end.
The Jets have been playing more base defense this year, so Carter's workload has reduced from over 50 snaps per game to 35. However, they can't take this position for granted and will hope Carter continues to show progress in the weeks ahead.
This Whole Carl
Carl Lawson has made an impact already, but has attracted some criticism from fans who perhaps expected more. With just five tackles and 1.5 sacks through four games you can understand why people might expect him to impact the stat sheet a little more. However, he is having a bigger impact than you might realize.
Through four games, he leads the Jets with seven quarterback hits. For context, John Franklin-Myers led the team with 14 last season. Franklin-Myers had five games with multiple quarterback hits, while Lawson has already done this three times in four games.
Perhaps even bigger than this has been his influence on the opportunities for his teammates. Quinnen Williams' sack on Sunday was a good example of this, as Lawson's quick inside move drove back the left tackle and created the room for Williams to loop around and get to the quarterback.
This should continue to happen because Lawson's man is typically getting more double team help than that of any Jets' edge rusher in recent memory - and when that doesn't happen Lawson is doing a good job of driving his man off his spot or leveraging his way past him.
Here's a play which sums Lawson's season up so far. Great power and technique to drive his man back and release to get a clean hit on the quarterback, but then what a throw this is by Trubisky. That was almost the third time this year that a quarterback under heavy pressure has thrown a touchdown on a perfectly placed pass against the Jets (Jackson to Duvernay and Burrow to Boyd being the others).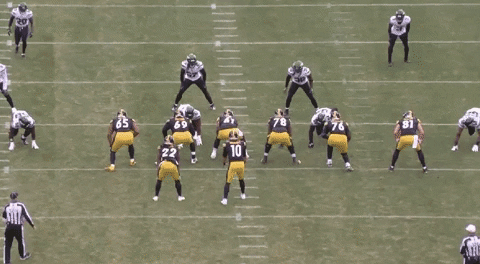 At the moment, Lawson is averaging more than one pressure on every nine snaps, when one-in-ten is generally a good benchmark. Considering how often the opposing quarterbacks have been getting rid of the ball early to prevent him from getting pressure on plays where he had his man beaten, this is very encouraging. And Williams' recent comments about not blitzing were apparently listened to with the Jets rushing four most of the time in Pittsburgh and the extra men in coverage either causing turnovers or forcing the quarterback to hold onto the ball as was the case on Jermaine Johnson's sack.
There are still areas it would be nice to see some improvement from Lawson. He hasn't done much against the run yet, has failed to complete the tackle on a couple of plays and his roughing penalty on Sunday was a bad error. Nevertheless, he's off to a good start and if the improvements in the secondary continue, this could just be scratching the surface of what he can do.
Nice of you to Joyn the party!
After an awful start to the season, Lamarcus Joyner came up with an amazing performance out of nowhere. Could he even win the Defensive Player of the Week award? Joyner intercepted two passes and broke up two others, one of which was also intercepted by his teammate.
This was a great bounceback from Joyner, who missed four tackles against the Browns and blew coverages that led to easy touchdowns in each of the other two games.
Perhaps even more encouraging from Joyner, and somewhat unnoticed, was the fact he made a couple of good contributions against the run. He was in on a stuff at the goal line and run blitzed here to stuff a run for no gain: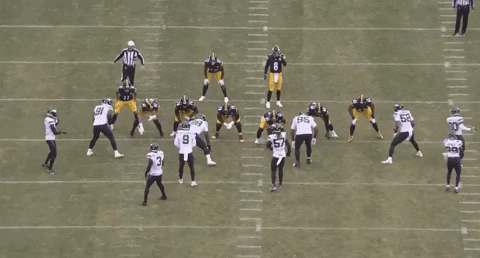 The Jets need consistency from their safeties now and hopefully Sunday's game was a sign of what's to come. However, they're facing three experienced veteran quarterbacks over the next three weeks so if they lapse into getting out of position, this is sure to be punished.
We'll be back with the 3-on-O tomorrow.