Three on D: Clemons, Alexander, Smart
After each game, we'll be highlighting three defensive and three offensive players and looking in detail at their performance. We'll start today with the defense:
Precious Clem
Rookie Micheal Clemons has been so good, it's understandable if Jets fans are taking him for granted. He doesn't make mistakes and there is never a noticeable drop-off when he enters the game off the bench.
On Sunday, Clemons had his second career sack on this impressive play as he moved Trent Brown off his spot with legit power and then released with outside leverage. A good cross-chop speed move from fellow rookie Jermaine Johnson on the other side forced Mac Jones to step up and into Clemons.
As a pass rusher, Clemons' production has been okay (one pressure every 11 pass rush reps) but not outstanding. Against the run, though, Clemons has been spectacular. He's ranked fourth among all NFL edge defenders per PFF, sixth among all defensive linemen (Quinnen Williams is first) and leads all rookies of any position.
He displayed those abilities on this great play. Clemons explodes off the edge to take on the lead blocker and knocks him back into the runner, then shows terrific athleticism to finish the tackle.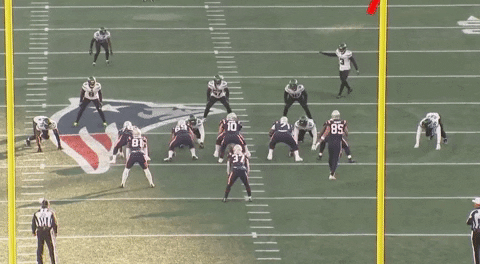 Right now, Clemons is doing a great job in his backup role. Could he, at some point in future, take on a bigger workload and become a full-time starter? Based on the strength, explosiveness and consistency he's displayed so far, you wouldn't put it past him.
Kwon off the boil
Kwon Alexander has been a solid addition, although his playing time has reduced since Quincy Williams returned from injury. On Sunday, Alexander had an uncharacteristically poor performance.
In 35 snaps, he had just three tackles, each of which was down the field after a first down play.
On this play, Alexander was in a good position to make the stop after a checkdown to the running back. However, he made a bad mistake in letting the back cut to the outside and use his receiver's block. If he gets outside leverage, this would force Harris to either try to run over him, or cut back, in which case CJ Mosley is in position to make the stop shy of the marker.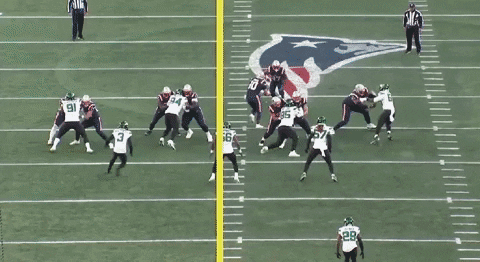 Alexander was also involved in a bad coverage mix-up on this play, which was Jones' longest pass of the afternoon. With three backs in the backfield, each linebacker has a clear matchup, but Alexander bites on the play action and lets the tight end (who lined up as one of the two fullbacks) leak out and get behind him for the huge gain.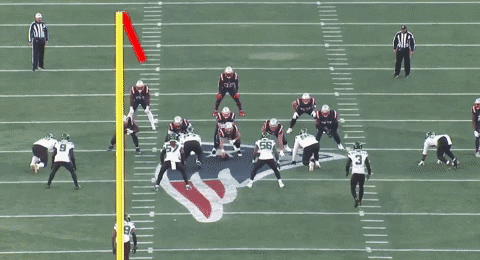 Alexander is a high-energy player who has reportedly provided the Jets with good leadership. Hopefully this performance was just a blip from him, because despite a great all-round defensive performance, the Jets gave up eight 15-yard plays and Alexander was involved in about half of these.
Smart Watch
With Sheldon Rankins out, the Jets turned to Tanzel Smart as they elevated him from the practice squad and used him on 18 snaps with the second unit.
Smart provided exactly what the Jets would want from a rotational lineman as he had no real negative plays and a couple of positive moments.
His best play saw him take on a double-team which helped the Jets to bottle up this run for a loss.
Smart also shot a gap into the backfield and drew a holding penalty from James Ferentz which the Jets accepted even though the play went for a loss.
His only other tackle came as Jones sneaked but came up a yard short on 2nd-and-2 and he didn't have any pressures on seven pass rush attempts, but the Jets didn't miss a beat with Smart's involvement.
Last season, the Jets had Smart on the practice squad all season but never used him, instead elevating Jonathan Marshall for the four games when there was an injury on the line. That the Jets would turn to the more impressive Smart rather than the youngster Marshall at this time is further evidence they are prioritizing getting the best personnel out there rather than developing youngsters right now.
We'll be back with the 3-on-O tomorrow.