Three on D: Davis, Sherwood, Echols
After each game, we'll be highlighting three defensive and three offensive players and looking in detail at their performance. We'll wrap up today with the defense:
Bring the Ashtyn
On such a bad day for the Jets' defense, it's difficult to find any bright spots, but safety Ashtyn Davis was one.
Davis played every snap for the first time this season and racked up 11 tackles - just the second time he's had more than six in his career.
Of course, to some extent, that was because the linebackers were struggling to get to the ball so he was making tackles down the field. However, he had three tackles within four yards of the line of scrimmage, including two on short passes like this one.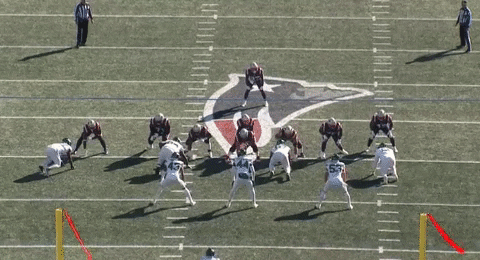 Davis wasn't perfect - he and Marcus Maye blew a coverage between them, he was blocked to the ground on a touchdown run and Hunter Henry snuck in behind him for a short touchdown - but overall his performance was encouraging.
The Jets will hope Davis can establish himself as someone they can rely on to be a consistent contributor in 2022, so that will be one less spot to worry over.
Sherwood Poorest
Jamien Sherwood has already suffered a number of minor injuries this year and is now out for the year after suffering a more serious Achilles tear.
Before he suffered the season-ending injury, it was already apparent that putting him at the Mike position and giving him the defensive headset responsibilities was too much for the rookie.
With CJ Mosley out, the Patriots attacked Sherwood by constantly running up the middle and throwing short passes. However, his only two tackles were on a six yard run to the goal line and on a pass 26 yards downfield.
Sherwood just couldn't get near the ball as he was washed out of too many runs, picked up at the second level or filled the wrong hole. He also ran himself out of a couple of misdirection plays, missed a couple of tackles and was called for defensive pass interference in coverage.
The one thing you could say in defense of his performance was that Sherwood didn't give up much in coverage. However, that's because he was directing traffic rather than in direct man to man assignments - and in a lot of cases, that traffic was directed to the wrong place because there were several blown coverages. He clearly didn't contribute to reducing the yardage on any short passes either.
In all, Damien Harris averaged eight yard per carry, picking up consistent chunks on plays like this.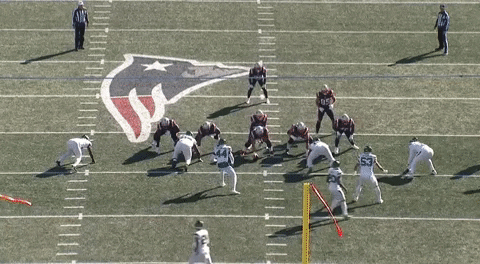 We'd love to be able to point to something positive that Sherwood did in this game, but it's hard to find anything of that nature other than one play where he took out a blocker but still did nothing to prevent the runner from getting to the second level.
With Sherwood out, the defense only did slightly better statistically with 6.9 yards per play instead of 7.4 overall. However, they were attacked differently with Sherwood out, as the Patriots instead completed four long passes, only one of which was on the linebackers.
The defense also gave up twice as many yards, points and rushing yards as they did when the team faced New England in week two.
The timing of the injury is rough on Sherwood, who had at least been showing some promise in a rotational role before having this week's impossible assignment sprung on him at short notice.
There was already concern over whether he'd have the physicality to be durable enough to be a full-time linebacker and this season has done little to dispel those concerns. Unfortunately, the nature of his injury likely means he'll lose most of the 2022 offseason too and perhaps won't even be ready for camp.
Clearly Sherwood has always been at least a year away. Hopefully this won't have set back this timetable even more and won't compromise his explosiveness in the long-term.
Brandin heckles
Rookie Brandin Echols started at cornerback once again, although Javelin Guidry also got a few series of work on the outside. Whether this was an injury, a benching or a planned rotation is unknown but Echols once again had mixed results in coverage.
His worst moment came as Kendrick Bourne beat him over the top for a 46-yard catch. Other than that, he also had a blown coverage for a big play but only gave up one other catch.
Echols also made some positive contributions as he was in on three tackles within five yards of the line of scrimmage and broke up this downfield pass.
The deep completion to Bourne was an example of where Echols needs to tighten some things up. He was up at the line in press position, but let his man get a clean release and then while he turned to locate the ball early, he lost contact with his man as he did so and then couldn't recover.
On the whole, the Jets have to be pleased with how well Echols has held up. However, you get the impression he's only one bad play away from a quick hook at any given time and Guidry remains in the mix. Jason Pinnock and Isaiah Dunn may also work their way into the rotation eventually too.
Previously - Three on O: White, Vera-Tucker, Moore