Three on D: Echols and the Williams brothers
After each game, we'll be highlighting three defensive and three offensive players and looking in detail at their performance. We'll start today with the defense:
Echols Beach
Brandin Echols has carved out a decent role for himself this season as a core special teamer and someone the Jets trust to back up both on the outside and in the slot.
This week, with Deuce Carter suffering a minor ankle injury, Echols was called upon to play a season-high 18 snaps. In previous games, when called upon, Echols has been picked on a few times, giving up four first down catches in just 51 snaps.
He did give up one first down on Sunday, as KJ Osborn got open for this third down conversion as Echols and Sauce Gardner were a little slow to pass off their assignments:
Otherwise, Echols held up quite well. He gave up a catch to Justin Jefferson but stopped him for a seven-yard gain shy of the marker and made a decent play to take on the blocker and help bottle up this screen pass.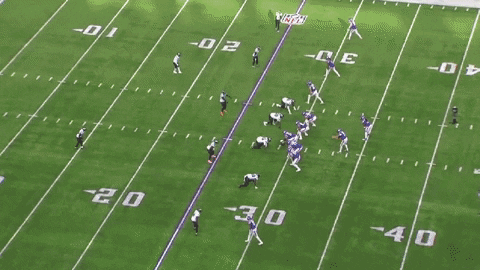 The Jets had previously said that Tony Adams was the backup nickel and he was active yesterday but they turned to Echols anyway, suggesting he's now permanently earned that role. Echols could have an important role in the game next week if Carter isn't fully recovered from his ankle injury though.
The Mighty Quinnen
Quinnen Williams had another great performance on Sunday, as he continues to bolster not just his pro bowl case, but also his all-pro credentials. Williams picked up his ninth sack of the year as he stunted outside and showed impressive bend to finish. He also had three more pressures including a quarterback hit, and was credited with a pass defensed on a play where he hit Kirk Cousins' arm on a throw that fluttered harmlessly incomplete.
Williams was dominant in the trenches at times. Perhaps his most impressive pressure came on this play where he bull rushed his man into Cousins' lap.
He also had a huge impact in the running game, stopping two runs for a short gain and another two in the backfield for a loss. The most impressive of these saw him blow up a run by forklifting his man into the backfield so he could stuff the runner.
Williams was actually injured on that play, but thankfully was fine to return and looked good on a run stuff down the stretch. He's been a ton of fun to watch this season but the Jets need him to finish strong in these last five games if they're going to stay in the playoff race.
The Mighty Quincy
Quincy Williams hasn't quite lived up to the "possible pro bowler" potential that Robert Saleh deemed him to have during the offseason. He simply hasn't been consistent enough to warrant that kind of praise.
However, being inconsistent has meant that he's had some good games this year - and there have been more than last year - and yesterday was one such game.
Although Williams only had three tackles, all of which were at least seven yards down the field, he also added two quarterback hits and, crucially, didn't have a lot of negative plays.
In coverage, he didn't really give anything up and showed elite closing speed on this third down hit to force a fourth quarter punt.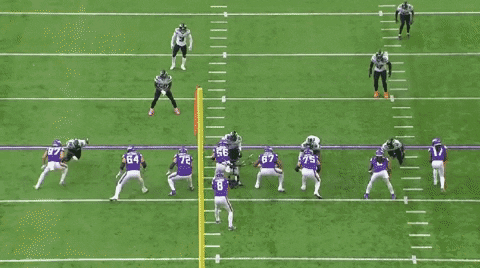 Over the last four games, he's given up just 76 yards on 14 targets, which is just 5.4 yards per target. That's lowered his total for the year to 7.0 yards per target after it was 7.6 in 2021. The main key to this has been that he's done a much better job of limiting yards after the catch.
Williams' only tackle on a running play came at the end of an eight-yard run and one of the touchdowns came as he was blocked at the second level. The other came as he run-blitzed and the Vikings called the perfect counter to that. He had been playing well against the run in the middle part of the season but hasn't been as successful lately.
Williams also blitzed four times, registering two quarterback hits. Again his closing speed and good hitting form is on display on this play as he did a good job of making a clean hit. (He was, however, lucky not to be flagged for roughing on his other hit as he led with the helmet).
There's no way Williams will be gaining many pro bowl votes this year, but games like this show why the Jets are bullish on him. With the defense playing well as a unit, Williams is doing a better job of doing his role within that rather than being someone who has letdowns to undermine their play.
In many respects, it's perhaps unfair to keep coming back to those comments by Saleh and both he and Williams may wish he never made them. The big picture is that he's been better this year than last year and the defense as a whole has too.
As long as that's the case, the team is unlikely to make any changes. Williams was rotated out for 10 snaps on Sunday, but contributes most of the time and needs to keep his play at a high level as the games become increasingly important.
We'll be back with the 3-on-O tomorrow.